Ben Jackson 3-3-00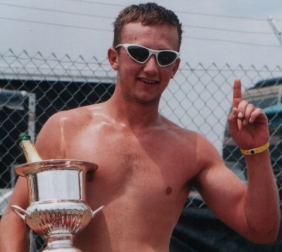 ATV Scene: What were you up to in the off-season?
Jackson: I Worked in the family auto body shop, lifted weights, and rode a few Victory Sports Indoors.
ATV Scene: What's new for the 2000 season? Who's this "Jerky" mechanic of yours and how's he going to help you win a National Championship?
Jackson: Everything is new for 2000! I am riding for Legacy ATV and I have quite a few new sponsors this year. Things seem to be going great and my mechanic, Scott Generke, (I call him Jerky), has been getting all my stuff ready for a much anticipated season. I bought him for a dollar and a pair of old socks! Actually, Scott is the engineering team leader for Autolite spark plugs and has been working on some new stuff for the small engine motorsports industry. I have been testing some of the stuff so far and it seems to be working out pretty well. I think the biggest thing that we are going to be able to do is focus on training, practicing, working on my starts, and taking each race one at a time. He's been pushing me to train and focus on the season that's for sure. He keeps telling me that communication is the key to a successful season, so I am really hoping that we can work on developing a great relationship and earn the trust of each other. I am confident that we can put all the necessary ingredients together in order to possibly earn the championship. I've kept him real busy so far too (smiling), I just grenaded a tranny on my practice quad, so he's in their right now up to his ears in a shattered motor.
ATV Scene: What about your dad? He's always been your right hand man.
Jackson: My dad will still be part of the crew, he'll just yell at Scott now. In all fairness, my dad has helped me forever and he decided that it was time to back off and let someone else do the wrenching. I would just like to say thanks to him for all the help and guidance he has given me through the years. I wouldn't be where I am today without him and the rest of my family.
ATV Scene:Are you racing in more than one class? Or are you concentrating on winning the elite Pro Class National Championship?
Jackson: I'm only going to be running the Pro Class this season, that way I can focus on the Pro Championship.
ATV Scene:What's a typical day for Ben Jackson?
Jackson: Going to work around 8:00am at the body shop. After work it's either weight training or practicing afterwards. In the wintertime, I just like to hangout and play my Sony Playstation.
ATV Scene: How did it feel to get a top three in round one?
Jackson: I was totally stoked! In moto #1 I was sitting still locked up with Jeremiah in turn one with the rest of the field long gone. To be able to pass all the way to fifth and then win moto #2 was fantastic. I didn't think I would end up third for the weekend while unhooking myself from Jeremiah. Maybe that was an indication of how this season is going to go for me – hope so.
Comments
comments