Best of Dealer Expo 2011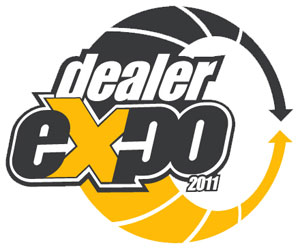 The demolition of the old RCA dome and the completion of the huge convention addition meant exhibitors were no longer spread out in multiple rooms and closets throughout the downtown city block. Instead there was basically two enormous 210,000 square foot areas where more than 800 exhibitors were easily seen and available. Attendance seemed a little down in our opinion, but several exhibitors said they were quite happy with this year's turnout and predicted that the industry would make a comeback in 2011.
Advanstar uses over 60 managers and employes hundreds of people to make sure the biggest motorcycle and ATV expo on the planet also remains the best one year after year. This year they really impressed us with vibrant visual elements, excellent signage and well organized sections that made much more sense than year's past.
The ATV segment didn't dominate the show like we feel it did a few years ago when every aisle seemed to feature something new and innovative for quad and side by side riders, but there were a few standouts that we think you'll want to know about. With that, below is our opinion as to what was the Best of Show at the 2011 Dealer Expo.
Special thanks to Jorge Cuartas and our newbie reporter Mandy Brodil, for their help with this year's Dealer Expo coverage.
Best of Show!
No Limit Wheels
We spent a lot of time in the No Limit Wheels booth, (and not just because our pick for this year's Cutest Girl Laura Marcusse happened to be the marketing manager there). Nathan Sanko and Tom Darnell (formerly of Hi Per Wheels) have put their heads together and created a new wheel that we think you'll want to know about. No Limit is a brand new company that is starting out with 12" and 14" wheels for the 4×4 ATV and SxS market. They're so confident in their wheels they've put a 100% lifetime warranty on them. As durable as No Limit's wheels must be it's the company's business plan that impressed us enough to make No Limit our Best of Show for 2011. Until now if you wanted sharp new wheels for your ATV or SxS you needed to order what was available in a catalog, each with a specific part number. There are indeed sharp wheels available that do give a custom look to your ride, but No Limit Wheels takes custom wheels to an unheard of level. Using one of the sharpest and easiest websites we've seen, No Limit allows you to creatively point and click your way into a wheel that is uniquely yours and view how it looks on your exact year, color and ATV or SxS model. After navigated our way through the process we were equally amazed at the time, effort and coding that went into their website. Many companies have created great new products but its not very often that they pair them up with such an outstanding user-friendly website. No Limit's preparation and commitment to the brand is outstanding. Nathan Sanko told us they spent serious money on the site, which took an entire year to build. It features over 10,000 images of different ATVs and SxSs and 30,000 images of wheels! Don't let all that overwhelm you though, we've yet to see an easier way to order a customized product online. You simple choose any of their four base wheels, then for a few bucks extra you start customizing your wheel with different cut patterns, styles, offsets, colors and edge designs. In total 33,600 wheel combinations await your creativity. About a week later you're the proud owner of four very uniquely customized wheels. The sky is the limit for No Limit, and they're certainly off to a great start. nolimitwheels.com
---
Best of Show Runner Up
Go Pro 3D Hero System
It wasn't long ago that getting any footage from your helmet was considered cool. Now days if you're not pulling down 1080 true high def as you ride you're so 2000's. This year, Go Pro took their top selling portable camera to a new level. If you put two 1080p capable HD Hero cameras together in Go Pro's new waterproof housing you end up with stunning 3D footage! The kit includes the 3D water-housing, 3D Hero Sync Cable, assorted mounting hardware, 3D glasses and 3D editing software. No special camera lens is required, each camera is placed in Go Pro's housing perfectly, the end result is must-see 3D video. If you don't already have a Go Pro it will cost $700 for both cameras and the 3D system, which really isn't that expensive since your investment isn't specific to shooting just 3D. We think you'll be seeing more on this innovative new product from Go Pro. Action sports are about to be seen like never before, especially when You Tube rolls out its new 3D channel. gopro.com
---
Best New Product
CV4 Lithium Farrous Battery
CV4 isn't your typical aftermarket company. With six buildings, over 150 employees and enormous roots in the auto racing industry CV4 is able to bring outside the box NASCAR-like innovation into the motorcycle and ATV industry. This year CV4's new super lightweight Lithium Ferrous Battery impressed us enough to call it our Best New Product from Dealer Expo 2011. We talked with Rob Celendano, Powersports Program Manager at CV4 and got the lowdown on this impressive hot new product. How would you like to replace your battery with one that weights a fifth of the stock unit yet triples the power? Hard to believe but that's just what CV4's Lithium Ferrous Battery offers. What's more it can be mounted in any direction and needs very little maintenance. Lithium cell technology certainly is expanding and thanks to CV4 the growth isn't just in the cordless tool and smart phone industry. cvproduc
ts.com
O
ther new products from CV4 include a new kill switch mounting system and a sprocket and disc guard.
Best Quad
Lone Star Racing's Baby Blue Banshee
There's something about an insanely fast dune Banshee. Yamaha's Banshee, especially a heavily modified one like this, is arguably the best sand machine of all time, but who would have thought a baby blue and black color combo would do LSR's fire-breathing stretched Banshee justice? Lone Star sure did make it work and we think it looks so good we gave it Best Quad labeling. While we're on the subject of creative sharp looking one-of-a-kind machines from LSR check out their street-legal bumper car creation. It's an early 1940's original bumper car that was used at boardwalk fairs back in the day. The customer wanted something to cruise around on and trusted Lone Star to create it. He liked what LSR's Dan Fisher's team put together so much he's got another seven on order! And yes, we said street-legal. It uses Lone Star suspension components paired with a Suzuki GSXR 750 street bike engine! As usual, LSR innovation and fabrication turned a lot of heads. lsracing.com
| | |
| --- | --- |
| | |
---
Best SxS
Bud Fischer's EDT Kawasaki Teryx SxS TT Racer
Appropriately the king of TT promoting, Bud Fischer, was the representative at the Extreme Dirt Track series booth. Not content with just answering questions and handing out schedules, Bud and his side-kick Shane Pacholke created a unique SxS that resembled more of a micro sprint car than a 4×4 off road vehicle. The Fischer Racing Kawasaki Teryx features a custom roll cage, exhaust, paint job, seats and more, but when was the last time you saw a lowered SxS sporting big dirt track Hoosier tires and an adjustable wing? Bud said the one-off Fischer Teryx concept was built to demonstrate a new potential form of SxS racing. Fischer's Pine Lake in Ashtabula, Ohio (the oldest ATV racing event in the world) has featured SxS TT racing for a few years now, but Bud predicts big SxS TT growth in the very near future. This isn't the first time Bud has introduced something new and creative in the ATV industry, far from it. Bud's fabricating expertise is industry wide, but especially found in the history of youth ATV racing in both three and four-wheeled versions. Bud's concept SxS gathered a lot of attention toward the 2011 EDT Series, which was recently purchased from the AMA by 2-Time Champion Michael Coburn's father, Tom Coburn. Although the news of this purchase is not yet official Tom and sons Michael and Mitch seemed pretty excited about the changes that are about to happen to the EDT Series. And some changes, thanks to Bud and Shane's creative SxS visions, might include points paying SxS classes at future EDT Nationals. edtracing.com  fischercycleracing.com
---
Cutest Girl
Laura Marcusse
Laura Marcusse, Marketing Manager at No Limit Wheels, gets our nod for Cutest Girl of Dealer Expo 2011. Don't let this adorable cutie fool you with those pretty innocent eyes and all, — she can probably put a whooping on you if you cross her. She's a soon-to-be professional MMA fighter! You may even see her in action as she competes in the 105 pound weight class. In fact, she has a big fight scheduled in March and may even be featured on television. You can also look for her on mmacore.com  laura marcusse
---
More Best Of Notables from Dealer Expo 2011…

Curtis Sparks
ATV legend racer, engine builder and good friend to many in the sport, Curtis Sparks decided to check out what all the Dealer Expo fuss was about. He was amazed with how big and interesting it was, but more impressive for Curtis was the opportunity to catch up with old friends. It was his first time at the Dealer Expo. The #43 legend picked an appropriate year for his debut, as 2011 marked the 43rd year of the expo. sparksracing.com
Less Made in China Junk!
It was nice to see less cheap made in China knock-off products this year. It was also fantastic to learn that the Motorcycle Industry Council (MIC) and Advanstar Communications, held a special seminar for all the exhibitors from the China Pavilion. Government and industry experts from Dealernews Magazine, the Consumer Product Safety Commission and Sargent's Motorsports Groups presented several suggestions to the foreign attendees as to what it takes to successfully sell powersports vehicles and equipment responsibly in the U.S. market. They emphasized that American consumers want better quality in their motorcycle and ATV equipment. Representatives from the CPSC also informed them that they need to better obey the US government rules and regulations when importing their products into the United States.
The Weather
For once it was actually painless to walk around downtown Indianapolis.
Wider Aisles and Less People
Less people in attendance probably isn't such a good thing, but we sure did enjoy not having to wait as long to talk with exhibitor representatives. Not only were aisles wider but they were lined in miles of carpet-road complete with yellow and white highway lines – very cool!
Cheaper Hotel Prices
With more hotels available and less people attending, there was somewhat of a hotel fare war going on. It's just too bad the savings got swallowed up by high fuel prices.
---
Worst of Show
KTM's Display
A few short years ago KTM released its first ever ATV in their 450 and 525 XC, which we feel is one of the best performing sport quads of all time. Soon after the XC model KTM released an SX ATV made specifically for the motocross track. It appeared that KTM was serious about their ATV segment in both cross country and motocross form, but that may not be the case now days as there wasn't a single KTM ATV present in their display or on the entire Dealer Expo floor. Is this an indication that they may abandon their ATV efforts in the future, or was there simply not enough room in their display this year? We certainly hope the later is the case. ktmnorthamerica.com
---
Other Worst of Show Notables…
Punks that Shouldn't have Credentials
Advanstar works very hard year round on the annual Dealer Expo and does a fantastic job, (especially this year), but every once in a while someone gets through that shouldn't. While waiting to talk to a representative at the Go Pro booth we had to wait for a conversation to finish between a young man and the Go Pro rep. We couldn't believe our ears when the conversation was all about the time the young attendee successfully ripped-off an expensive pair of 3D glasses from a store. We later learned that during the Dealer Expo several Go Pro cameras were lifted right off the display shelves. In Adanstar's defense this is the first time we've come face to face with someone that didn't deserve to have access to the show, and we've been going for a dozen years now.
Lack of Hotties
In years past it seemed every other booth used a smoking hot promotional model, but not this year. Maybe it's the fact that people, and companies, are really watching their spending now days. Whatever the case we miss the eye candy, but must admit we were a little more productive in talking with company representatives this year.
Lack of Pro Riders
Also rare at this year's event were professional racers, but when promoters schedule opening rounds way too early, (as in the Winter season) we can't quite blame riders for not having the time to make it to Indianapolis.
More from the 2011 Dealer Expo…
Jorge Cuartas Painting
No this isn't just some random graffiti we saw in a back alley. It's a challenge Jorge Cuartas put on himself for the future. Jorge vowed to spend a little more time to do things he's neglected while being so active in the progression of ATV racing. So while in Indianapolis he put aside some time to paint on his favorite canvas, a brick wall. Including the Reggie Miller name was a smart move on Jorge's part. Reggie may as well be the mayor of Indianapolis, so Jorge's mural may have a better chance of not getting painted over. For more of Jorge's artwork check out this old interview we did with him back in 2003. jorge cuartas

---
Maxima Premium Air Filter
Maxima was sporting their own brand new foam filter. It's made of chemical resistant polyester-based foam and offers high strength industrial seams with rubber grommets, and it's packaged in a re-salable bag. maximausa.com

---
Motion Pro
After browsing through the Motion Pro booth we found a few tools that we fell in love with. Their new axle nut wrench was a site for sore eyes, especially with its half inch drive cut out. That's not your ordinary T-handle, pick one up and you'll agree. The Motion Pro chain break includes magnetic parts so everything you need is always with your tool. motionpro.com

---
Extreme Outback Products Powesports Puncture Repair Kit
Check out this crafty tire tool kit from Extreme Outback Products. They call it their Powersports Puncture Repair Kit. It's small but mighty and includes everything you need for tubeless repairs including plugs, valve cores and glue. It's pretty complete for under $30. extremeoutback.com

---
Extreme Outback Products MotoAir Compressor System
Here's another nifty item from Extreme Outback Products. They sells several compressors like this (and other great trail riding products). This one is either portable or, since it's so lightweight, can be mounted permanently. extremeoutback.com

---
Michael Coburn's Honda
Michael Coburn's Sparks Racing prepped Honda looked outstanding parked in the Hoosier display. Coburn will be attempting his third championship in 2011.michael coburn  hoosiertire.com

---
Aaron Meyer's Honda
Aaron Meyer's Moto Experts prepped Honda complete with Custom Axis shocks looked ready to dominate the Pro Am class in 2011.customaxisshocks.com  aaron meyer

Be sure to check out the Video Section for more interesting interviews from this year's show.
Comments
comments