Dirt Series Round 3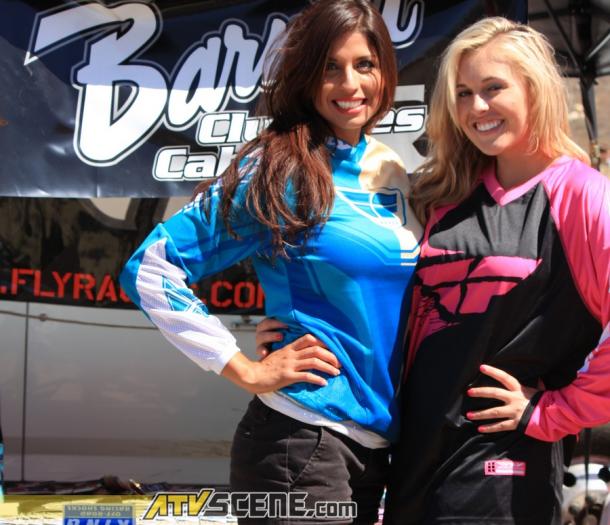 Round 3 of the all-new Dirt Series ran at Pala Raceway in Fallbrook, CA this past weekend.
The Dirt Series is offering over $65,000 worth of cash and prizes, with contingency programs from GBC Motorsports, and STI Tire & Wheel that total over $20,000 each! As you can see if you're looking for a place to compete in Southern California it's well worth it to make this new series.
In case you're just learning about it below are more details of the series….
This is a new style 8 round MX/ATV/UTV racing series that will be based in Southern California. The focus of the series is to bring new life back into the rich history of the area by utilizing properties that have never been raced before while still using existing core tracks or tracks unavailable to the public that can accommodate the series premise.
Being a new style series Dirt Series' intent was to not go head to head with other races but branch off from their success of the FNL Summer Series held at Milestone MX and develop a stand alone race series that could excite the beg/amateur and pro racers, keeping the series and travel schedule within a budget minded privateer racer, sponsors, vendor and/or spectator range, integrate different racing environments and just put on a good time event!
And now here's the photo highlights from the third round….
Round 3 of the Dirt Series at Pala Raceway featured a beautiful San Diego breeze. The day could not have been nicer and the facilities at Pala are second to none. This AMA National Caliber track is a must see!
The series has momentum with growing numbers with new faces at every round.
Like we were saying new faces..
Leatt was on hand selling and fitting braces. What a deal, you get to race, and hang out with your friends and family, have your brace fitted, and inspected for absolutely free, thank you Leatt!
Rockstar/Blingstar joined the UTV racing that has been booming since round one – Very nice XP's!
GBC and We All Ride were also on hand vending..
STI has a strong contingency program. They're giving out over $25,000 worth of STI bucks!
The nice weather brought out spectators all day. As for the riding, the UTV turnout was awesome. Spectators love the UTV classes. As usual, they didn't leave without a show, there was UTV machines tumbling down the hills right from the first race.
GBC's Kayla Smith is making a mark on the Production 700 class. She has been battling bigger UTV's and even bigger guys, Kayla's driving has put her out front!
Greg Row, off road racer extraordinaire made his MX appearance.
GBC's Dylan Dixon has cleaned up all season so far with all first place finishes in the Pro Class at every round.
Old School Yamaha's Easterwood and Michel showing it up for the minis
Geraldo Sepulveda came home with the 450 Open win
The mid size Raptor 250 class has grown by leaps and bounds, with a bigger class every round these mid sized racers are battling it out in one of the funnest classes you can enter.
Triumph's Christian Maldonado (AKA CHU) put a hurting on the 450 Beginner class and pulled out a second in the 250 Open Class
Team JPR out showing support
Good Battles all day
A crach in the works.
See ya next round!
Now to integrate different racing environments for the schedule we needed to step outside the box. While our schedule does include tracks like Cahuilla, Milestone, Comp Edge and Pala, but to fully be set apart from all other series we began stepping outside conventional thoughts and brought in an old school property for round 8 called Rattlesnake located in Colton, CA and encompasses over 500+ acres of available land to design the inaugural Rattlesnake GP. Along with this low keyed but famous riding area we pulled in a stadium to open the doors to amateur stadium racing. Route 66 Motorplex gives The Dirt Series the ability to create a stadium track and incorporate all these racing environments into this series. This will allow for a unique, exciting and much talked about grassroots series.
2012 Schedule
Rd 1- May 20th Cahuilla Creek, Anza, CA. **Moto Format**
Rd 2- Jun 2nd Milestone MX, Riverside, CA. **Moto Format**
Rd 3- Jun 24th Pala Raceway, Pala, CA. **Moto Format**
Rd 4- Jul 8th Competitive Edge, Hesperia, CA. **Moto Format**
Rd 5- TBA
Rd 6- Sept 2nd Route 66 Motorplex(Stadium Race), San Bernardino, CA. **Moto Format**
Rd 7- Sept 23rd Cahuilla Creek, Anza, CA. **Moto Format**
Rd 8- Oct 11, 12, 13 & 14th Rattlesnake, Colton, CA. **GP Format**
Series banquet- Sunday Oct 14th Rattlesnake, Colton, CA
2012 SPONSORS
Triumph Motorsports – Fasst/Flexx – PEP RACING SUSPENSION – We All Ride Clothing – KAD Paving Company – STI Tire & Wheels – ODI Grips – Leatt-Quad Tech -Allegiant – Fuel Customs – FLY Racing – Blingstar – GBC tires -ATVScene.com – Fox Racing Shox – Fasttrak Ins – Amsoil (syntheticsonly.com) – DT1 Filters -Lockstraps – Stealthworks MX – Matrix Concepts – FMF – Moto Mizfit – Dio Vonti – RK Excel – Mika Metals – DWT – Streamline Brakes – Motoworks
Entry
$10 Gate Fee
$15 Dry Camping*
$35 1st Class/$20 2nd Class
$40 Pro-Am/$45 Pro/$50 UTV
Grand Prix Course- $35 Am/$40 Pro-Am/$45 Pro/$50 UTV
Early registration and participating dealer referrals can save you $5 off first entry fee***
MX Classes:
Pee-Wee beginner, 0-6 Pee Wee, 7-9 Pee-Wee, 65 6-8, 65 9-11, 65 Open 6-11,65 Beginner, 85 7-11, 85 12-14, 85 Open 9-16, 85 Beginner, Big Bike Beginner,2-Stroke Open, 4-stroke Open, Schoolboy 12-16 0-250cc, Vet Novice,Vet Intermediate, womens, 250 Novice, 250 Intermediate, Open Novice, Open Intermediate, Pro
Quad Classes:
450 PRO, 450 PRO AM, 450 INT, 450 Nov, 450 Vet 30+, 16-24, Womens, 250 Open , OPEN, 450 Beg, 25+, 40+, 250 Open* 150-300cc, OPEN, 50 cc Open, 70cc Open, 90cc Open
UTV Classes:
ISA Stock Beginner
ISA Prod 700
ISA Prod 850
ISA Prod 1000
Concessions and entertainment* will be available on race day. (*note*-not all rounds will have entertainment)
*Dry Camp pricing may vary due to venue. Please refer to flyer and/or track for pricing and possible other overnight stay accommodations.
Comments
comments