Justin Anderson 6-6-08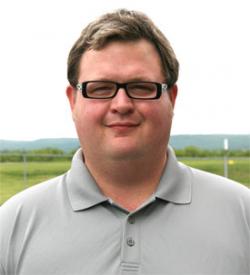 Justin Anderson joined MX Sports prior to the 2008 season, after serving in a number of media relations positions within the professional motocross and auto racing industries. Anderson brings nearly 10 years of experience in managing successful media relations programs for the Champ Car World Series, Trans-Am, and the World PowerSports Association. Anderson is also a former beat reporter and staff writer for one of America's most respected motorsports newspapers, National Speed Sport News. Anderson oversees the media relations program for all MX Sports-run series.
As the GNCC and ATV Motocross Nationals enters the midway portion of the season, we got a chance to chat with Justin Anderson.
After you were let go as the PR man behind the WPSA, why did you pursuit a job with Racer Productions and not go back to your racing roots of CHAMP Car?
That's a great question. I spent a good portion of my career in auto racing, and I still have a passion for that sport. However, I've been to NASCAR events, Champ Car races, and many, many other international races, and none can compare to the excitement of off-road racing. In my early conversations with Racer Productions, I found the company to be well managed and extremely professional. The company has more than exceeded my expectations since joining them.
You've been with RP for 6 months already. Are you enjoying your new job?
Man, it's great. It's so rewarding to work with a team that is singularly focused on growing the sport of off-road racing. Everyone on the team is extremely professional, which I think is illustrated in what we've been able to accomplish in such a short time.
You've helped as PR man for both series, GNC and GNCC. Which do you like better?
I hate to give you the PR answer on this one, but I like both of them for different reasons. Obviously, my history has been in ATV Motocross racing, and I thoroughly enjoy the energy and the atmosphere of those events. On the GNCC side, it's exciting to see riders on both motorcycles and quads taking on what the natural terrain has to offer them. I also enjoy the international intrigue offered by GNCC; it reminds me a lot of international sports car racing.
I have always been impressed with your ability to gather facts, get good quotes and bang out press releases before many people even leave the track for the weekend. Is this your main responsibility in your new job?
Actually, my primary responsibility is to manage and to make recommendations on the overall PR program for ATV Motocross, GNCC and the Motocross Nationals. Right now, with a lot of the transition going on in the ATV industry, my focus has been on ATV racing. But it's not just me. Andy Bowyer has been handling a lot of things behind the scenes and he's done a yeoman's job of tackling this daunting task.
How are we getting your press releases from events that aren't even Racer Production promotions?
Our goal, as a promoter, is to help grow the sport of ATV racing, and off-road racing as a whole. With that said, we provide PR services to all of the ATV Promoters Group events. It's really a win-win situation. As the sport grows, everyone benefits.
What do you think the WPSA did wrong and right? Why do you think they failed?
First off, I think it's unfortunate that WPSA did go out of business. WPSA did many things for this industry that were unthinkable years ago, including putting ATV racing on a big-name cable television station. That said, in any business, there is a law of diminishing return, and if you spend more than you make, you're going to go out of business. Unfortunately, I think there were some flaws in WPSA's overall business plan and those flaws came to light a couple weeks ago. I think, though, that WPSA's legacy will be felt for a long time in this industry and it will continue to make everyone step up their respective games.
Do you see ATV motocross on mainstream television again in the near future?
I do, but, as you say, it's in the future. I talked about the law of diminishing return. Mainstream television costs money; there's the time buy, the production costs, dressing the venue and so on. The ESPN2 ratings for WPSA didn't come in as expected, and that translates directly into lost revenue. We need to ensure that when we do hit mainstream TV, we do it at the right time with the right network. This is something that's being worked on internally, and we have big plans for the future.
Tell us more about this Grand Slam opportunity. What is it and why are you guys going through the trouble of putting on a series within a series?
The Grand Slam concept is something we decided to do to welcome back those riders that decided to run elsewhere this season and were left out in the cold when WPSA folded. We wanted to ensure those riders had something to shoot for this season, and the ability to have something to show their sponsors at the end of the year. Ultimately, we want those riders to know there are no hard feelings and we're looking forward to seeing them compete with us again. In addition, it allows us to further enhance our Showcase events, making them true entertainment venues.
In 2009 the Pro ATV Nationals will no longer be sanctioned by the AMA / ATVA. Daytona Motorsports Group will own the series. Have you heard from them yet as to what changes, if any, they want to make? And what is your opinion on this piece of news? Is ATV racing better or worse with this group's thumb over us?
First off, the name will still be AMA Pro Racing. DMG's principals have a long history of promoting successful events, whether it be NASCAR, Grand-Am sports car racing, or motorcycle racing. It's important to understand that being involved in Pro racing means that we're not in the racing business, we're in the entertainment business. That said, I think this move will result in a huge boon for the industry. DMG has a long history of success and we're looking forward to being a part of that legacy.
With insane gas prices and all, do you think the 2009 GNC and GNCC series should be reduced a few rounds?
Fuel prices are outrageous right now. However, to run a successful and meaningful championship, we think the current number of rounds is appropriate. The people really feeling the bite right now are the amateurs, and the rules address that, allowing for several throw outs. This effectively allows the amateur riders to lower their costs, and still gives them the ability to compete on the national level.
Let's talk Quad Terrain for a minute. Is there any interest in picking up where the WPSA left off with this?
QuadTerrain Challenge was hugely popular and made for an exciting television show. Right now, we're focusing on our core businesses in ATV Racing in both GNCC and ATV Motocross. However, discussions are ongoing with OEMs, with sponsors and others to determine if there is a business case for a Utility Quad series.
Does Racer Productions wish to someday convert the ATV Motocross Nationals into a pro-only series, allowing a qualifying system for the amateur quad racers, (similar to the bikes)?
This is something we've discussed at great length internally.
I think you and I share a passion for modern-day high tech. Tell us more about some of the high tech toys that you guys are using at the GNCCs and GNCs.
I love high-tech toys, and we have some of the best out there. Prior to the season, Racer Productions made a large capital investment in high-speed satellite Internet systems. We've used them with great success at all of the GNCC rounds this season. In addition, we are featuring live timing and scoring for both GNCC and ATV Motocross, which gives our fans the ability to log in and watch the action from the sidelines. You've likely noticed we've redesigned all of the web sites, as well. These include updated photo galleries, right from the track, as well as breaking news, as it happens. In addition, we've added video feeds. These were all developed in-house, by Racer Productions' extremely talented IT and Web Development Departments. This is just a start, though. There are a lot of things we're working on behind the scenes to further leverage technology.
I think the GNCC series should allow pro riders to communicate with their pit crews. This, combined with GPS enabled transponders, could offer unparalleled live trackside and internet information. Can you guys make this happen for us? If this was available I would rather watch my GNCC lap top screen than NASCAR television.
This goes back to the technology question. We're definitely discussing these very issues. The big thing we have to avoid, however, is to allow technology to hurt the show. Look at Formula One. Several years back, F-1 was extremely fun to watch. Technology then became a huge buzz word there, and now teams are forced to have $100 million plus budgets just to compete. The show has suffered accordingly.
Do you agree that today's television viewer is looking for something different like the above over the same old stick and ball sports on TV?
Television has changed significantly over the past several years. Ten years ago, who knew that NASCAR would become the second most popular TV sport? I think viewers are looking for more variety. Look at the massive number of new cable networks out there. We're up to more than 300 channels with more coming online regularly. That speaks a lot to viewers looking for more choices.
I've always been impressed with the Weege, (Jason Wiegandt). Now that you've been there for a while, is it true he's not human?
That's funny. Personally, I've been waiting to see his cape! Seriously, though, this is a great team. Weege, Andy Bowyer, Stephani McIntyre, Carrie Coombs, Rita Coombs, Tim Cotter and everyone else at Racer Productions are all so dedicated and professional. I don't think I could handpick a better group of people to work with.
Any parting words?
Thanks for the interview!
Comments
comments