Lincoln Trail MX, Casey, IL 2004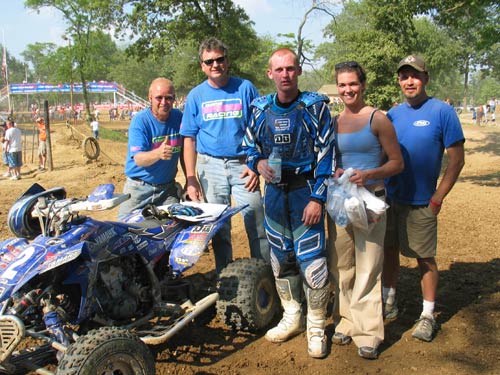 GNC MX Round 8
Lincoln Trail MX
Casey, IL
June 5-6, 2004
Team Yamaha's Jeremiah Jones had had enough. In his eyes it was high time someone put something other than a Suzuki on the GNC MX winner's circle red carpet. Right from the start, Jones was confident he could put his Yamaha ahead of Gust's Suzuki. In the end, it was this determination that allowed him to do just that. Jones turned up the heat on the last lap of the second moto, passed two riders and earned himself and Yamaha an important victory in the land of Lincoln.
Moto 1
Honda's Tim Farr (Baldwin, DG, ITP) pulled the trigger the fastest and led the twenty rider field. Joe Byrd (joebyrd.com, Maxxis, O' Neil) followed on another Honda while "Digger" Doug Gust (Suzuki, Yoshimura, Weekend Warrior Trailers, Hinson) gave chase for third.
Farr put about five seconds on Byrd while Gust hammered ferociously on Byrd's back door. Byrd, still dialing in his new Honda, was no match for Gust and his incredible year. He slipped by and took off after Farr just like he did one year earlier at the same event. All the while, Jeremiah Jones and ATV Scene's own, Kory Ellis (Alba Action, Fox, Kenda) were on the hunt. Jones eventually passed Byrd through the finish line whoops. Ellis made his way through traffic by taking the massive downhill triple planted in a left hand turn. He was the only rider attempting the the big leap, and because of it he became a crowd favorite.
At the end, Farr held off Gust's advances all the way to the checkers. Not very long after, Jones and Ellis finished up strong. Speaking of strong, John "Ironman" Natalie (East Coast ATV, Yoshimura, Maxxis), ignored severe back pain and finished up in seventh. Natalie almost didn't race due to a recent back injury. "I messed up my back at Red Bud. I've been doing nothing but sitting on the couch since then. I was planning on just riding around and trying to earn a few points, so I'm not too dissapointed at all."
Moto 2
When Gust pulled the early lead, many thought it would be seven in a row. After all, Gust has been the story of the season and since moto-one-winner-Farr was caught knee deep in mid pack traffic, it looked like more money in the bank for him and his Yoshimura Suzuki program. Jones, Natalie and Ellis figured otherwise. Gust wouldn't get off so easy this time as they were determined to put the win money in their accounts instead. It wouldn't come easy for anyone on this day as passing was tough on the dry-dusty-one-lined-track.
The first to step up to Gust's reign was the most unlikely. It was non other than injured "Ironman" John Natalie, who slipped by Jones and Gust in an instant to take over the lead. Much to the crowd's delight, Gust didn't go down easy and fought back. With Farr so deep in the dusty traffic and Natalie's seventh place moto one finish, Gust only needed to beat Jones for the overall. Things looked good for Suzuki once again.
Meanwhile Ellis wanted a podium spot. He slipped past Jones and began to study Gust's every move. Ellis pulled along side of Gust more than once – only to run out of track and quickly slip back behind before Jones would gobble up his spot. Ellis feverishly haunted Gust's every move, but it was Jones who would end up getting fed up faster. While Gust dealt with Ellis, Natalie continued with his surprise lead. "I never expected to do so well. About half way through my back was really hurting and I was ready to surrender but the crowd really helped me to continue to push all the way to the end."
Corner after corner, only a few feet apart, the four freight-trained in single file order lap after lap. As the race progressed Natalie and Jones proved to want this one more than the others. "I have to say, Kory getting past me was actually a good thing. I picked up some lines off of him and used them to my advantage", later said Jones.
If anyone made the slightest mistake a pass would happen instantly. Jones waited and waited for that mistake but it never seemed to happen. His patients were up. It was getting late in the race and he knew it was time to make something happen. On the last lap, Jones kept on it hard around the outside of a turn. His momentum shot him past Elllis and Gust at the same time! "I thought it was Ellis coming up on the outside and when I saw it was Jones, I thought to my self – Oh Man, there goes seven in a row!" said Gust after the race.
In the end, it was a really close overall. The first two riders scored five points and the third, fourth and fifth place riders ended the day with eight points each. As you can see the second moto was extremely important in the bid for a podium position.
Natalie's remarkable second moto win advanced him to second in the point's race just ahead of Tim Farr. However, the motocross season of the century still belongs to Gust. His runner- up finish allowed him to continue his point's lead. He now has a whopping 79 point margin over second place Natalie.
Amateur Highlights
By Sean Berkey
Have you noticed how many riders there are these days in the new 90 Production class? The little tikes now have to qualify in order to race this class.
In Qualifier #1 Kentucky native Tyler Pittman pulled the holeshot in front of Dillon Starks, Jennifer Deremar, and Jeff Rastrelli. As the first lap would proceed it seemed as if a completely different group of kids would be out in the lead, which made me wonder if the little guys and gals were having problems or just dropping like flies out there.
By the end of the first lap Charlie McVay, on a Honda, led the pack followed by Brian Petrovcic, Dillon Starks, Brittany Snider, and Trivette Scales. McVay went on for the moto victory, followed by Jeff Rastrelli, Dillon Starks, Brittany Snider, and Trivette Scales.
In Qualifier #2, Zachary Strong, pulled out front early followed by Cory Emery. It wouldn't take long for Emery to make his move on Strong and take over the number one spot. Emery finished in first followed by Strong, Justin Screws in third, Jenna Bell in fourth, and Aaron Beer in fifth.
In the final moto on Sunday, Jeff Rastrelli aboard his Kasea pulled the all-important holeshot in front of Suzuki mounted Tyler Pittman, Cory Emery, and Charlie McVay. Emery charged hard and took over the lead, but problems to the #32 Hetrick Racing Kasea machine caused Emery to putt around the rest of the track as Honda rider Charlie McVay took over the lead. McVay pulled out to a comfortable lead and let Jeff Rastrelli, Zachary Strong, and Aston Laird fight for the runner up position, as all three Kasea riders were neck and neck the whole way.
On the last lap, Strong put an impressive move on Rastrelli through the finish line whoop section for the #2 position. This helped him take second overall for the weekend. McVay swept both motos followed by Strong and Rastrelli. Dillon Starks finished with a nice fourth place overall with Colby Brake rounding out the top 5 overall.
More little ones to report on as the 50cc Class saw Indiana's David Beer (who won the Saturday moto) pull the early lead in Sunday's second moto. Chase Horton, Devin Laird, David Nevrotski, and Jeremy Ledonne followed Beer, until Horton made his move and took over the lead followed by Laird. With almost a lap to go Beer broke down right after the finish line whoops, which unfortunately ended his day. Horton went on to win the moto followed by Ledonne, and Laird in third. But Devin Laird took the overall, with Nevrotski in second, Ledonne in third, LEM rider Karlie Eckert in fourth and Bobby Bessire in fifth overall.
Perhaps one of the most exciting races of the day was the Pro-Am 265 Class. KY's Jeremy Lawson (JPMX) and NJ's Pat Brown (Lost Creek) traded moto victories. In the second moto the two went at it tooth and nail and traded the lead three different times. Brown passed Lawson at the moto two checkers (literally) and won the second moto and the overall by a mere six inches.
2004 GNC MX Round 8, ATVA MX, Bobby Bessire, Casey, Charlie McVay, Cory Emery, David Beer, Dillon Starks, Doug Gust, IL, James Perry, Jamie Rentz, Jeff Rastrelli, Jenna Bel, Jennifer Deremar, Jeremiah Jones, Jeremy Lawson, joe byrd, John Natalie, Karlie Eckert, Kory Ellis, Lincoln Trail MX, Sean Berkey, Tim Farr, Tyler Pittman
Comments
comments