Serm Says 3-26-00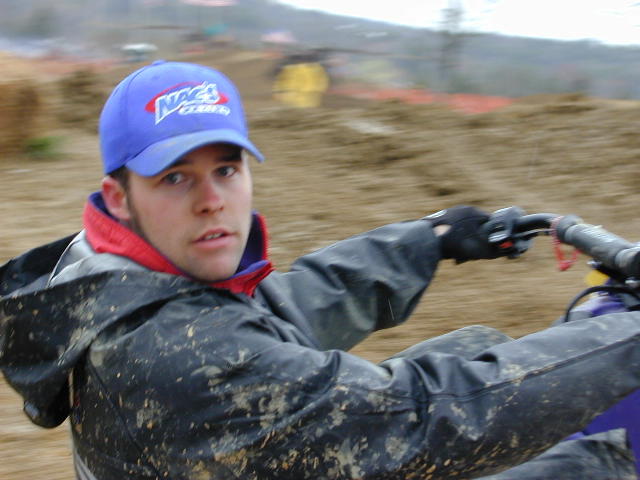 By Sean Sermini
United Airlines, Flight 1981 non-stop service to Daytona international airport is now in the air and I'm heading south. Its bike week ya know. Girls, sun, fourwheelers, motorcycles, beer and girls. Too bad it's strictly a business trip for me though, yeah right! Hey, by the way, what exactly does an airplane highjacker look like? I'm not sure but the man sitting next to me definitely fits the description of what I think one looks like to a tee. I hope he doesn't try any of that Egypt Air bullshit. If he does, the big burly woman that's sitting on the other side of me overflowing into my space will probably slap him around. She already looks pretty pissed off about having my arm rest halfway up her ass. OOPS, sorry about that. I was getting a little off track there for a minute. You know, just venting about the seating arrangement.
Seriously though, like I was saying I'm headed down to Daytona to spend a few quality days at one of the worlds largest bike rallies. I figure it should be a pretty good time just kickin' it with all those two-wheeler guys and spreading the good work about the up and coming worldwide explosion of ATV's that will soon be taking over all the trails, race tracks, and freestyle contests around the globe. And if all these bike enthusiasts refuse to acknowledge the ATV movement and refuse to see just what four-wheelers are capable of doing, than bring it on! Build me a take off ramp and I'll bust a cliffhanger over their mother's house to a stealth air landing. I'll do what I have to, just to prove my point. Go ahead, just dare me!
Speaking of what ATV's are capable of doing, you guys should have been there in Okechoebee, just a few hours south of Daytona, to witness Mr. Bill Ballance royally spank everyone at the GNCC (Grand National Cross Country) opener. This is the first GNCC that I have been too and I am so happy that Nac's Racing sent me down here to witness these guys just ripping through the woods! All of these top woods riders like Bill Ballance, Chad Duvall, William Yokley (that's also how they finished (1st, 2nd, and 3rd) Nac's Racing's Kim Kuhnle, Bryan Baker, and Greg Goad just do not get enough credit. These guys are super talented and as tough as nails. The course at Kirton Ranch in Okechoebee was pretty cool, at least from my side of the fence. It consisted of obviously a long woods section, which on the first go wasn't too rough, but by the second or third lap, that portion of the course suddenly turned into a sandy whooped-out hell, which resembled a bad day at Southwick MX 338. The riders then came out of their sandy hell and on to a somewhat tame MX section with a bunch of doubles, tabletops, and large groomed berms. This was the area that Bill Ballance was kind enough to give all of his cross-country buddies a little lesson in how to ride MX. The most entertaining and humorous part of the track was a 3/8 mile clay oval. This was the area that GNC TT specialists Keith Little and I spent much of our time taking notes on what not to do, (I'm just joking, all of those guys and girls put on a great show). Watching these tall, narrow-ass cross-country quads come shooting onto the second turn, banking down the front stretch, around the third and fourth turn and back off into the woods was definitely different from the flattrack racing that Keith and I were used to seeing and we totally saw a lot of humor in it. When the race came to an end, it was Bill Balance with a very convincing lead followed by Duvall and Yokley. After watching these three gentlemen put on a great performance, all I could think was, wow cross-country is pretty cool! I'm looking forward to going to my next GNCC event.
Well, it's now Monday afternoon and I have one more night left in Florida before I have to fly back to New York. I thought to myself, I can either stay here and hang out with some of the riders, or I could go a few hours north back to Dayton and take in a little nightlife. You guessed it, I went for option B. I'm not going to get into detail about the night life in Dayton, but I will say that after a few too many vodkas, two blown out tires on the rental car, about four expressway blow-bys on the Florida turnpike, and finally two security guards from the hotel, wanting an explanation of why I felt it was necessary to drive in reverse at high speeds and suddenly jam the car into drive and lay a loud screeching burner in the middle of the Holiday Inn parking lot at 4:00 am. I felt that maybe it was time to get some shuteye.
All right, well that's pretty much how the last few days have been going for me. Actually, now that I think about it, that's basically how everyday goes for me. But that's besides the point though. I've gotta cruise, I'll talk to you guys next month and maybe I'll touch on the art of crashing big.
Peace, I'm out!
Your Pal,

Serm — Sean Sermini
Comments
comments