Tim Farr Crash Photos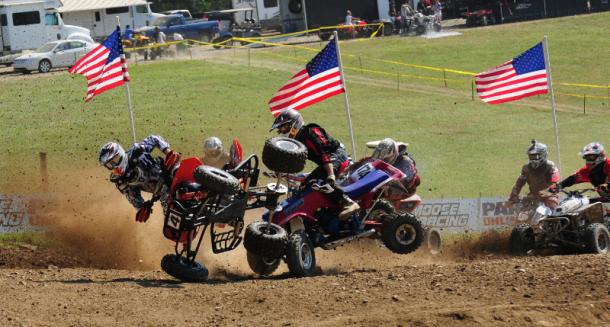 Photos by Susan Guadagnino
Our new found photo ace Susan Gaudagnino, recently shot a nasty crash sequence of multi-time national champ Tim Farr at the 2010 Steel City ATV MX National.
Always wanting to ride legendary Steel City Raceway, Tim decided he's not getting any younger so he signed up for the Open A class and the +30 class.
For not riding very often Tim proved he's still got that same silky smooth legendary ability that made the name Tim Farr such a household one in the ATV industry. With career counterpart and friend Mark Baldwin once again in his corner, Tim turned some heads one last time while finishing runner up in the first moto of the Open A class.
First turn mayhem in moto one of the +30 class would later cost Farr dearly. There have been several hard crashes in his long career, but none have injured him as bad as this one. After camping out in the ER for 15 long painful hours Tim had several surgeries in his right arm and right wrist, which swelled to the size of a tree trunk.
His humerus bone (the one between your shoulder and elbow) was broken in three places. The jagged break also tore his bicep muscle. A permanent plate was used to hold the bone back together. He's now in a full cast from shoulder to hand. The upper portion of the cast will be removed in two weeks, but he will be in a wrist cast for three months. The worst of the injuries is a badly dislocated wrist. He will need multiple follow up surgeries on his wrist in a few months. He also has damaged nerves in his wrist so doctors performed carpel tunnel surgery before they wired his wrist back together.
As you'll see in Susan's outstanding photo sequence the crash reminds us of the risks we take in this great sport.

Get well Tim and thanks for all the great memories.
Comments
comments