2017 Can-Am ATVs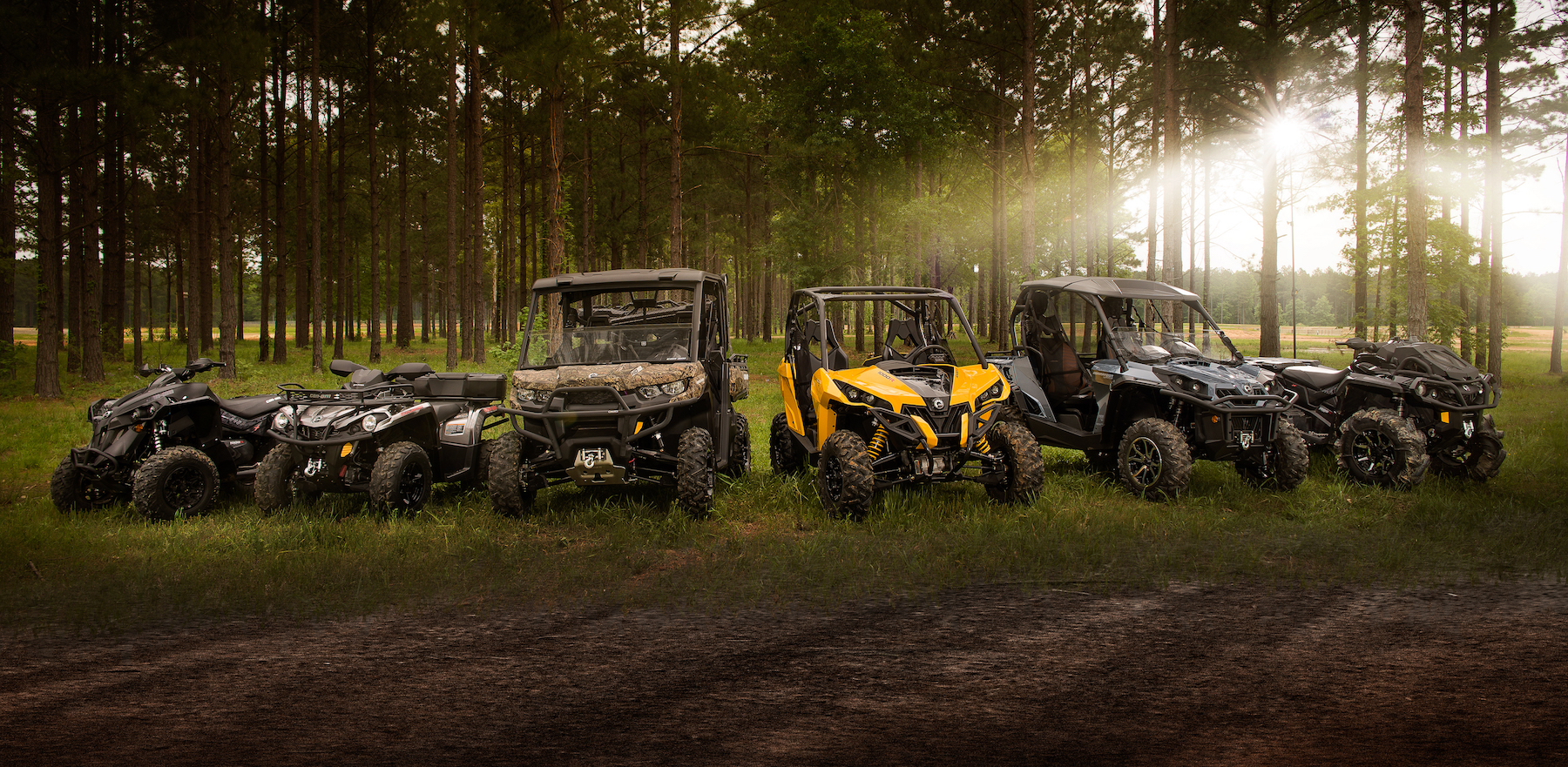 The Can-Am ATV family, which offers class-leading performance and horsepower in every displacement category, has undergone strategic changes for 2017 to enhance its leadership as the specialized ATV brand. With riders in mind, Can-Am ATVs offer new packages, performance improvements, fresh colors and are as affordable as ever.
The Can-Am Outlander 450 is now the most affordable Can-Am Outlander ATV ever, coming in at $5,999 (US only). That unbelievable price is paired with the 38-hp Rotax 450 engine, giving it the absolute best performance and value in its class.
The Can-Am value-focused offerings also include the Outlander 570 XT / Outlander MAX XT 570 ATVs, the most equipped mid-sized ATV on the market. Available in either a one-rider ATV or a convertible two-up Outlander MAX platform, the mid-size ATVs include a winch, front and rear bumpers, handlebar deflectors and much more.
The new Can-Am Renegade X mr 570 ATV was born to own the mud and reinforces Can-Am mud-segment leadership. The factory-equipped, mud-ready ATV combines the traits of the successful Outlander X mr 570 and the Renegade X mr 1000R to create an attractive-and-affordable mud vehicle for 4×4 sport enthusiasts.
The ultimate hunting ATV has arrived with the unveiling of the flagship Can-Am Outlander Mossy Oak Hunting Edition 1000R ATV, which was developed in conjunction with the Mossy Oak Pro-Staff. Fully equipped to go in the wild and outfitted with all the necessary features to satisfy the needs of modern huntsmen, the most powerful ATV in the Can-Am ATV family also sports an industry-exclusive Mossy Oak Break-Up Country camo color.
An all-new capable Outlander 6×6 DPS 650 ATV comes complete with all the multitasking
attributes the Can-Am 6×6 family is known for, but at a friendly price tag.
Re-establishing the Can-Am youth ATV portfolio (70/90/250), the Can-Am DS 70 ATV is for riders ages six and above. A new attractive Can-Am Red color scheme is standard. The youth ATV comes with integrated safety features, youth-sized ergonomics, a dependable four-stroke engine and sporty appearance.
The Can-Am ATV lineup also took on several enhancements for 2017. Improvements made by ATV engineering team were implemented with the rider in mind.
FOX QS3 Shocks
Can-Am engineers added new FOX 1.5 Podium QS3 shocks to the Outlander XT-P,
Outlander MAX XT-P, Outlander X mr 1000R and Renegade X mr 1000R to improve
upon the ATVs' class-leading dominance and precision-engineered handling. The new
shocks offer simple suspension adjustments for owners and feature a three-position toolfree
adjuster to setup the suspension for a smooth and comfortable ride or switch to a
high-performance handling.
14-inch aluminum wheels and 26-inch tires
Attractive and fully functional 14-inch wheels replace the smaller 12-inch wheels on
several units. The 2017 Outlander DPS and Outlander XT ATVs now wear black painted
aluminum 14-inch wheels. The Outlander XT-P package now includes 14-inch black
painted beadlock aluminum wheels while the Outlander MAX Limited ATVs wear 14-
inch machined aluminum wheels. These specific Outlander ATVs will also sport new 26-
inch ITP TerraCross tires with a 6-ply rating and a versatile interlocking tread pattern.
Both the Outlander X mr 1000R and Outlander X mr 850 ATVs also wear new 14-inch
aluminum wheels, but retain their aggressive, mud-specific 30-inch Gorilla Axle
Silverback tires.
New rider-focused D.E.S.S. key
A new Radio-Frequency (RF) Digitally Encoded Security System (D.E.S.S.) has been
improved and redesigned on all Outlander ATVs with 650, 850 or 1000R engines and
Renegade ATVs for simpler operation. Each ATV includes both a performance key and
regular key. This revised setup also aligns with this current proven technology in other
BRP brands. Can-Am remains the only ATV manufacturer to offer a factory-installed
anti-theft device as standard equipment.
Can-Am ATVs remain at the forefront of the industry when it comes to performance and
service requirements. All Outlander ATVs offer class-leading performance (HP) in every
ATV displacement category, from the 450 class up to the big-bore 1000cc category.
These same ATVs, along with the sport 4×4 Renegade ATV family and side-by-side
vehicles, also offer reduced cost of ownership thanks to continually evolving service
intervals, break-in requirements and routine maintenance schedule reductions.
Colorations
Triple Black — Outlander XT-P, Outlander MAX XT-P, Outlander X mr 1000R and
Renegade X xc 1000R
White & Black (painted) — Outlander XT and Outlander MAX XT
Midnight Blue (painted) — Outlander MAX Limited
Pure Magnesium (painted) — Outlander XT 570 and Outlander MAX XT 570
Can-Am Red — DS 70, DS 90 and DS X 90
Learn more about the 2017 Can-Am Lineup at brp.com
Comments
comments