Coastal Racing ATV Team Report: Camp Coker GNCC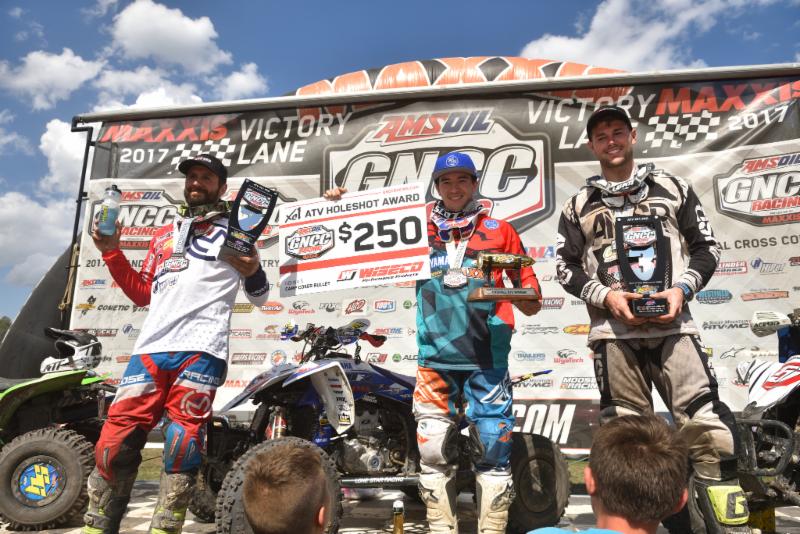 photos by Ken Hill
The Coastal Racing/Answer/Maxxis/Waynesburg Yamaha ATV Team put forth another solid weekend of racing at Round 5 of the Grand National Cross Country (GNCC) Series in Society Hill, South Carolina. Team rider Drew Landers captured his fourth-straight victory in the College A (16-21) class, while teammate Brycen Neal made his fourth podium appearance of the season with a 3rd place finish. Additionally, UTV team driver Sean Bogdan earned a season-best 5th place finish in the highly competitive XC1 Pro class for the second round of the six-race series.
XC1 Pro ATV
With dry and dusty track conditions, Neal had his work cut out for him when he began the race just outside the top five. Neal spent the first two laps fighting through the dusty trail as he eventually made his way into the 3rd place position by lap three. Neal continued to charge in the final laps but he wasn't able to recoup the early deficit, ultimately finishing 3rd overall for the day.
"I got off to a 6th place start and in most races for my situation with starts that'd be perfect but the dust was way worse than expected," Neal said. "We were in a solid dust cloud the entire day so by the time we got into 3rd the leaders were a couple minutes ahead already. I'm happy to grab another podium finish but these 3rd places aren't cutting it for me anymore. We'll be ready to go come round 6!"
Neal's consistency thus far has earned the Ohio native a solid 2nd place position the Overall Championship Standings after five rounds of racing.
College A (16-21)
Drew Landers extended his win-streak on Saturday to four-in-a-row with another big victory in the class. Landers continues to impress, not only in the College A division but also in the overall running as he finished 15th overall to earn yet another Top Amateur award in the 1 p.m. afternoon race. Landers didn't get the best start but he quickly worked his way through the dust and into the lead before the end of lap one. With each lap that passed, Landers increased his gap over 2nd place to ultimately tally a seven-minute victory in the College A (16-21) class.
"The hot and brutal South Carolina conditions were tough but we came out on top!" Landers said. "My Coastal Racing powered Yamaha handled like a dream all day long and propelled me to a Top Amateur and College A win and 15th overall!! The day for sure wasn't easy and I couldn't have done it without my team behind me."
Eli Kiger scored a top-ten finish in the College A (16-21) class after a tough day of racing in the dust. Kiger got off to a good start inside the top five but a series of mistakes caused him to drop back a few positions. After two hours of racing, Kiger finished 7th place in the class where he now sits 3rd overall in the College A (16-21) Championship Standings behind his teammate Landers.
"It was a tough day for me," Kiger admitted. "I felt like I just didn't have it – I made a lot of mistakes and couldn't get into a good rhythm."
Next ATV Event: GNCC Round 6 – May 6, 2017
Results from the Camp Coker Bullet GNCC – Saturday, April 22
XC1 Pro ATV Results
Walker Fowler
Adam McGill
Brycen Neal (YAM)
Jarrod McClure
Westley Wolfe
College A (16-21) ATV Results
Drew Landers (YAM)
John Glauda Jr.
Boedy Lamoreaux
Tanner Walker
Kalab Hagan
Eli Kiger (YAM)
XC1 Pro UTV Results
Kyle Chaney
Hunter Miller
William Yokley
Cody Miller
Sean Bogdan (POL)
Overall ATV Championship Standings
Walker Fowler (150)
Brycen Neal (106)
Adam McGill (103)
Jarrod McClure (86)
Landon Wolfe (73)
College A (16-21) ATV Championship Standings
John Glauda Jr. (85)
Drew Landers (80)
Eli Kiger (77)
Tanner Walker (68)
Boedy Lamoreaux (67)
XC1 Pro UTV Championship Standings
Kyle Chaney (51)
Cody Miller (43)
Hunter Miller (43)
Cohl Secoy (42)
William Yokley (37)
Sean Bogdan (28)
Comments
comments