Coastal Racing Teams with Revolutionary eBike maker Haibike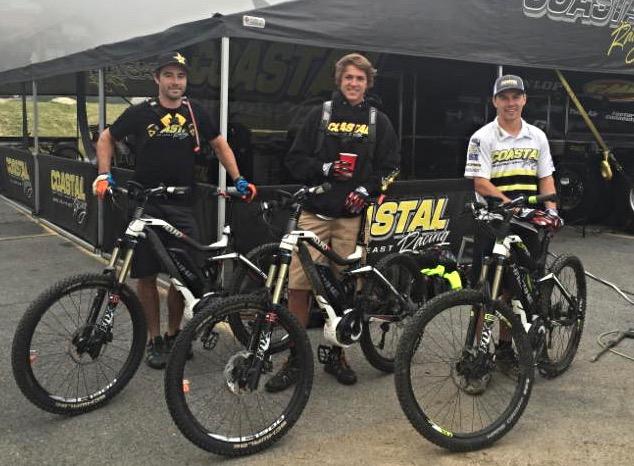 The Coastal Racing Team is pleased to announce a groundbreaking sponsorship with Haibike, a pioneering German electric bicycle brand. The team's ATV, Side-by-Side and Motorcycle riders, along with crew members, will utilize Haibike's innovative eBikes for the remainder of the Grand National Cross Country (GNCC) season.
Since 1995, Haibike has continued to revolutionize the bicycle market with its innovative design and technological advancements. The leading e-bike manufacturer Haibike made its GNCC debut last weekend, June 25 and 26, at the Snowshoe GNCC with Coastal Racing team riders showcasing a Haibike XDURO AllMtn with 150 mm of suspension and two Haibike NDUROs with 180 mm of suspension.
"We're really excited to be working with a company like Haibike, who makes such a quality product that we believe will benefit the entire team on race weekends," said Coastal Racing Team Manager Barry Hawk. "GNCC's recent rule clarification has opened the door for riders and teams to better prepare for the highest level of race competition and we're happy to bring Haibike into our sport."
The Coastal Racing Team features nine premier riders who compete in three different disciplines, including Side-by-Side team drivers Scott Kiger, Sean Bogdan, John Henry and Bill Patterson; ATV racers Brycen Neal and Eli Kiger; and motorcycle riders Ryan Sipes, Layne Michael and Craig DeLong. The team is managed by eight-time GNCC National Champion Barry Hawk.
"ePerformance bikes are perfect for GNCC course preparation," said Ken Miner, director of sales for Haibike USA. "By taking advantage of our ePerformance bikes, Coastal Racing riders can potentially cover more of the course prior to the race. This means more terrain intel,which gives the team a competitive advantage."
The GNCC Series is on a two-month summer break, where it will return to racing on Sept. 10 and 11 in New Berlin, New York.
About Haibike:
Winora Group CEO Susanne Puello and her husband Felix established Haibike in Germany in 1995, but its roots date back to 1914 when Susanne's great grandfather founded E. Wiener Retail Trading Company, a manufacturer of custom bicycles. Haibike USA, established in 2015, is Haibike's North American subsidiary, exclusively selling the company's popular ePerformance collection of XDURO and SDURO bikes. With superior Bosch and Yamaha drive systems and dynamic inverted motor placement, Haibike's ePerformance bicycles lead the electric bicycle industry. For more information about Haibike USA, visit www.haibikeusa.com.
Comments
comments