DP Brakes 2017 ATV and UTV Sponsorships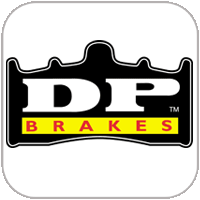 DP Brakes, world leader in sintered brake technology, has announced that they will be sponsoring an extensive number of ATV riders and teams in 2017.
Larry Mills, president of DP Brakes North America, said, "These outstanding riders continue to appreciate the high performance products that DP Brakes offers…products that ultimately help place them consistently on top of the podium."
The following are the teams and riders that DP Brakes will be supporting in 2017: ATV MX Pro/Pro-Am Team Hetrick Racing's Joel Hetrick, Team Baldwin Motorsport's John Natalie, Team Root River Racing's Josh Upperman, Team JB Racing's Jeff Rastrelli, Janssen Racing's Cody Janssen and Sky Volkamer, Vossman Racing, plus many other individuals and Teams throughout North America. ATV GNCC Pro XC-1 #1 Walker Fowler, #2 Adam McGill, #3 Chris Borich. Plus, 9 out of the Top 10. Pro Am XC-2 #1 Greg Covert, #2 Martin Christofferson, #3 Westley Wolfe. 4×4 Pro #1 Kevin Cunningham, #2 Bryan Buckhannon, #3 Cody Miller, #4 Kevin Trantham, #5 Michael Swift. WXC Women #1 Alicia McCormick. UTV XC-1 Pro #1 Cody Miller, #2 Kyle Chaney, #3 Tim Farr.
"Many of these riders have chosen to use DP Brakes products year after year, and have continued to provide us with the feedback needed to maintain our performance and durability leadership in brakes and clutches. We are very proud to have them part of our team. We wish them great success in 2017," said Mills.
For more information on the complete line-up of DP Brakes brake pads, shoes, rotors and clutch kits, contact DP Brakes North American Headquarters/Tony Mills International Inc. at 4401 Walden Avenue, Lancaster, NY 14086, (716) 681-8806, or visit them on the web at www.dp-brakes.com.
Comments
comments