HUEVOS 7 – Reviewed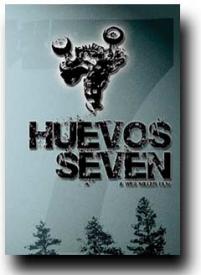 In the '90s, Flesh Wound Films' Crusty Demons Of Dirt blew away motoheads of all disciplines. This film set the off road world on fire and was considered by many to be the greatest motorcycle flick since the legendary On Any Sunday. Crusty's was the first modern extreme motocross movie to blend the best riders the sport had to offer with a level of video production quality that was far and above anything currently available. While the video was great, its lack of ATV action left four-wheeled ATV enthusiasts wishing there was a video this cool to showcase their chosen sport.
Wes Miller, owner of H Bomb Films Inc. set out to give the ATV industry some respect with his first title, Huevos Grandes. Five years and six movies later, Crusty may still be legendary, but in the ATV market H Bomb's Huevos series has become the standard by which all other ATV movies are compared.
Staying on top through innovation.
In order to stay on top throughout the years, Wes Miller would need to continue to innovate and find new ways to dazzle audiences. If you ever have the chance to view all of the Huevos movies in succession, you can't help but notice the progression in video quality, camera angles, video production and nearly every other aspect thinkable.
H Bomb Films has continuously upgraded their camera equipment in an effort to make their movies as new and professional as anything else on the market. For Huevos 7, H Bomb utilized Arri SR2 High Speed cameras. What's so special about this camera? It shoots at 150 frames per second, around six times faster than typical video cameras. This allows for super smooth slow motion shots with unmatched detail.
In order to cover the action from 360 degrees, H Bomb utilizes super wide-angle lenses within inches of speeding machines, helmet and machine mounted cameras, and even utilizes cranes and helicopters as filming platforms. While this may be a bit risky and expensive, it's H Bomb films willingness to go the extra distance that sets them apart from the rest.
Who and where?
In order to deliver the ultimate action, Huevos 7 features some of today's top racers and freestyle stars such as Bill Ballance, Kory Ellis, Jon Guetter, Derek Guetter, Dana Creech, Taylor Moles, Jason Dunkelberger, Jackie Meadows and Jason Luburgh. They're seen in Huevos 7 participating in almost every type of ATV riding. This latest installment was filmed in various regions of the U.S., Dominican Republic, and Mexico.
Lights Camera Action.
H Bomb's main man, Wes Miller, tinkers with final stages of Huevos 7. Before you finish reading this review, trust us, just stop and order your copy of Huevos 7 now. This movie blends together all that is good about the previous Huevos movies, with a few new surprises. The introduction shows a blueprint being drawn during the opening credits instead of the usual hot girl segment. At first you wonder why H Bomb films left out the girls, but as you watch the movie, you realize that Huevos 7 is going in a slightly different direction. Instead of just putting action to music, This movie seems dedicated to capturing the art of man and machine – nothing less.
The movie's super slow motion segments are flowing and flawless. It's these slow segments in contrast to real time and sped up segments that really capture the beauty of our sport and allow you to appreciate just how close a close call can be. Don't worry, it's not all slow mo – there's just enough to remind you how intense ATV riding can be. Another cool video trick up Miller's sleeve is his use of color filtration. We're not talking anything acid video looking, just removing certain colors to once again highlight rider and machine in a creative almost artistic manner.
The action in the movie is outstanding as you would expect and there are segments representing nearly every aspect of our sport. MX, TT, Cross Country, Dune riding, Freestyle – even urban street drags were featured. In our opinion the most impressive segment was Jon Guetter's mind blowing back flip. Watch closely as Jon back flips with a helmet cam on. You can almost feel it in your stomach. What Guetter did is nothing shy of amazing – H7 reminds the viewer of this with one of the coolest video segments ever captured!
Backing up the action is the usual hard hitting soundtrack. While its mostly rock and metal oriented, there is a little other flavor thrown in. The music fits our taste just fine with bands like Killswitch Engage, Deftones, Slipknot, Chevelle and many others. While a bit more diversity might not be bad, we are in no way complaining.
After the movie is over there's still more. H7 has plenty of bonus tracks as well as a director's commentary by Wes Miller himself. You definitely get your money's worth with this one – we promise.
Our final conclusion.
Take back that ugly sweater your in-laws got you for Christmas and spend the money on something you'll really appreciate for years to come. Whether you purchase every ATV movie that comes out, or are new to the sport and want to get started with the latest and greatest, Huevos 7 has the thrill factor you are looking for and a quality in production that is second to none. When you get it we recommend you invite all your buddies over and have a little video party otherwise they'll line up to loan it from you. And you may not get it back.
Comments
comments