Ironman GNCC Youth Coverage 2004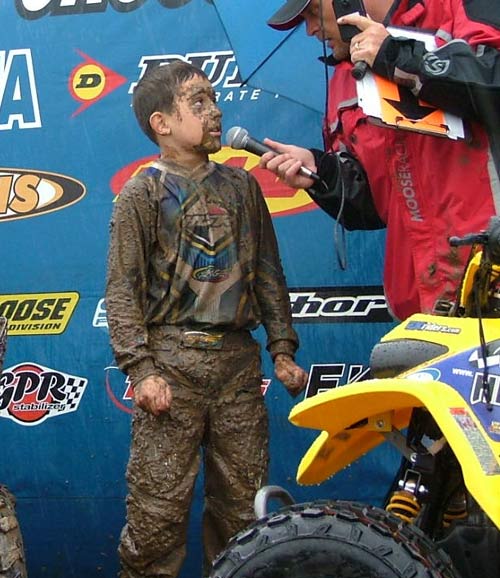 Ironman GNCC
Crawfordsville, IN
Oct. 23, 2004
Story and photos by Bonnie Hamrick
With the rain coming down, GNCC was holding a Youth ATV race at the Ironman event. This was a first for GNCC racing, and something that may happen again. Over thirty quads lined up on three rows of racing. Row one was the 90cc Youth Limited 8 to 15 year old Class. On row two, 90cc Youth Production 8 to 15 year old class. This was where the overall winner came from. Walker Fowler was out for a title on four wheels. Fowler was a motorcycle youth racer as well. Fowler was able to take the 2004 Youth Mini Junior Class Championship aboard his KTM.
But the prize at stake was a Kasea 90cc for the winner of the Youth Limited Class. ExRiders.com, its sponsors and members got together the money to provide this quad for the class winner. Such supporters were The Quad Shop, DeRisi Racing, GNCC, C & D Racing, and Burgard Cycle. Many more people were in the give for this quad, but these stickers were plastered all over the quad, which was being awarded to Brandon Boso, the 90cc Youth Limited Class winner. Brandon was dirty, covered in mud, but was smiling big with nothing but his white teeth showing. Proud parents and family members hoisted the quad up on the podium for Boso to pose with.
"So what is it like to win a quad?" Rodney asked while interviewing Boso. "Happy. That's what!" Boso's eyes never left the quad as he was smiling big. The crowd cheered as these three boys were congratulated on their overall finishes.
With big name Pro riders out watching this race and their results being covered just like any other race, these boys felt like Pro riders!
"I want to thank my Mom, Dad, and Cousin Dustin. This is great!" Brandon Boso will never forget this day. He was able to ride his Polaris to the win and hopefully GNCC will add these Youth ATV's to the schedule so more of Brandon and Walker will be seen!
Comments
comments