Loretta Lynn's GNCC, Hurricane Mills, TN 2004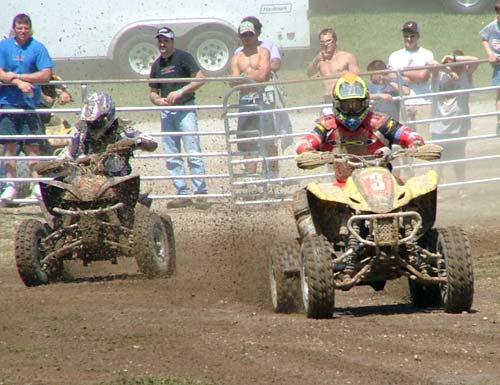 Loretta Lynn GNCC
Hurricane Mills, TN
April 17, 2004
By Bonnie Hamrick
That is right, because the action was jammed packed from the green flag up in the air to the checkered flag. To be honest, there were still battles out on the track after the checkered flag went out as well. You'll read more on that at the end of this report. As typical Hurricane Mills, TN was hot and humid, but just a few days earlier in the week there was two inches of snow covering the beautiful Loretta Lynn's Dude Ranch. That didn't't stop Jeff Russell of Racer Productions, with the help of Buren Hamrick, from laying out over thirteen miles of rocks, hills, and creek runs for round six of the GNCC series. Race day promised to be dusty, and it was.
The pro pits were packed, with the champion Bill Ballance starting off the row, joined with brother Brandon. Chris Borich, holding the number two plate for 2003 was looking for his first podium finish here at the Dude Ranch. Consistent finishes has kept him in the top three in points, but the young star from 2003 wants the championship this year and the only way to do it, is get on the podium. Currently second in points, William Yokley is looking to forget round five in SC and look forward to a new day, a day where his Elka Suspension was dialed in perfect and his physical shape was at its peak. Chad Duvall was looking for a great race today in Hurricane Mills because he couldn't't afford any more throwaways if his dreams of a championship were to come true in 2004. Bad luck had plagued Duvall early in the season, but after the last four events, bad luck is a thing of the past. Team Safari's Matt Smiley almost had the overall in SC, but lost his rear brakes on the last lap and couldn't't hold off Ballance to take the overall. Smiley has been looking good and looked forward to the possibility of taking the overall for the day. Enough hype, let's get on with what happened at the ranch.
Green flag up and away you go
Lining up on the starting line first was Bill Ballance (#1), next Yokley (#3) with Borich (#2) in line next. Fourth was Smiley (#5) with Greg Trew (#6) fifth. Sixth was Bryan Cook (#12) with Brandon Ballance (#10) in seventh. The rest of the Pro riders for the day were Duvall (#4), Brad Page (#7), Santo DeRisi (#8), Todd Knippenberg (#9), Johnny Gallagher (#11), Jeff Stoess (#14), Andy Lagzdins (#15), Jared Gruca (#18), Mike Houston (#20), Kim Kuhnle (#22), Rob Zimmerman (#59), Jason Sloan (#127), and Paul Rowlands (#164). When the green flag went into the air, Borich took the holeshot, finally getting his Yamaha to fire on command. Trew was right behind him for second with Brandon Ballance in third.
Lap One
Coming onto the motocross track after winding through some grassy fields next to some pit area, Borich still held the lead and was wide open on the throttle. Four seconds back was Trew and Duvall with Duvall passing on the motocross track for second. In fourth was Smiley Brandon Ballance, Page, Yokley. Next was Bill Ballance. Bill lost his front brakes only a few minutes into the race. His front tire had locked up hard. He tried to skid it along and free it up. Next he tried to slam the tire into a tree. Finally he wheelied the quad in fourth gear and quickly dropped the front end. The impact freed up the tire but something he was left without front brakes. "At that point I was thinking I might be able to get a top five without front brakes. I never imagined I would be able to race the whole race without them and actually win", said an exhausted Ballance after the race.
Back to lap one action. Forty seconds back for ninth was Cook and DeRisi wheel to wheel on the motocross track. Thirty seconds back in eleventh place was Lagzdins and Houston putting on a Honda muscle show. "Update Update from the eleven mile marker, Page has taken over the lead with Trew, Yokley and Bill all together. Will it last?"
Lap Two
Coming into lap two on the motocross track, Page still held the lead over Trew with Yokley right behind. Page and Trew pulled into gas, while Yokley flew by the pits, never backing off the throttle. In fourth was Ballance with Smiley five seconds back. Borich was holding onto sixth, fighting Duvall on the motocross track.
After going through the scoring tent after getting gas, a few racers switched positions.
Yokley held a six second lead over Page with Ballance thirteen seconds back in third. Duvall had taken over fourth, barely holding off the East Coast ATV riders Borich and Trew. In seventh was Smiley, less than ten seconds back. Brandon B. was now fifty seconds back for eighth with DeRisi and Cook twenty seconds back for ninth and tenth.
With the strategy not to pit on lap two with the other rider's, Yokley was forced to pull into the pits on lap three. Coming onto the motocross track, Yokley held just a few seconds lead over Page and Ballance. Yokley pulled in for a quick splash of gas and pulled out of the Suzuki pits in third. This was a close race to say the least. Borich was back in fourth with ten seconds between him and Yokley; Duvall managed to keep in fifth, now ten seconds back from Borich. Smiley was thirty seconds back in sixth with Trew just eleven seconds off pace in seventh. Cook had moved into eighth over a minute and twenty seconds back from Trew, with DeRisi pulling into the pits to fix a tow-in problem after colliding with a tree. Would Page be able to hold off Ballance for an overall win, breaking the Champ's streak?
Survival of the fittest
At first it didn't't seem like it would be Bill Ballance's day. Amazingly he charged into the lead without front brakes. Meanwhile his rear brakes were over used as you can imagine. "Once I lost the front brakes I knew it would be a long race so I tried to use the rears as sparingly as possible", said Ballance. On the final lap Bill realized he actually had a good chance to win the race. He was pushing himself harder than any race he's ever competed in. He even puked a few times due to complete exhaustion. Amazingly he continued to charge hard in an effort to catch the leader, fellow Kentuckian and rival Suzuki rider, William Yokley. Some how he actually passed Yokley for the lead on mile one of the last lap but didn't even realize it at the time. Meanwhile Borich was twenty seconds behind Yokley. Over twenty seconds back was Page and Duvall putting on a heck of show on the motocross track.
Ballance continued to push with every thing he had in hopes to catch up to Yokley, who he had already passed, but didn't know it at the time. As the race drew to an end, Ballance had miraculously put 45 second on Yokley and finished up with his fifth straight GNCC victory on his Yamaha YFZ.
With less than five jumps to go, Duvall soared into the air to pass Page for fourth and they rode wheel to wheel all the way to the checkered flag, finishing mere seconds apart. Over a minute and twenty seconds back in sixth was Smiley, taking the highest finish for Team Safari. In seventh overall was Trew, nearly a minute back from Smiley, but just seventeen seconds ahead of eighth overall, Cook. After passing back and forth on the last lap, Cook was able to stretch out the lead over Brandon B. to fifty seconds at the checkered flag. Taking tenth overall was Jeremy Rice from the Pro Am Class.
After the race runner up William Yokley had this to say, "I felt good all day; I took the lead while everyone pitted. I had to deal with a lot of lapped riders, but that is Loretta's. I plan on putting on another show at Kentucky like last year. See ya all there."
It was the first time on the podium for Chris Borich. He's been consistent all year but badly want to win. Riding with tough competition that is older and wiser to the race, Borich is just learning the style of some of these GNCC professionals, and doing a good job at it.
Catching up with the boys after only two races this year was Brad Page, aboard the Duncan Honda 450R. "I felt good all day. My lower back started hurting on the last lap because I am not used to riding for two hours. That is the only thing that held me up. I am pleased with my top five finish though. My bike worked awesome and it runs really smooth. I just want to thank this year's sponsors: Duncan, Roll, Elka, ITP, GRS, and Badger."
Finishing tenth overall and first in the Pro Am Class was Jeremy Rice, who kept his Honda 450R running all the way to the checkered flag. "Yeah, it was a bummer at Cross Anchor to be winning all day and have a tire rod end break on the last lap. I had everything together today and put in an awesome ride." That he did, winning by two minutes over Jathan Seale, who still took eleventh overall.
Over two minutes back from Seale, James Wahl and Scott Dailey took fourteenth and fifteenth overall, still just under a minute apart. Tom Hertz took nineteenth overall from the Open A Class, winning by over a minute over Jeffrey Pickens. Rounding out the top twenty overall was the Four Stroke A Class winner, William Howell, making his first GNCC appearance in 2004. Howell took the class win by thirty seconds over Michael Burrows.
Hope to see you in two weeks in Sparta, KY, where home grown Kentucky boys, Bill and Brandon Ballance, William Yokley, and Brad Page will be out to put on a show for their home state crowd.
2004 Loretta Lynn GNCC, Bill Ballance, Bonnie Hamrick, Brandon Ballance, Bryan Cook, Chad Duvall, Chris Borich, Greg Trew, James Wahl, Jathan Seale, Jeffrey Pickens, Jeremy Rice, Johnny Gallagher, Kim Kuhnle, Matt Smiley, Michael Burrows, Santo DeRisi, William Howell, William Yokley
Comments
comments