New RevArc HD UTV Ramp from Bosski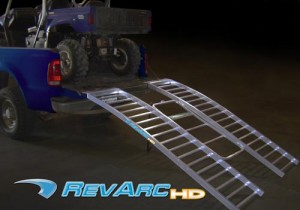 The latest edition to the RevArc line of ramps is the new RevArc HD (Heavy Duty) designed to load large Side by Sides into a truck or trailer. With a 2100 lb capacity, 64" wide, and 90" long, this ramp can work with Rhinos, RZR's, Gators, and Argos. At 48 lbs, the lightweight design can easily be positioned and handled by anyone, and it slips under a UTV for easy storage. Keith Evans of Bosski explains, "RevArc HD is an innovative hybrid ramp. It features the performance of an arched ramp with the stability and safety of a tri-fold ramp". Because it is simple to use, consumers rarely have to second guess whether the ramp is lined up with the UTV. Just position the ramp, lock the single strap, and load with confidence. RevArc HD is so innovative it was recognized as one of the top powersports products of the year. Bosski revolutionized the ATV-pull-behind-cart market with their ATV Wagon, and now they are doing it in the ramp market with RevArc.
"Everyone loves Bi-fold ramps, now imagine the convenience of an arched folding ramp- that's RevArc", says Evans. "Nobody does anything like this and sales are strong". Reports indicate the RevArc dealer base has gone from 20 to now over 250 dealers in the past 12 months. Kurt's Polaris, which has 3 stores, offers RevArc. "It's a better product- better pricing than anything else we sell," says Wiley of Kurts.
Also new from Bosski in 2010 is updated packaging on the entire ramp line and the new Lifetime Warranty. "Consumers want a better product at a great price, so we are giving them extra piece of mind with a Lifetime Warranty", says Evans. Should the ramp ever malfunction from defects in workmanship or materials, Bosski will repair or replace it. Finally, a quality Point of Purchase is placed on every ramp with large 18" x 20" packaging. Powersports dealers need to continue to find new ways to differentiate themselves from the "big box" and discount stores; RevArc ramps are distinctly unique and offered only in the powersports industry direct from Bosski. RevArc HD retails at $299 and can be found at quality dealers across the US.
Source: Bosski Press Release, revarc.com
Comments
comments