Podiums for Yamaha's Fowler, Richardson at General GNCC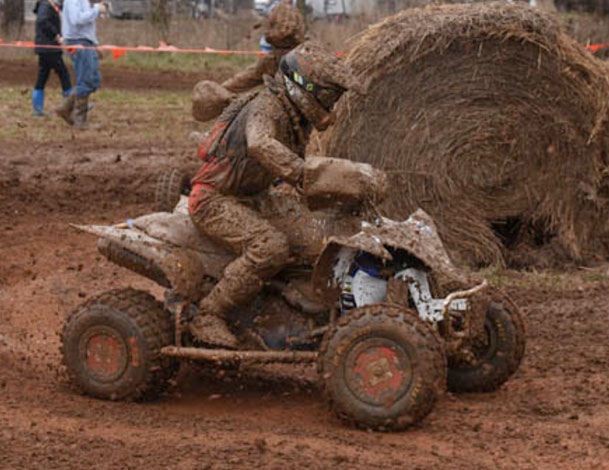 In challenging rainy, muddy conditions, N-Fab/AmPro/Yamaha's Walker Fowler rode his YFZ450R to a third-place finish in the XC1 Pro class at the second round of the 2015 Grand National Cross Country (GNCC) ATV racing season in Aonia Pass, Ga. on Saturday, March 14. His 1-3 finishes in the first two rounds of the year put him a close second in points as the 13-race series moves forward. Also YFZ mounted, fellow bLU cRU rider Brycen Neal scored a second-place finish to make it two Yamahas in the top three. And topping the day for Yamaha, in the XC2 Pro Am class, AmPro's Cole Richardson took his second consecutive win of the year, keeping him atop the standings with a perfect 60 points.
As usual, the XC1 Pro and XC2 Pro Am divisions raced in the afternoon, with the Pro riders starting first, and the Pro Am riders following in a second wave. At the start of the XC1 event, Fowler didn't get the jump he wanted, and battled hard to move his way forward throughout the event. The muddy conditions were so tough that even with his blazing speed, Fowler found himself stuck in sixth for three of the four laps. Finally, on the last half-hour long lap, Fowler made up nearly 40 seconds on the leaders, passing three riders and finishing third, just one second behind second-place Yamaha rider Neal. "Your bad days are the ones where championships are won," Fowler remarked. "This is what I have to do to go after that championship."
Starting one wave back, Richardson had another inspired run in the XC2 Pro Am division. He grabbed the holeshot – a great advantage in the poor conditions – only to be delayed in a mud hole on lap one. That dropped him way back outside the top five, making a hard afternoon of work despite the quick start. After extricating himself from the mud, Richardson really got on the gas, advancing into podium position by the halfway point and then taking over the lead from rival Martin Christofferson on lap three. From there the YFZ rider built up a nearly twominute margin of victory at the checkers.
Comments
comments