PSI Genesis 425cc Big Bore Kit for your 250R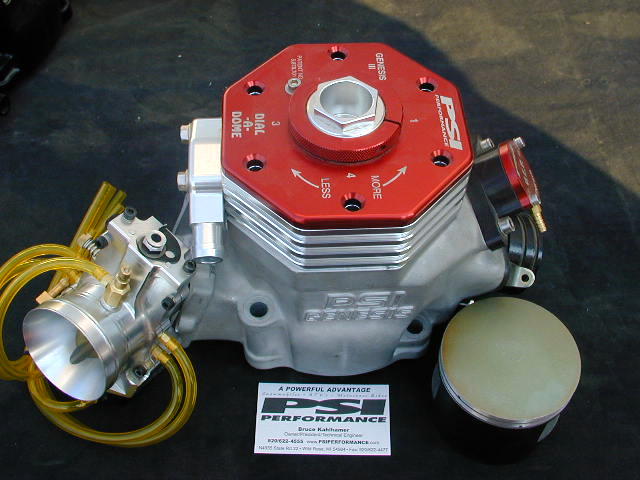 PSI, known for their potently fast snowmobiles, entered the high performance ATV market over a year ago. Since then, the company has been embraced by some and shrugged off by others. Some ask where were they when ATV racing was stagnant, while others welcome them because they're proud to have reputable companies and their modern day technologies peak into the ATV performance market.
As far as we're concerned, we are grateful that companies like PSI are popping up since they offer new and interesting concepts to our industry. In doing so, they keep existing companies on their toes by offering improvements to their own products. All in all, a win-win for you and I – the consumer.
PSI's big bore 425 is the biggest kit available for one of the the best high performance ATVs ever made, the Fourtrax 250R. The cylinder kit uses a mammoth 86mm piston that is ceramic coated on top and poly-moly on its side for long life. The cylinder has a Nikasil bore to further long durable life. A high volume pipe is definitely necessary to allow the motor to breath to its full ferocious potential. PSI claims that your new R will pump out a whopping 70 plus horsepower. After riding it we don't doubt their claim one bit.
John Pellan rails on the monster 425R.The unique "Dial-A-Dome" head allows for better cooling capabilities while offering easy adjustments for the different fuels. In other words, you can dial in the compression ration of the cylinder. This is great for using regular pump gas while practicing, then tuning it up to the highest compression setting and using more expensive race fuels come race time. But if you can afford a high dollar state of the art engine kit like this, you can probably afford to run race gas all the time – so you would leave the setting to its highest compression setting.
The kit comes complete with a V-Force Reed cage, aluminum intake manifold with a matching rubber boot and a heavy duty head stay. The sexy looking 10-port Genesis cylinder is supplied with billet water manifolds, O-ring, gaskets, all the needed hardware as well as a detailed instruction guide. The PSI Genesis "Big Air" Carb ($495) and PSI's Exhaust & Silencer System ($400) are not included.
PSI delivers new and innovative technology for the ATV. The 425 cylinder head above is one example.The stock radiator does not properly cool the monstrous motor, therefore PSI offers a Hi-Volume-Hi Flow Radiator kit for $375. We went a step further than just modifying the stock radiator. Thanks to Jody Bateman at JB Racing in East Springfield, PA for outfitting the big bore quad with an additional radiator. His set up cooled the motor just fine in the most extreme situations.
This kit does require a case modification so the top end works with your bottom end. It also gets a couple of extra boost ports added to the lower end.
If you're not sure what milling the cases mean, the pictures below should explain the process pretty well. The case mod is also offered through PSI if you or your local dealer are not up to the project.
A second radiator is used to keep the 425cc beast cool. Bla bla bla – how's it run?
When you kick start the new beast, you can instantly feel the weight and compression of the huge piston. It take a bit more of a kick to fire it, but it fires right up with one or two good kicks every time. It's much easier to start than a big four-stroke, to say the least. Once fired up, the monstrous motor pulls to no end with gut wrenching torque. Drop the hammer and its powerband seems to rip the tread right off the rear tires. This kind of power is definitely for experienced ATVers only!
It hits so hard that if the quad is hooked up tight, it's extremely tuff to hold on. In this case a little wheel spin isn't all that bad. Strange as it might sound, the wheel spin gives a little time to get situated on the quad because once the tires do hook up – hang on tight! Throw a nice straight stretch into the track and, you'll pass guys like they're stuck in third gear! Proof of what we're saying here is as close as Hutchinson, MN, the home of Daryl Rath — who won the Open Pro-Am TT National Championship with his 425.
Exhaust systems are available separately. PSI offers an unpainted "Works" style or a ceramic coated version. Get the coated one or your pipe will rust faster than you would believe. (See above). Their silencers are now improved and made of aluminum.PSI offers us consumers a legitament choice in getting the most performance humanly possible in an ATV. The 425 cylinder kit does just that. Yamaha's 660 Raptor, Bombardier's DS650 and plans for further big bore ATVs from many manufacturers assure that the high performance big bore ATV is indeed what's hot, but none of these quads can come close to the kind of arm yanking power that the Genesis 425R delivers. Furthermore, we don't expect to see any new two-strokes from the manufacturers anytime soon, so if your wanting that peppy two-stroke kind of power that you just can't find with a four-stroke, and your serious about having the biggest-baddest power on the block, then the Genesis 425 kit is for you. Just make sure your R's brakes are in perfect working order.
Another pro-level ace by the name of John Bartosek (East Springfield, PA) used our quad outfitted with the four and quarter PSI kit to go heads up with Rath and the rest of the Open Pro class riders at this year's Ashtabula and Orrville TTs in Ohio. Here's John's own words on what he thought of PSI's most powerful creation…
This should go without saying, but we'll say it anyway. The first order of any project is keeping your parts organized. Bins like this with dividers work excellent.
Simply apply the mixed mud-like material into the case holes and allow it to harden."Well I'd have to say the PSI is certainly fast, and could be very competitive in the Open-Pro class. They have a few bugs to work out with the carb system they're trying to run, and some stuff with the cooling. Other than that, it's a great package.
I think what they need to do is take what is working for Daryl Rath and sell it as a complete package. I mean for it to work you need a bigger radiator or two of them – like Daryl and I ran. They need to make a better silencer for their system too. If they worked out the carb system and the cooling I would definitely want to run it in the Open-Pro class next year.
I would have to say a strong running 250R has more bottom end grunt, the 425 isn't really lacking any, but mid range and top end is where the 425 hauls! Once you figure out what kind of gearing to run with it and adapt to the power you never really have to clutch it. It's so big, it has enough power to pull a gear high as long as you're not totally out of the power.
Once the material hardens, the milling process begins.The way their carb works helps out with the bottom end power a lot. The 425 really pulls on top though. It's definitely not for the un-experienced rider. I was easily driving by guys in practice on the Pine Lake straight stretch who had strong running 250s and 330s. I finished 2nd in my heat at Orrville and 2nd at Pine Lake as well. At the Orrville main, I ended up getting 4th, but I think I could have had a good shot at 2nd if the rear brakes didn't go out on the 5th lap.
All that power and speed with only front brakes to slow you down is a bit scary to say the least! At Pine Lake I ended up 10th in the main. I got a real bad start and then tangled in the first turn. I was in dead last and passed back up to 10th. Whizzing by guys down the straight was a blast! It was real hard switching from a four-stroke 440EX to that big monster two-stroke. I think that's why my starts were way off. It would come out of the hole good but I just wasn't used to it. I know I could've won a race on it if I got out of the hole good and had it a little better dialed in. A good rider would have no problems in winning the Open-Pro class on one, as Rath proved this year at the TTs."
The finished product… Notice the newly drilled port holes. Fischer's Honda wrench, Bud Fischer says that even though the cases are milled out to adapt the massive 425cc cylinder, it wont hurt anything to go back to a stock 250R cylinder if needed.
No, that's not a car piston overpowering the stock 250R piston, it's the 425 Genesis piston.Ending words
In our opinion, PSI released a few of their ATV products a little too early as some of their innovative state of the art high performance goodies were not properly tested. The 425 was no exception. We received the kit a year ago. When we got it, we seized it up instantly on more than one occasion. The hassles we went through while dialing it in were frustrating to say the least. We imagine other people might have gone through some of the same frustrations as we did (especially with the Big Air carb). But as time went on, PSI supplied updates to their products. Later JB Racing got involved and worked with PSI directly. Our quad got the new updated cylinder and carb and now it flat out rips! In fact it's the fastest quad we've ever ridden!
With that said, PSI's only wrong doing is releasing products before they are properly developed. Once they are properly developed — like the PSI 425 now is, hold on and have it pointed in the correct direction because PSI delivers the kind of power that makes your eyes water, your veins throb with adrenaline, and pokes a bit of insane-like fear within your soul. Again, make sure those brakes are working properly!
The PSI 425 motor is not tame! It's seen here caged in its frame.
The ingredients to build explicit adult only kind of speed for the 250R.
The "Big Air" Carb doesn't use jets and does not require any disassembly for tuning. All tuning is done externally with an Allen wrench on a 25 clicker adjustment that moves the needle up and down a total of a quarter inch. After some aggravating hassles with older model Big Air carbs, we were sent the updated carb. Jody Bateman of JB Racing dialed the new carb in and now the motor runs to its full potential.Price:
$3095.00 (pipe and carb are sold separate)
PSI's 265cc and 330cc kits are available for $2600. PSI also offers porting packages for your existing cylinder. They range from a $200 price to a $400 full blown package for the pro level rider.
Comments
comments