Richardson Wins GNCC ATV XC2 Pro Am Title, Fowler 2nd in XC1 Pro
N-Fab AmPro Yamaha's Cole Richardson won his first career XC2 Pro Am championship aboard his YFZ450R at the final round of the 2014 GNCC series in Crawfordsville, Ind. on Saturday afternoon, Oct. 25. Meanwhile teammate Walker Fowler finished an incredibly close second in the final round, missing out on his first career XC1 Pro title by just 0.2 sec. to Chris Borich in the final moments of the most exciting season finale in years.
With the XC2 title on the line, Richardson rode his heart out at the Ironman event, taking the win over championship rival Goings by over three minutes. Although Richardson grabbed the holeshot, he trailed Goings by nearly 12 seconds after the first of four laps, and had only a narrow 3.4-sec. advantage at the halfway point.
But from there on, the Yamaha rider turned up the heat, gaining over a minute's advantage entering the final lap and then extending it on the last lap to take a huge win and the title by a narrow five points. Equally impressive, the win was his eighth in 13 rounds this season. "Winning the championship has always been my dream," Richardson said. "I couldn't be happier right now."
After taking the early lead in the two-hour XC1 race, Fowler had to defend against Borich for the entire distance, rarely enjoying more than a couple of seconds advantage. He began the final lap with a 2.3-sec. advantage over his title rival, who is known for his late-race charges.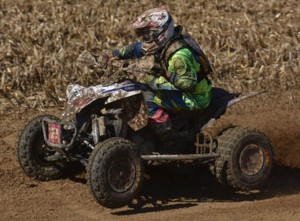 After swapping the lead with Fowler several times, Borich was within striking distance as the pair entered the motocross section on the last lap. Diving past Fowler in the final corners, he managed to take the win by just 0.203 sec. Even so, Fowler can rest assured that he did everything possible to take the title from the multi-time champion. In doing so he won six races during the year and brought the fight down to the final corner for Yamaha. "The amount of times we were rubbing and bouncing off each other was insane," Fowler said. "It was controlled chaos and it was just so cool."
Comments
comments