Yamaha 2011 SE Sport ATVs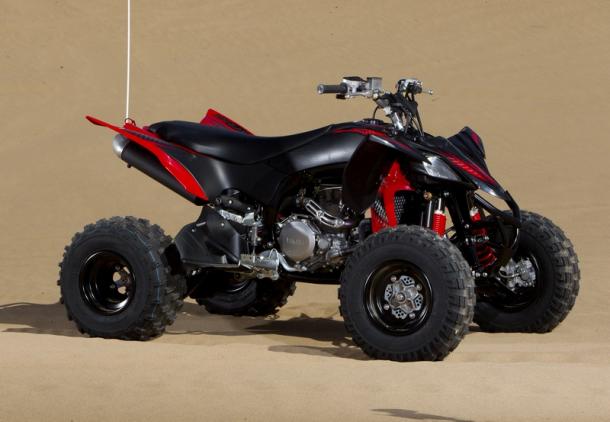 Photos byACP's Adam Campbell
It's that time of year again when Yamaha rolls twenty of their special edition quads out of a semi trailer and lets selected members of the media have their way with them at the Imperial Sand Dunes in Glamis, CA.
Yamaha also calls upon our favorite photographer in the business, Adam Campbell, to capture images of their newest and proudest sport quads. So take a minute and check out Adam's photography and learn more about Yamaha's new Raptor 700R SE and YFZ450R SE models.
The YFZ450R's boasts racer-friendly ergonomics with plenty of room and seat padding to hang off in the corners.
The SE Yamahas comes with quick-release fasteners for no-tools installation and removal of the front and rear fenders, special graphics, a black swingarm and a dealer-installed GYTR® black front grab bar.
The YFZ450R handlebars offer four positions. And In case you don't already know the YFZ450R uses a weldless frame that's designed from lightweight aluminum, with a tension-steel bottom frame that lets the engine sit lower for excellent mass centralization. Suspension components have more travel, carefully chosen for best performance, and the front shock bodies feature Kashima coating for even smoother operation.
This is one powerful 450! The 449cc engine uses Yamaha's titanium five-valve cylinder head technology, a specially designed camshaft that delivers abundant low to midrange torque.The oil tank is integrated with the crankcase so it's easier to service the engine. It's fueled with Yamaha's Fuel Injection for precise fuel delivery, and uses a big 42mm Mikuni® throttle body and 12-hole injector.
Yamaha calls their new Raptor 700R SE the Black Ghost. If you get the SE , besided the special graphics and colors you also get a wave-style rear brake disc, dealer-installed GYTR® front grab bar and heel guards.
Besides being such a fun quad to ride and the lightest in its class,Yamaha includes some nice options to help you out on the trail or dune, including a digital meter, speedometer, dual trip meters, odometer, clock and engine warning indicators, plus there's a neutral and reverse indicator.
The Raptor 700R uses a 686cc Yamaha fuel-injected engine that deliveres strong yet smooth ride-it-all-day-long power. It makes big torque right off idle then transitions into fat mid-range and ends with monstrous top end. In short it's the ultimate dune riding machine!
Yamaha didn't skimp in the suspesnion department. It uses sport-tuned piggyback shocks that are fully adjustable so you can fine-tune the ride to your exact needs. There's a big 9.1 inches of travel in the front and 10.1 in the rear. Trust us it's ultra plush!
This GYTR equipped Raptor 700R is ready to roost…
Many GYTR pars available straight from your dealer. This GYTR exhaust is a great choice if you're looking for a little extra punch.
GYTR nerfs, aluminum footwells and plastic extensions are seen here. They stop another rider's wheel from getting inside your and prevent the possibility of running over your own leg.
Ok time to ride! Click the next page to see Yamaha's Dustin Nelson and Josh Row in action….
more details on Yamaha's Special Edition Sport ATVs at yamaha-motor.com
Comments
comments