Yamaha's YDX TORC Power Assist Electric Mountain Bike
Believe it or not, Yamaha invented the e-bike with a prototype back in 1989. The idea went into production in 1993, since then over two million bicycles and four million e-bike drive units have been sold mostly through select OEM partners worldwide, but until recently you couldn't purchase one in the USA. And you certainly couldn't purchase a Yamaha Power Assist e-bike in America until now.
I was recently invited to Southern California to ride-test the first four American-designed Yamaha bicycles that are now available at Yamaha bicycle dealerships across the country. After learning more about the mission and ride-testing the product, I have a prediction to make, maybe not right away, but in the future I think Yamaha will be just as known for their electric bicycles as they are for their ATVs, motorcycles and musical instruments. They're that good!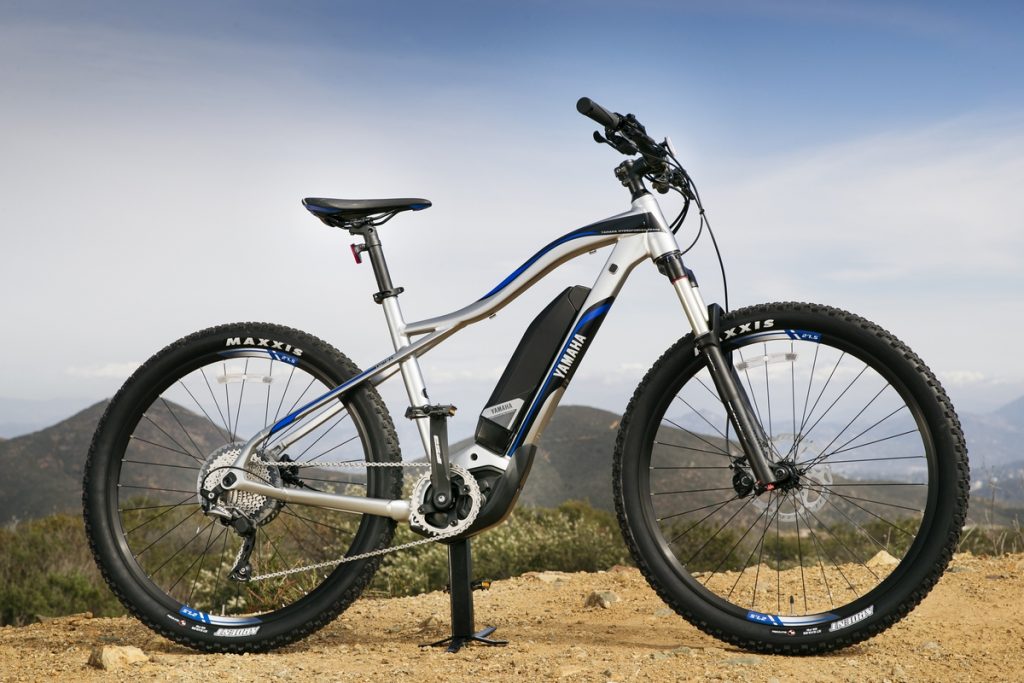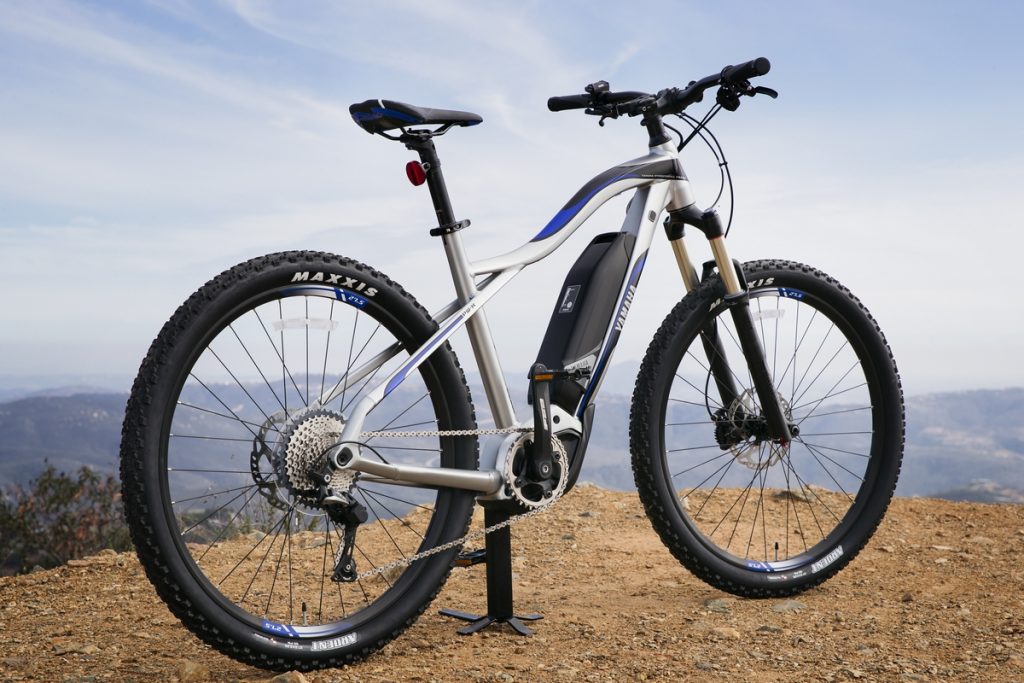 The new division is starting off relatively small, so it wasn't hard to ride-test their entire bicycle line-up in one day.  I'm not into road biking, so I sure would have rather seen three mountain bikes and one road bike but that's not how Yamaha will start its California-based bicycle division. Unfortunately for us off-roaders it's the opposite – three road bicycles and one hard-tail mountain bike is what you'll have to choose from, but don't count on a four-bike line up lasting very long. Furthermore reading between the lines (and witnessing the big mountain bike movement we're currently enjoying) I think Yamaha will concentrate more on their off-road bicycle segment going forward.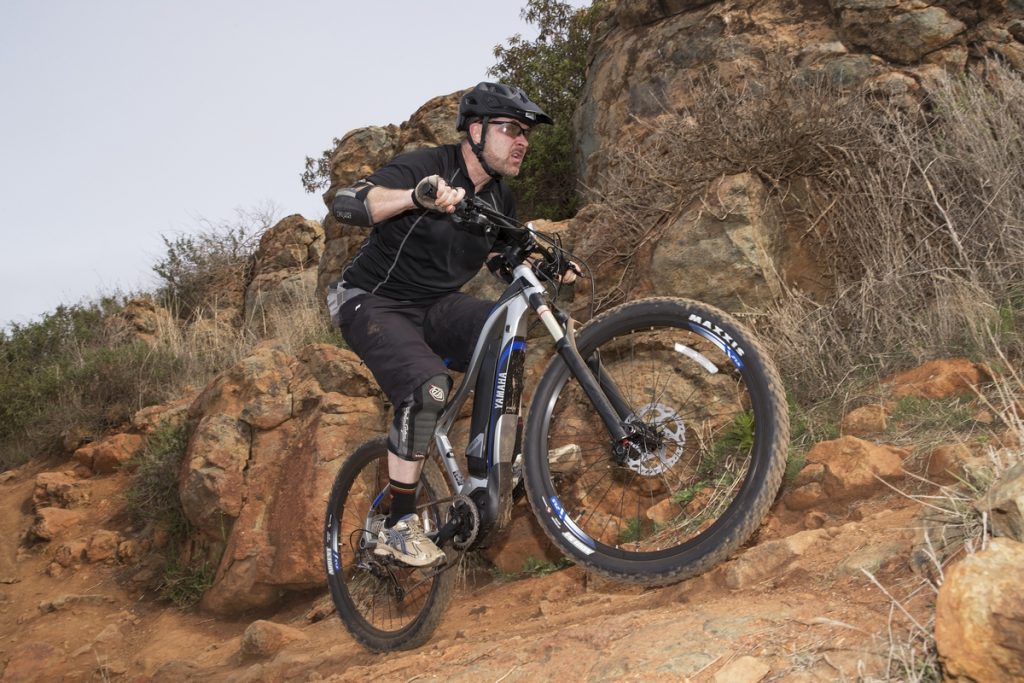 As for my experience at the first-ever Yamaha bicycle intro in America, I swung my leg over the three road bikes; the Cross Core, Cross Connect and Urban Rush, all were fine (I especially liked the Cross Connect) but to tell the truth – all I could think about was doing one more loop on the YDX-TORC. If you're into the e-bike road scene and you want to learn more about Yamaha's road e-bikes I would advise you to check out the excellent video my new friend Mikey Geurts of Blue Monkey Bicycles put together below…
Now more on the YDX-TORC…. I will address the elephant in the room first and foremost. In this modern high-tech day, how could a company known for high-performance top-of-the-line products choose not to offer a full suspension mountain bike? Especially when that company is YAMAHA of all companies! I got several answers on why it's better to ease into the market – and all of the answers I received quickly diverted into just how awesome they feel their new YDX hardtail is, (and it is indeed) but I have to admit I was disappointed that they didn't roll out a YDX-FS bike during the lineup reveal.
Okay, you're not getting a rear shock on the 2018 YDX-TORC but that doesn't mean you won't enjoy the bike. As for durability, I'm happy to report that our group put 22 miles on six test bikes, about half the mileage was rough rocky terrain that really put our bikes to the test. I thoroughly looked over each bike and found zero issues.
What I did discover is despite the rider's size everyone I talked with mentioned how well the bike handled and fit them. That's because Yamaha is the only manufacturer with 25-years of experience designing complete e-Bikes from frame to motor. What's more, each size is its own design – meaning that the frame isn't just a scaled down version of the bigger frame like most bicycle manufacturers offer. Yamaha's unique differences to the bicycle design ultimately translates into the category's most consistent fit, performance and comfort regardless of the rider's size.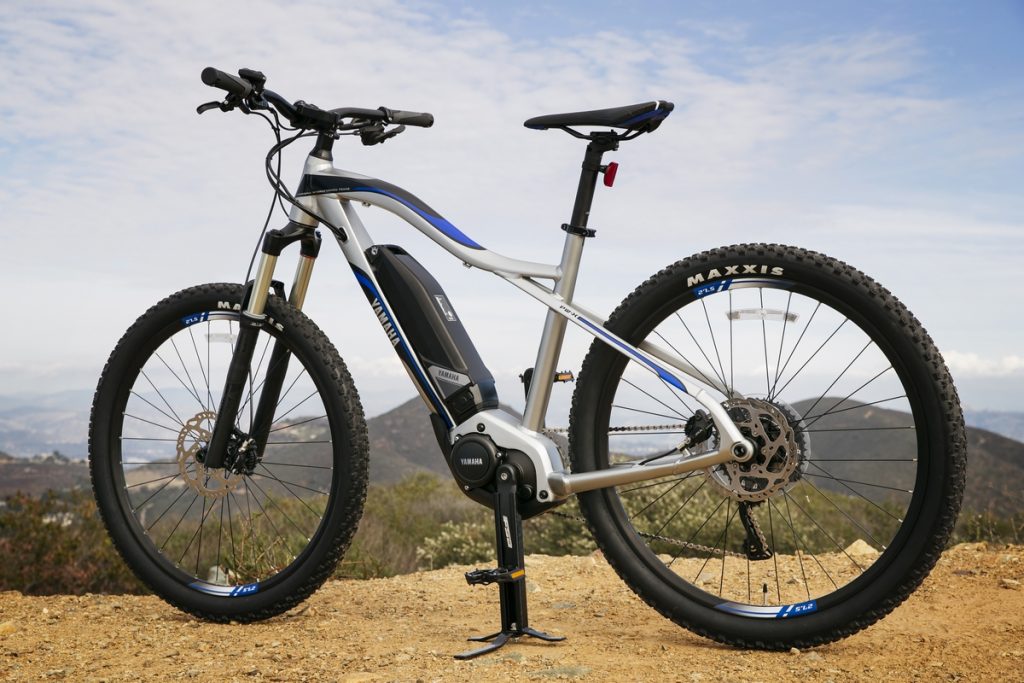 The YDX-TORC frame is made from hydroformed aluminum with quality internal cable routing. I especially appreciate the thought-out design that allows for aftermarket internal dropper post routing. I'm big on dropper posts. If you can afford to add one to the bike you'll be glad you did. Getting the seat out of the way when needed helps performance so much. Other noted features include a RockShox Recon 120mm travel forks with a remote lock-out lever, Integrated tapered headset with 30mm headset spacers, 27.5 x 2.25" Maxxis Ardent tires (unfortunately not tubeless ready), the derailleur, shifter and brakes are all quality Shimano SLX components and a KMC 11-speed e-bike duty chain is used to better handle the stress that an e-bike can put on a chain.
On to why you're mostly interested in the YDX-TORC, it's unique ability to offer smooth and natural-feeling power assist to the rear wheel.  While Yamaha's new road e-bikes are all equipped with their PW-SE motor (which offers four levels of assist, 70Nm of torque and cadence support up to 110 rpm), the YDX-TORC comes with the all-new PW-X motor. The new award-winning PW-X motor on the YDX-TORC e-mountain bike features five power levels: ECO+, ECO, STANDARD, HIGH and EXPW. The first four modes deliver 70Nm of max torque with a cadence support of up to 110 rpm, while EXPW increases max torque to an impressive 80Nm and rpms up to 120. The PW-X also features a 13% percent smaller, lighter motor case, and faster ratchet ring engagement for faster motor response and increased performance when riding under more challenging conditions.
All of Yamaha's power assist motors provide the purest, most natural assist feel thanks to Yamaha's Triple Sensor System that has been exclusively optimized for Yamaha's U.S. power assist bikes. Through the Triple Sensor System, thousands of times per second, frictionless sensors measure the rider's pedal-torque, bicycle speed, and crank arm cadence with tremendous precision. Communicating back to the motor, the system helps determine how much assist is provided based on the changing terrain and situations (such as hills, speed, etc.) common to cycling.
The speed sensor is carefully located inside the rear hub – meaning that they don't use the typical magnet on a spoke idea. This makes it very hard to tamper with the motor to get past the 20mph limiter. I'm all for speed and modifications but not in this case. Yamaha needs to be commended here. If people can easily modify their e-bike motor and become too fast they wont be allowed on mountain bike trails. The way they are now is perfect if you ask me. It's a simple power assist to help a person climb hills better, not a dirt bike hidden within a bicycle frame that roosts all over traditional mountain bikers and hikers – so I hope other manufacturers follow with tamper-proof designs of their own to stop anyone from even attempting to modify their e-bike motor.
Yamaha's mid-chassis drive unit provides effortless smooth natural-feeling power that's better experienced than explained. It's more as if you suddenly became an Olympic athlete and less the fact that you have an electric motor helping your every pump, it's even hard to hear the assist that the motor is producing, it's that seamless within your own pedaling effort.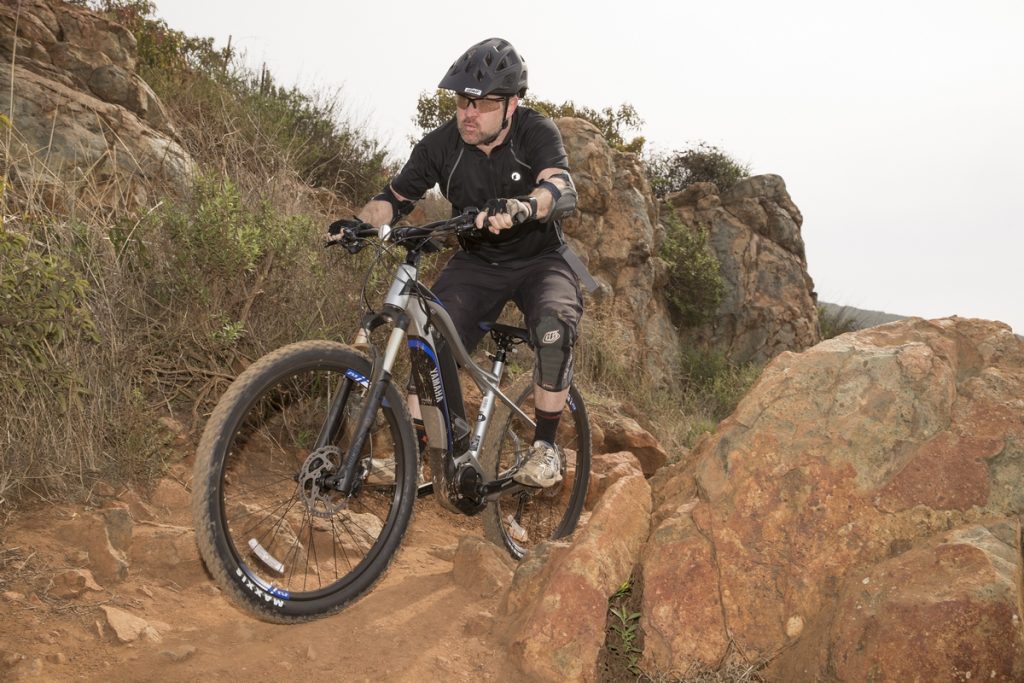 Every model in the Yamaha Power Assist Bicycles lineup is powered by a 500 Watt-hour Lithium-ion battery pack with a 36V output that recharges in just four hours. The battery is the same physical size as Yamaha's older 400 Watt batteries and they are cross compatible. All of Yamaha's bikes employ a center mount system in which the power unit and battery are secured close to the pedals to create a low center-of-gravity for better weight balance and excellent riding stability, while the unique side-exiting battery design allows for a lower stand-over height for greater rider confidence. I'm certainly not wanting added weight on my mountain bike, but I have to say, the way the bike built with the added weight down low and centered it actually helps the bike stick to the trail, this is especially noted when riding aggressively downhill. The only time you will ever feel the added weight is when you run out of power and have to pedal back without assist. Thanks to Yamaha's bigger battery, the handy distance-to-empty information on the display and the five levels of assist you may never have to experience the weight of the bike.
I can't say enough about Yamaha's PW-Series motors. I happen to own one and I've ridden the Bosh motor in a full suspension Haibike. The two power plants look somewhat similar but perform much different. The Bosh delivers its power at a higher RPM and kicks in while you're getting up to speed, while the Yamaha delivers its power quite opposite. You'll get up to speed much quicker on the Yamaha. I greatly prefer the way the Yamaha makes its power. While I'm talking about other manufacturers, now that Yamaha makes their own bicycles worldwide if you're curious if their Yamaha's PW-Series motors will still be sold to other manufacturers the answer is yes – and I'm sure they greatly appreciate that as it's an incredible piece of technology no doubt about it.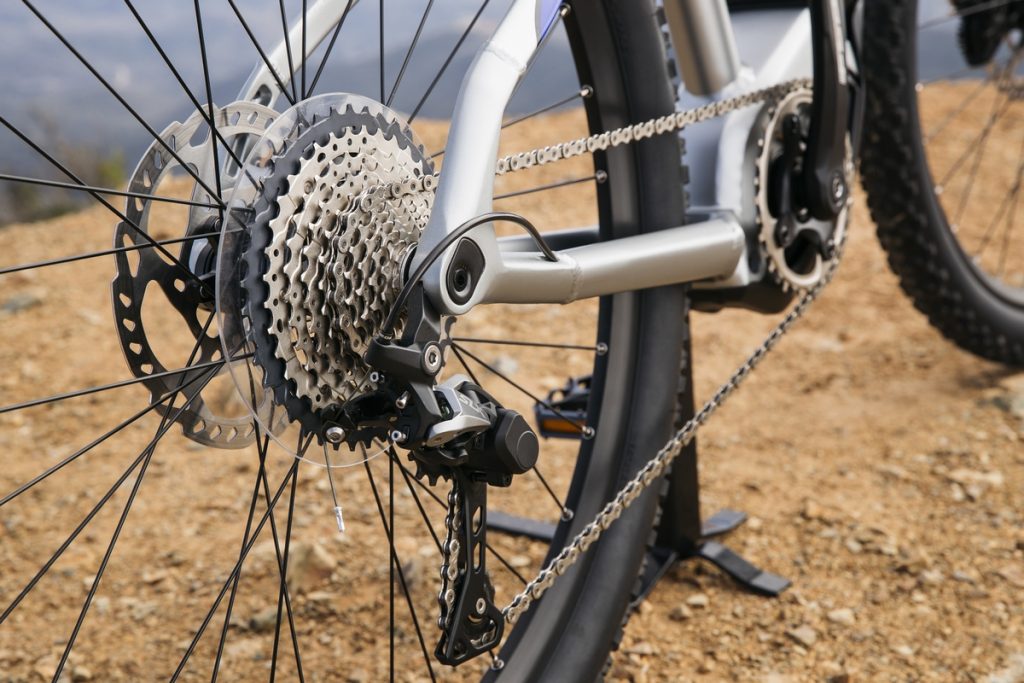 All of Yamaha's Power Assist bicycles feature an easy to use and easy to read multi-function LCD display unit. The compact unit is a big improvement over their older display unit mainly because of how it's professionally mounted and tucked out of harm's way. I thought the numbers would be too small to see before I rode the bike, but that wasn't the case. There's even a handy colored LED indicator so you quickly glance down and know which of the five levels of assist you're in. On the left side of the bars at thumb's reach there's a well-made not-going-to-break push-button control unit that allows you to easily shift from any of the five levels of assist and toggle through the various settings like rolling speed, max speed, trip meter, odometer, range, battery capacity and cadence.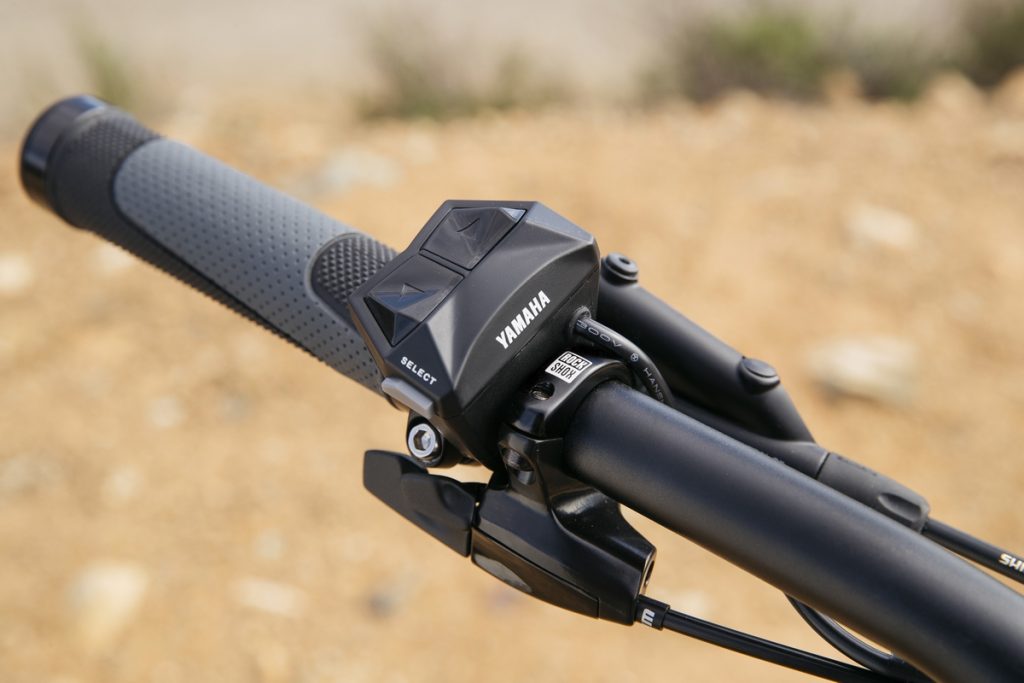 It was only a few years ago that I questioned Yamaha's approach, why does a motor company specialist make musical instruments and swimming pool equipment while letting other manufacturers like Giant and Haibike reap the rewards of their brilliant e-bike motors by not making their own bicycles? That question has been answered. My new question is how popular will Yamaha bicycles become? Will other powersports manufacturers jump into the e-bike scene? Regardless, if you're a mountain bike enthusiasts like me I think you'll agree, it's a good time to be alive! And if you're not quite understanding what all the hype is about, I highly advice you to check out the Yamaha YDX-TORC for yourself. One ride and the e-bike movement will make complete sense to you.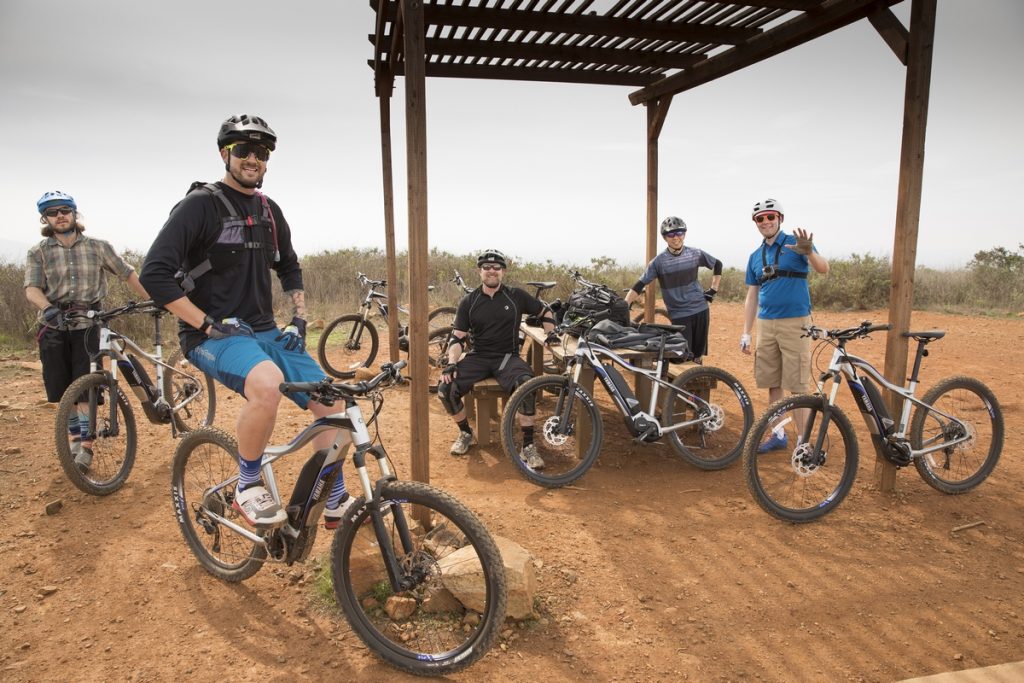 The Yamaha YDX-TORC will be available at select e-bike dealers this summer starting at $3,499 MSRP
For complete specs click over to yamahabicycles.com
View Yamaha's full line of Power Assist Bicycles at www.YamahaBicycles.com. Follow Yamaha Bicycles at www.facebook.com/YamahaBicycles, www.twitter.com/YamahaBicycles, and www.instagram.com/YamahaBicycles.
Comments
comments