Angela Moore 4-11-00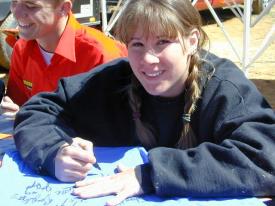 ATV Scene: How did you get involved in the sport?
Moore: I started racing when I was 12 years old on a Suzuki LT-80. My dad took me to a local track to see if I would like it because he had went there and rode. So I went there, raced and got second overall, and we just stuck with it.
ATV Scene: Do you like TT or MX better?
Moore: I like them both, but I would say that I like TT better because of how fast you go and I have been doing great at them.
ATV Scene: Do you have a boyfriend?
Moore: Yes, his name is Charlie
ATV Scene: What does Charlie do for your racing?
Moore: Basically he does everything. He works on the bike, cleans it, gets parts for it. I think the only thing he does not do is go out and race for me.
ATV Scene:What is a typical week for you?
Moore: Monday – Thursday I go to school from 8:00 to 3:00. On Monday nights Charlie comes over and we watch WWF wrestling. I don't have any school on Fridays so that is my day to get things done that I haven't done all week. Friday nights, I work at a restaurant as a bus person. I work on Saturday mornings for Charlie's brother-in-law. It's demolition work. After that sometimes I go riding for a little bit. After that I go to work again at the restaurant. Sundays I try and get a couple of hours of riding in.
ATV Scene: Most embarrassing moment?
Moore: At Pine Lake last year, Charlie and I were walking around and we went to the Baldwin Motorsports trailer. I thought Charlie was beside me, so I started rubbing his back,or at least I thought it was his back. The person who I was rubbing the back of looked back at me and it was not Charlie, it was Daryl Rath from Rath Racing.
ATV Scene: Most memorable moment.
Moore: Receiving the Randy Howard Memorial award, and my overall Womens Championship at the 1998 awards banquet.
ATV Scene: What is this year's goal?
Moore: To be the first women's class racer to win the championship for 3 years in a row.
ATV Scene: Any advice for the up and coming female racer?
Moore: Just keep riding and don't let anybody keep you from doing what the guys do. Show everybody that you are just as good as the boys and that you can do the same things that they can.
ATV Scene: Sum up ATV racing in one word.
Moore:"Growing"
ATV Scene: What's in the future for Angela Moore?
Moore: Well, now I am going to school at Erie Business Center. I am studying to be a web page designer. I want to keep on racing as long as I can and to get as
far up in the classes that I can. I hope to get married to Charlie some day too.
ATV Scene: Thank anyone?
Moore: I would like to thank all of my sponsors: K & K ATV, Lone Star, Gear Racewear, Baldwin Motorsports, PEP, TC engines, Hinson Racing, Douglas Wheels, Maier plastic, Action Photos, Braking, K & N and AC Racing
ATV Scene: Parting words…
Moore: I would just like to thank everybody who has helped me out through all of the years and to tell everybody to "keep on riding".
Comments
comments