Kentuck-asaki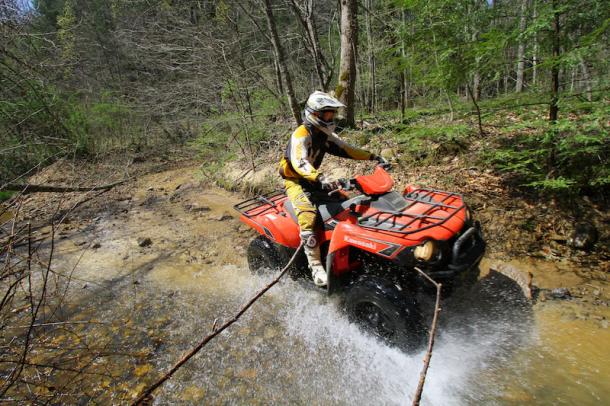 By Tony Trapizona
Photos by Fonzie
Recently, Kawasaki invited a bunch of magazine editors to the newly opened Paradise Park OHV ride spot in Knott County, Kentucky to ride their 2010 UTVs, ATVs, and RUVs.
When we first rolled up to the paved parking area of the ride spot I could tell the folks behind this new park were serious about doing things right. Then I saw not one but two Kawasaki semis in the distance. It was obvious that and Kawasaki was just as committed. This would be one epic ride adventure.
Enter Bill Reed
Bill Reed is the President of the Off-Road Division of Strategic Advantage Marketing. They are a multifaceted company that specializes in building economic diversity through adventure tourism. After much success with his last assignment, the legendary Hatfield McCoy system in West Virginia, Bill is now in charge of building a similar success story in Kentucky. The Paradise Park trail system, deep in the heart of the Appalachian Mountains, is currently a work in progress project. Thanks to Kawasaki we were the first to ride the beautiful Kentucky terrain that awaited us. Soon some 300 miles of multi use trails will be available for OHV, non-motorized and equestrian riders. The Mine-Made Paradise Park trail is slated to have a soft opening in the Fall of 2010 and a grand opening in April, 2011. In addition to the Mine-Made Paradise Park trail system, which also features an impressive ATV and motorcycle riding training center, (one of only five in the US) there are three additional trailheads that make up the Paradise Park ATV wonderland.  Fire Trail, Brushee Fork Trail and Red Fox Trail, all are slated to open by 2012.
Don't plan on riding all of these trails without staying overnight for a few days. It will take you 4-6 hours to ride the 50 mile Mine-Made trail alone. Combined there are a whopping 43,000 acres of privately owned land to discover. There will be campgrounds and cabins to rent in the near future as well.
Sounds impressive doesn't it? Wait until you hear about my experience out on the trails. Trust me, if you're anywhere near Kentucky you're going to want to come ride the professionally designed and well marked trail system.
Let 'er rip!
The first machine I rode was the Kawasaki Brute Force 650 4X4. I have always heard great things about it, so I wanted to try it out and see what all the hype was about. Being mainly a sport quad rider, I was really impressed with how this big bad 4×4 handled whatever I put in front of it. The machine felt like a sport quad with its straight axle, and as a sport rider I really liked this over an IRS ute for my first ride. The 650 was a blast on the wide open trails, This is something I didn't think I would be doing on a 4×4. It's low center of gravitty, wide stance and throaty power allows a really stable ride, so it's especially fun through the turns. It was so much fun pitching it sideways through the corners.
After tearing through many open trails, we ventured into the woods. Let me tell you the terrain and ride was outstanding! It was the kind of terrain that diehard 4×4 quad riders dream of. The trail wound its way through reclaimed coal mining areas (hence the name "Mine-Made"), through logging roads, several forest areas, along creeks and rivers and more. We were told to be on the lookout for elk, but I didn't see any in my journey. In the adventure we discovered several water crossings, small mud holes and rocky hill climbs and descents. I had a complete blast flying through the trails and blasting my way through whatever awaited me around the next turn! The one thing that I noticed the most was the great elevation changes that this placed seemed to have throughout. If you like your trail to have plenty of challenging sections along the way, you're going to love the all-new Paradise Park, be sure to make your way through Trail #1, otherwise known as the Mine-Made Trail. This ride was just flat-out fun, and I had no problem conquering the terrain on the mighty Brute Force 650 4X4. Even with the 650 being a straight axle quad, I didn't seem to have any issues with ground clearance, even in the rocky areas. The suspension soaked up everything that I threw at it with ease.
After we stopped to take pictures and talk about the trail I hopped on the Brute Force 750 4X4i. Let me tell you this quad was a blast to ride! It has so much power it's ridiculous. Just stab the thumb throttle and it effortlessly gets you on your way quicker than you expect. With it being fuel injected the throttle response was great, there was no hesitation whatsoever — the power was always there when I needed it. Coming out of corners and climbing hills I could especially notice the added power. With the independent rear suspension I was able to charge through sections so much faster and smoother than I could on the straight axle 650 I rode earlier. Just when I fell in love with the 650, my feelings had changed. The IRS Brute Force 750 ended up being my favorite ATV of all the Kawasaki equipment I tested.
The next ATV that I took off on was the Brute Force 650 4X4i. This was a great quad too! It just didn't have that seat of the pants power that the 750 had so kindly made for me, but it was still fun to ride because it had the same suspension. I did notice a difference between the 650 4X4i and the 650 4X4 straight axle, which was the throttle response, thanks to it being fuel injected.
On the trip back to camp for lunch I took notice of the beautiful scenery that Knott County, Kentucky offered, something I didn't really look at while blitzing through the trails on the initial ride. The very accomadating folks behind the Paradise OHV area prepared lunch for us, which consisted of steak, baked potatoes and more. Life's good!
After lunch I hopped back on the Brute Force 650 4X4i and we headed to a new trail section that was freshly cut just three weeks ago! I loved riding this section because it was really technical and rough. They sure do know how to cut a trail I thought as I maneuvered my way through a winding technical section that really put my Kawie's independent rear suspension to the test. The trail was really narrow and consisted of tight corners, slippery rocks, ruts and logs to climb over. Everyone ther
e agreed that this section was a complete blast!
Man, what a monumental ride it was, and that brand spankin' new Brute Force soaked up everything flawlessly. It was one of those rides that sticks with you even after you pack up and head out. I'll probably remember it forever and compare every future ride to it, it was that epic.
In Conclusion
Even though the Mine-Made Paradise Park trail system is not fully built, the sections that we rode were amazing! If you are like me before I went on this ride, you might think that you can't have as much fun on a big bore 4X4 in the woods as you can on a sport quad, than I recommend that you give it a shot. There's something about having a tank-like ATV under you that makes this kind of riding a complete blast. Regardless of what type of ATV you ride, I highly recommend that when the Mine-Made Paradise Park officially opens you go to Knott County, Kentucky and experience these amazing trails for yourself. You won't be disappointed!
A Kentucky-sized thank you!
I had an awesome time on my first ride intro! The Kawasaki staff and the fellow magazine editors on hand couldn't have been more friendly and fun to be around. I was a little nervous being a rookie but everyone made me feel right at home.
The people behind Kawasaki are a great bunch of people that's for sure. Bench racing was great too and I'm sure, like me, everyone there had a complete blast. I would also like to thank Bill Reed and the kind people at Paradise Park in Knott County for all their hospitality.
Comments
comments