Old School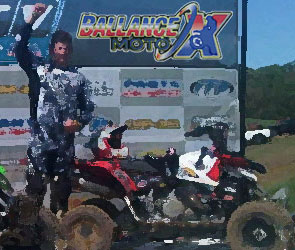 By Dave Porter
There's no way that our trip to Ballance Moto X could be as full of bad luck as our trip to the first race at Pell City. Besides the speeding ticket in Virginia, the mud on Thursday and Friday, my stolen camera, having the right hotel but at the wrong exit and having a faulty brand new stator in my son's race bike – our first trip wasn't really all that bad.
Anyway, below are my observations from the second round of this year's ATV MX Nationals…
Polaris
I'm not sure how to write this because it may sound a little self serving, since I'm a little partial to Casey Martin and his Polaris race quad. So with that said, I'll just give it my best shot. For the first time ever a Polaris was on the Pro-Am production podium. Actually it wasn't the first time. Last year at Loretta Lynn's Casey put the Polaris on the box but there was a scoring mistake so he and Polaris didn't really get up there until this year's Kentucky event. Anyway, as Casey's wrench, let me tell you – it felt pretty damn good. Yep I'm the mechanic for that second place Polaris, but besides me it was great for the many people that have worked so hard to put Casey and his Factory-backed Polaris on the podium. I'm so proud of how hard Casey, Jenifer and Daryl Rath have worked to get the 450 Outlaw to this point. I worked on the machine for three weeks to add a few additional ponies and get the Outlaw to handle a little better. The Rath's have been at it for three years, so my hat's off to them for all their commitment and hard work.
Pro-Am
It looks like some of the riders from last year underestimated the new blood coming into the Pro-Am ranks. Guys I'm not going to hate on anybody so I won't drop any names but you guys know who you are. The guys coming into your class worked a bit harder then you did over the winter. I'm just calling it how I see it.
Doug Gust
How was any type of national quad motocross racing allowed to happen without Doug Gust not in attendance. How does a guy with his credentials not have a ride for 2010? I'm not exactly sure what he got for offers so I'm not in the position to judge anything I guess, but I know I have the credentials to say It sucks not having Doug at the nationals. It's just not the same without him.
Josh Creamer
I got crap from Josh for not giving him mention in my last feature. I told him to win a race and I'd think about a mention. So Josh here it is… Not many people know this but Josh's factory ride isn't a big money deal for him unless he wins. He has an incentive bonus like no other factory rider. You see he doesn't get paid a salary. The only way he makes money is if he does well. He gets travel expenses and performances bonuses and that's pretty much the extent of his contract. I bust his ass all the time telling him he's racing for food. That should explain why the #55 isn't riding yellow this year. Any-who, Josh looked great at balance and I admirer his hard work without a doubt. In case you missed it, Byrd and Creamer had a great second moto battle going that had the crowd on their feet the whole race. Great job Josh, it looks like you'll be able to eat this week.
More Bad Luck
As I said above, my son and I are having a strange run of bad luck this year. I've already told you about the last trip. This trip wasn't much better as far as bad luck goes. We had a flat tire on our truck in Kentucky, a flat tire on our race trailer in Ohio and to top that we had a brand new blown crank in his race bike. When it rains it pours lately. O well, that's part of racing.
The Fox Shox Tech
I just wanted to say thanks to the crafty Fox Racing Shox trackside support team of guys. They bailed me out twice this past weekend. They covered my ass and I owe them big time. Thanks guys, if not for you that Polaris would not have been on the podium, who knows maybe we would have DNFed a moto without your help. I guess I'm buying the beer next round.
ATV Press
I'm a little frustrated. The only manufacturer not operating in the red finishes runner-up in the second toughest ATV racing class in the world and there's barely a whisper of it. It's an American built quad, what is wrong with you guys? Then the news is shifted to major breaking news that ATV racing is back on TV. I was stoked at the headline. I thought there was some ground breaking news happening and our sport was about to get back to where it belongs, only to find out it's just a reality show on a far off channel that most people haven't heard of. Oh well, at least it's something. I would rather see mainstream coverage on ESPN 2 or SPEED. I haven't heard the word ban in a while, so I guess it could be worse.
See you after Danville.

Comments
comments