Rod Lopusnak 1-31-06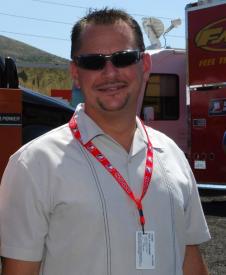 ATV Racing, two words not very long ago that might as well have been curse words as far as the ATV manufacturers were concerned. A lot has changed since those dark days of quad racing. We now race production built ATVs and this year eight of the top ten GNC motocross professionals receive some sort of factory backing.
All this didn't just miraculously happen however. When Suzuki introduced the made-for-the-serious-trail-rider Z400 in 2003, our man of the hour, Rod Lopusnak, put his job on the line and single handedly convinced the powers that be at Suzuki of Japan and American Suzuki that, trail-bike or not, it was time to go racing!
With Rod at the helm, Suzuki signed Tim Farr and Doug Gust to race the Z400 in the inaugural "Pro Production" class in 2003. Since then the sport has exploded into far more than many ever expected, and we're proud to say that quad racing's future looks exceptionally well.
Just as rumors of a made-for-the-track QuadRacer 450 neared, Rod vanished from the ATV scene and took a job with AMA Pro Racing. Needless to say, based on our personal friendship and his race savvy mind set, we were extremely disappointed to hear the news of his ATV departure. The sport absolutely needs an educated proactive racing stance like Rod's. We even went so far as to strongly lobby to move Rod from his AMA Pro Racing dirt bike duties into an ATVA position or even some sort of "ATVA Pro Racing" leadership role. We later convinced off road committee delegates at AMA Congress to pass a recommendation to look into this very matter. With Rod's cunning strategies and success at Suzuki, we were excited to think what Rod's mover-and-shaker mentality would offer ATV racing as a whole.
The non-existent spot within the ATVA didn't happen for Rod, but as of a few days ago, he's back in the ATV scene nonetheless as the official ATV Operations Manager at America Suzuki! Regardless of the many duties on his desk, including the Suzuki LT-R450 QuadRacer intro and Team Suzuki's QuadRacer debut at the GNC opener at Glen Helen, he still managed to find time for this interview. Read on to see what this passionate quad racing ambassador has to say in our 25-question interview.
1. Welcome back! Did you miss it?
Thank you! I truly did. I think you realize how much you really enjoy something when you are away from it for a while. I'm very excited to be back with Suzuki and for the future of the ATV industry as well!
2. Why did you take the job with AMA Pro Racing?
I enjoy all powersports racing, motorcycle, ATV etc. AMA Pro Racing was a good opportunity for me. Plus it offered me a chance to get closer to racing. As I said when you're away from something you love it is easy to see where you belong. There is nothing I enjoy more than working at Suzuki and all of the elements that go along with it! Suzuki is my passion, it is my home!
3. We're curious about something. A few years ago manufacturers continued to take advice from corporate attorneys when they insisted to not get involved with ATV racing. What was it you said or did that got Suzuki to ignore those warnings, field a race team and soon after dive in with such enthusiasm?
At Suzuki we love to compete. We feel we make the best products available and racing is our ground to prove that. When you look at the major race disciplines in our industry Suzuki is dominating, Mat Mladin has won 6 out of the last 7 AMA Superbike Championships and Ricky Carmichael, for the first time ever, won every possible Championship on a Suzuki motorcycle. I just wanted to carry that same drive and passion to the ATV race team and that's a big reason for my return to Suzuki.
4. You seemed to have a sincere passion for this sport. You've talked excitedly about the sport's future. Is it cool to share a few your ideas you have to better the sport?
Overall I feel that ATV racing has so much opportunity in so many areas that it is hard to pick out one or two. The amazing thing about the ATV industry is the passionate people who are involved from the OEM to the aftermarket. The aftermarket literally held ATV racing both GNC and GNCC together by themselves for many years with no OEM support. If there is something I can do to make this support better for Suzuki and everyone I want to be apart of it!
5. Let's talk about Suzuki's 1-2-3 punch – Gust, Jones and the LT-R450. First off, is there enough of them in the country to allow you guys to race them at round one?
Yes there are plenty of units to meet the ATVA race regulations. We are starting to ship them to dealers as we speak. The great thing about Team Suzuki/Yoshimura is exactly that, we are a team first and foremost. Every person on this team works their butt off from top to bottom. Let me just say that we would not have any championships if it was not for each and every person's commitment. You should follow Ryan Cox and Paul Turner around for a week, these guys are incredible! I can't thank them enough. Honestly I don't know if they sleep, Team Suzuki ATVs are the best prepared in the industry, not because of money but because of passion and desire to be the very best by all of our team members! And the riders, we have are the best! Not only are they two of the most talented riders in the world but more than that they are two of the best people I know. It is so easy for Team Suzuki because we have no worries when it comes to our riders. There is no drama or off track problems in any situation, they are simply a class act and from a manufacturer's stand point that's as good as it gets. They compete at the highest level professionally and they're both people you would want your children to admire as a role model. I know people say we have an endless supply of money which is ridiculous, as we all know money does not win championships! Actually in comparison to other forms of racing we spend very little. What Team Suzuki does have is an incredible amount of passion and desire to be the best! When Suzuki decided to go Pro ATV racing we had big shoes to fill not only with the competition but with our other Suzuki teams. We are up against Team Suzuki MX with Ricky Carmichael and Team Suzuki/Yoshimura Mat Mladins 6 AMA Superbike Championships. I don't think those two teams spent more than their competition. The ATV Race Team and all the staff are the two biggest things I missed when I left Suzuki, but now I'm back and we are going to raise the bar even higher!
6. Can you list everyone and their responsibilities on the team?
Well there's the riders; Doug Gust and Jeremiah Jones. Wayne Hinson is the team manager, Travis Sylvester, (the newest member of the race team) is our team coordinator, Ryan Cox is Jeremiah Jones mechanic and team engine builder, Paul Turner is Doug Gust's mechanic, Rick Stricklin will handle suspension duties, Billy Gainer is the truck driver, Don Sakakura is Senior VP at Yoshimura, Brant Russell VP Sales and Marketing at Yoshimura and Pat Alexander is our Sports Promotion manager American Suzuki.
7. Who sponsors the team?
Team Suzuki/Yoshimura MX sponsors:
Team Suzuki/Yoshimura ATV MX Racing receives support from many outstanding companies. Sponsors include Genuine Suzuki Accessories, Fox Shox, Motul, BMC, Tag Metals, Streamline, Fly Racing, Hinson Clutch Components, Regina, Douglas Wheel, NGK, VP Fuels, Walsh Racecraft, Bling Star, Precision and Pro Design.
Team Suzuki/Yoshimura GNCC sponsors:
Team Suzuki/Yoshimura ATV Cross-Country Racing receives additional support from: IMS, ITP, Roll Design, Elka Suspension, Temecula Motorsports, Hinson Clutch Components, Motorex, Tire Balls, Sunstar, Motion Pro, Galfer, CGR, ARC, RK Chains, Scott USA, Badger Racing, JPMX, QuadTech, GPR, VP Racing, Hardkor, Works Connection, CTi2, PowerMadd, Team Industries, Cardio Shack, IMS-Roll, Fulmer Helmets and Universal.
8. Is Jeremiah and Digger's equipment dialed in and ready for round one?
Yes we are ready, the riders have been hard at work for 2006 and we look forward to a great year! That is the great thing about Suzuki we love to put our product up against the competition and race! It will be fun to see all the hard work that everyone has done payoff when many new ATV racers around the country start competing on the new QuadRacer 450.
9. We were led to believe that the Suzuki race team would be racing nearly stock ATVs, but we've spotted what looks like several aftermarket parts on Jeremiah and Gust's practice quads. What gives?
First off the team is testing to see how good we are in stock form vs. the competition. Some products we may use, some we may not. I think both Doug and Jeremiah could literally go out and race the LT-R450 100% stock and they could be very, very competitive! We are competing at the highest level of ATV Racing and to be able to use the new QuadRacer 450 as close to stock as it will be is truly amazing! In order to keep bringing our Suzuki customers the best product we need to push the envelope and race and test with the best products available so that in the near future every racer benefits from all this testing and racing just like they will be with the new 450! Doug Gust's 2004 championship ATV was the benchmark for every aspect of the LT-R450 and it exceeds it everywhere by a long shot and that race old race ready ATV of his cost two times that of a new LT-R450. That is amazing as far as I'm concerned! I would say that the ATV race industry has come a long way in a short time! When Suzuki started the LT-R450 project a few years ago I can honestly say that I would have never believed anyone could build an ATV this good for $7,299. That's Suzuki, they do it over and over again in many areas like the GSX-R series motorcycles constantly raising the bar. When you think about it, Suzuki invented the 4 wheeled ATV and just about every category and many features that exist in all ATVs today. Once again I feel they are re-writing the Sport ATV Market! I believe the LT-R450 will exceed customer expectations. Also with the release of such an incredible model the entire aftermarket wants to be involved giving Team Suzuki so many opportunities.
10. Is there a specific area of a typical motocross track that you feel lends Suzuki an advantage?
With the new LT-R450, I would say every part of the track! This ATV was built from the ground up to be race-ready very similar to today's top motocross motorcycles. The concept is that you can now purchase a unit that you can be competitive on a race level right from the show room floor! This is a win, win for the customer. Just think how much money this will save the weekend racer? This will give more riders a better opportunity to actually go out and race and be competitive without having to break the bank!
11. Rumor has it that Honda's John Natalie stated you guys started a little war when Paul Turner mocked him in the Carpe Diem 2 video. Any comment on this?
We all know Paul is a high energy guy and we like him that way, but I don't know of any war. The only war I know of is the great racing that will happen at every round of the ATVA National this year. John is a great rider, which he more than proved last year with his championship. Team Suzuki competes against all the major OEMs in all disciplines and we look forward to challenging John and the rest of the top riders for the championship!
12. What about the amateur ranks? Honda has a Red Rider contingency program in place, but no one seems to know much about it. Other than that, there really isn't an OEM out there with a grass roots plan in place to lock in brand loyalty. Are there any plans of something like this in the future?
We are closely looking at that. We will not have anything for 2006 but it is possible in the future.
13. Back to the pro topic. If Suzuki were to add another professional racer or replace one with someone else, who would be your first pick?
As I have said we have the best and I would not change them for anyone! There is an incredible amount of talent out there so it would be tough but in the end that would be a decision made by Wayne Hinson.
14. Why is it mandatory for the team to run white plastic?
Suzuki has used white and blue as one of there company colors forever just not on their off-road products. When Suzuki decided to go to a semi the decision was made to go with the white and blue like the colors our road racing team uses.
15. Until now manufacturers have been reluctant to build a machine that is wide enough for motocross racing right out of the box in fear of losing cross country racers and trail riders. What made Suzuki decide to come out with a near 50" wide machine, and how do you feel this will effect the machine's cross country and rec-riding sales?
We had to make a decision to go either cross-country or motocross so we surveyed racers, recreation riders, dealers, spectators and aftermarket companies and we feel that motocross has a larger impact on sport ATV sales. In regard to recreational sales, this additional width will be a huge bonus for all the dessert riders as the LT-R450 handles incredible. Also GNCC ATVs have been getting wider in the past few years. Some guys have been running at 47 inches so they are closing in on the same size anyway. I believe that this trend will continue and additional width will be needed. We will continue to monitor this as we want to always meet customer's expectations. We will also continue to support William Yokley as a part of Team Suzuki for our GNCC efforts.
16. Has Suzuki given thought to producing a cross country version of the LT-R in the future?
Yes, we will continue to monitor sales and use. Overall the LT-R450 is the best sport ATV package available so it would be easy for Suzuki to make small adjustment for specific needs. When you start with an incredible foundation – going in different directions is always easier than starting fresh.
17. Is there anyone you admire and why?
There are many, to name a few; my grandfather, as he is the reason for my passion and involvement in this incredible industry and for giving me so much insight in life. Most of all my three kids RJ, Camryn and Sydney.
18. What do you feel the biggest accomplishment for the sport has been in the past five years?
The product is definitely high up on the list. Finally the ATV industry is getting ATV specific products. In the past ATVs seemed to just get the "hand me downs" from aging motorcycle designs. Now we are getting product that has technology that the motocross bikes don't even have yet such as fuel injection. This will only make the ATV industry stronger and bring more customers for everyone!
19. What do you feel is the biggest challenge facing our sport in the future?
Customer/Rider education and riding areas. The industry needs to continue to push the envelope and be proactive in both of these areas. The major manufacturers do a great job as far as rider training goes, and we need to continue keep up with this. Riding areas are becoming harder to find in many areas. Without the recreational rider there is nothing.
20. While ATV racing has grown in sheer numbers, it seems like there are twice as many classes where everyone is essentially racing the same displacement machine, or at least machines that are based on 450s. Has Suzuki given consideration to developing a high performance small bore or open class machine that would be applicable for racing – or are we stuck in a world with 30 classes for one displacement?
We look at everything and this is one that is high on the list. In my opinion this is the future of our sport. We need a Sport/Performance ATV that a customer can walk in and buy just like RM125 or RM-Z250 and go recreational racing right off the show room floor. I feel Suzuki has taken a major step toward this with the new LT-R450 but there is a huge need for similar models in smaller cc sizes in order for racing to really grow. Stay tuned….
21. What are your thoughts on youth racing? Has Suzuki given any consideration to building a new performance oriented youth quad?
No not at this time.
22. What's your opinion on 14 GNC rounds this year and the rumor of a 16 round GNC series next year?
In my opinion 14 is enough. It starts to get very costly in travel etc when you start adding so many rounds. The riders today are at such a high level they need some time to let the bodies heel and rest.
23. Do you think there is a better date for the Glen Helen GNC? Due to the fact that is is schedule don Superbowl Sunday, in your opinion, will it help turnout out hurt it?
In regard to spectators, the Superbowl will hurt! Nonetheless I just can't wait until the gate drops.
24. Pittsburgh or Seattle in the Bowl?
I'm an east coast guy so I will go with Pittsburgh!
25. We're just as excited about this fast approaching season as you are. Welcome back! You were definitely missed.
Thank you for taking the time and I look forward to another incredible year!
American Suzuki, Billy Gainer, Brant Russell, Don Sakakura, Doug Gust, Jeremiah Jones, Pat Alexander, Paul Turner, Rick Stricklin, Rod Lopusnak, Ryan Cox, Suzuki LT-R 450, Trais Sylester, Yoshimura
Comments
comments