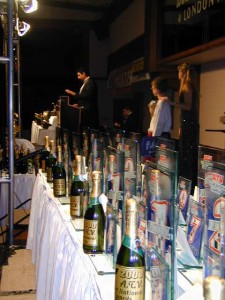 Once again Byron and Shelli Goggin played host to the 4th Annual ATVA Grand National ATV Awards Banquet held on Saturday, Nov. 4, at the Drawbridge Inn, in Cincinnati, Ohio. Nearly 600 people found their way through the maze like halls of the classy hotel to account for the biggest crowd in all four years!
The hotel, which is only minutes south of the Ohio border near the Cincinnati airport, was chosen for it's central location to those that follow the GNC series, and for its many attractions – as in pool, bar and 24 hour café,
The NATVMG and the Goggin family made it all happen. They not only found the place, but also completely paid for everything.
As usual, Byron and Shelli, dressed in elegance and style, made a grand appearance and the show was on. Thanks to the many sponsors, nearly everyone went home with prizes and contingencies. Bryon, a master with editing ATV video footage into cool half-hour videos, kept up with his tradition of revealing a highly entertaining video to watch while dinner was served. This one gave tribute to the big Legends 2000 event, promoted by yours truly, John Pellan (Fast-Trak Promotions). The video had it all; legend's interviews, practical jokes and plenty of exciting shots of pro and amateur race action.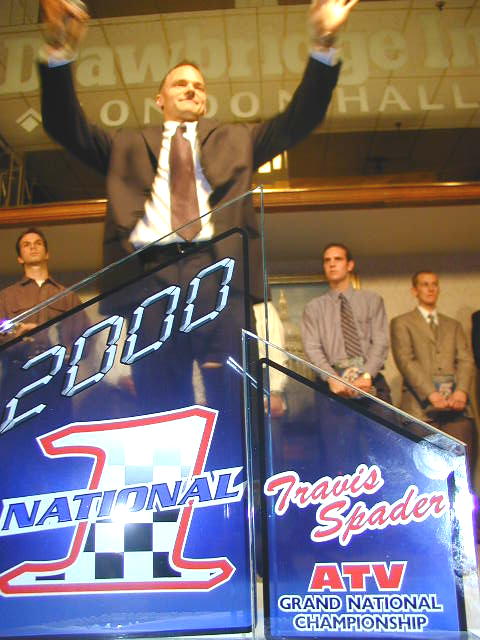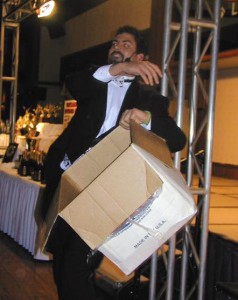 After dinner those that didn't think fast were hit upside the head with free gifts. Byron loves to throw stuff at you. (In all honesty, he loves giving stuff away – not always aiming to hit you upside the face with a wadded up T-shirt – not his fault if you're not paying attention). The festive night then moved into awards, awards and more awards – all the while big money, free vacations and tons of quality ATV accessories were constantly being given away. In short, if you missed it you definitely missed out.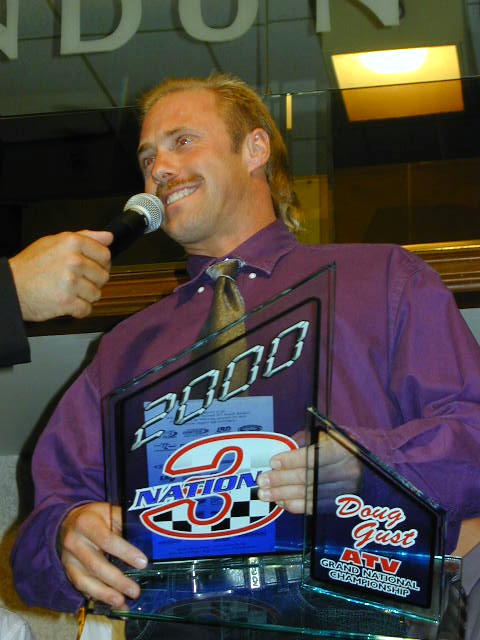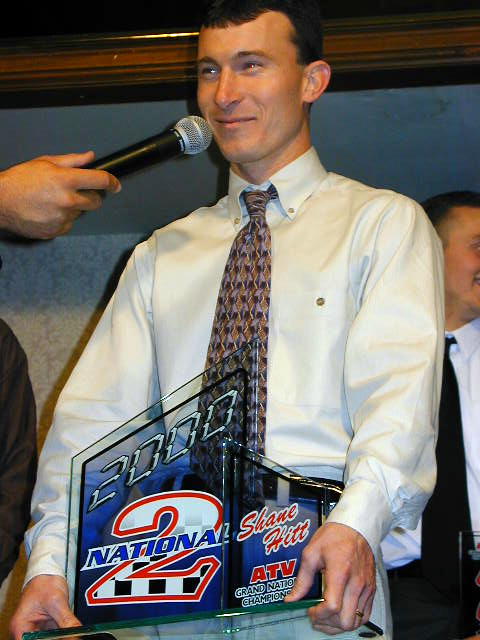 The Pit Crew Challenge is now a four year old GNC tradition, in which the industry aftermarket teams compete in organized pit stops – while fans can bet on their favorite team with chances to double their money. The event has earned over $3000 in its four years. The money has been collected to help fund the cost of putting on the annual banquet. This year the event was held on tricycles (they should ban those things) in the midst of the awards banquet. It provided tons of laughs but proved to be the last time running. The challenge was between Nac's (Sean Sermini and Dana Creech), Duncan (Paul Turner and sitting in for "Doc" Spader John from TC Racing) and the Baldwin team of Tim Farr and Mark Baldwin (the year after year favorites in the Pit Crew Challenge). The Fast-Trak Promotions promoted event got put on hold for 2000 (we had our hands pretty full this year). So the decision to keep tradition alive was made. The challenge was underway in the carpeted isles of the banquet room. One guy would push his teammate for a lap then they would switch drivers for the final lap. The event got lots of laughs, but proved to be too dangerous. It was total mayhem. Little girls getting mowed down, black and blue ankles from hecklers trying to DNF would be winning teams – all in all, it's safe to say the event wont be held like that again. In a photo finish the Nac's Racing team of Serm and Creech came out on top. The real winners were those that walked back to their tables without injury.

Next to the elite GNC pro class, the most exciting class is the Women's Class. Here are a few shots of some of the world's fasted females. Unfortunately, we didn't get a shot of GNC Women's number 3, Paula Shank. Paula has progressed over the years and was even a nominee for the most improved rider in the amateur ranks. You go girl!

ATV SPORT PEOPLES' CHOICE AWARDS
ATV Sport magazine sponsored the third annual ATV Sport People's Choice Awards. The award categories are pre-selected by Goggin. The nominees are then distributed to the ATV racing community and later returned via fax or mail. The winner is selected by majority vote and only known to Goggin and ATV Sport Magazine prior to the ceremonial awards banquet.

Engine Builder of the Year
Nominees: Tom Carlson/TC Racing; Mark Baldwin/Baldwin Motorsports; Curtis Sparks/CS Racing; Loren Duncan/Duncan Racing, Harry McDermott/Trinity Racing; Arlan Lehman/LRD.
Duncan Racing

Most Feared Rider In The Nation
Nominees: Dana Creech, Tim Farr, Doug Gust, Shane Hitt, Travis Spader, Jeremiah Jones
Travis Spader

Race Team of the Year
Nominees: Duncan Racing, NAC's, Baldwin Motorsports, Performance Racing Concepts, Sparks Racing, Trinity Racing.
Duncan Racing/Roll Design/Golden West Cycle

Most Influential Manufacturer
Nominees: Laeger's, PEP, Doug Roll, Duncan Racing, ITP.
PEP

Additional Awards:
Darren Naccarato Perseverance Award: Presented by Jim and Shirly Naccarrato of Nac's Racing in the name of their son Darren.
Wayne Mooriadian, PEP

For a complete listing of all MX, TT and GNC national champions click here:
http://www.amadirectlink.com/amrace/00atv/00atv.html

[postgallery_grid id="grid_" data_source="data-4″ orderby="ASC" flickr_set="No username entered" slidesetid="GNC Awards 00″ content_type="textimage" imgwidth="150″ imgheight="150″ lightbox="yes"]