On The Fast-Trak 11-15-01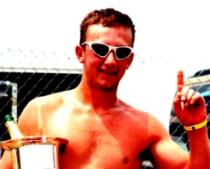 Year 3, Issue 8
GNC changes
I've talked to many people about the new changes to the GNC series. There have been plenty of shocked reactions to say the least. Just so you know as of this date it is only recommenced that starting 2003 no motorcycle motors be allowed. This is not set in stone. Nor are the new four-stroke production classes. These recommendations are in the name of making our sport more affordable – Hey Suzuki, Honda, Cannondale, etc. — How about lending a buddy a hand? Not trying to tell you guys what to do here or anything – but you might call the ATVA and push for this to happen. While you're on the phone, please set up some contingency programs for amateurs and bonus bucks for the pro riders. Refer back to 1986 for details.
Here's a comment that Wes Miller and I were talking about the other day. It pretty much sums up the biggest problem our sport is going through… If Doug Gust were born 10 years later in life, we would have lost him to dirt bikes or something else. His early days of racing were affordable. He was able to turn heads on stock ATVs and got the sponsorship help it took to allow him to ride the $25,000 quads he now competes on. Doug's a blue collar kind of guy – he would have looked at the YZ/Laeger scene and walked away. How many more genuine heroes and true legends of ATV racing are we missing out on because the sport is so expensive? I know my biggest problem in racing was not having enough money to compete – and it's probably 90% of all your problems as well.
I would love to see some new four-stroke production classes. This would be a huge start in bringing back affordable racing and along with it – the OEMs. It's my opinion that eliminating the motorcycle engines in 2003 will make for a more affordable series. Getting these one-off machines out of the media's attention might force the manufactures into spending some of their advertising dollars in the ATV racing scene. If Laeger/YZ 426s and Laeger/CRF 450s are going to be the hot set up of the future, then the OEMs don't need to spend a dime in the ATV racing scene because the media would be reporting on ATVs that aren't available to the majority of potential ATV buyers. If Suzuki's new Z, Cannondale, Kawasaki's new thumper or Honda's 400EX are winning races, getting attention and making magazine covers – I strongly think the whole sport would benefit because it would finally give the OEMs a desire to push their respective product to modern day technology advances and offer some creative marketing strategies all in the attempt to outdo the competition. As of now these manufactures view the current competition as a rich kid's homemade highly expensive project that most cannot build – thus no threat to their sales at all! I know there are 30 or so riders out there that have invested in a one-off ATV race machine and they will strongly disagree with my points, but if we want the manufacturers to continue to spend their ATV advertising funds on dirt bike semi truck and trailers, then we should let the sport go the way it is and order our Travis Pastrana and Ricky Carmichael posters to decorate our garages. If not I think we should do something about the problem before it gets too far out of hand.
As far as the GNC split up goes – Am I going to need a good divorce attorney? Who is going to end up with my house?
KY takes two
Bill Ballance won himself and the Maxxis/LRD team another GNCC championship. Congratulations to Bill on his second Championship! And congratulations to Jeremiah Jones and his Sparks/JPMX team for winning the GNC title! Both riders call the Bowling Green, KY area home.
WORCS includes ATV racing
Want to be on TV? DH Racing Products, LLC and Cross Road Adventures, Inc in Laughlin, NV plan to include ATV racing as a part of their race series. They'll host their first ATV race this year at their final round on Dec. 8-9th. There will be a Pro class with 100% pro payback. They also plan on having a Freestyle exhibition Fri. and Sat nights. Best part is MotoWorld ESPN2 and Hi Octane will feature a segment on the event. Outback productions will also be on-site with a full film crew. The ATV race at Laughlin will be a 45 minute Grand Prix style event. Pros first off the line first then amateurs one minute later. Quads will race at six out of seven rounds in 2002 with a 60 min duration. Depending on the response, they'll add classes as needed. If you are in CA or NV (or anywhere near there) this might be something to look into for sure!
For more info contact Dave Hamel at DH Racing Products, LLC and Cross Road Adventures,Inc.
dave@dh1racing.com
775-351-1901
NEATV-MX Website.
For those of you on the complete opposite side of these great states — you need to click here. It's the temporary location for the Official NEATV-MX Website.
Legacy ATV now online
While you're clickin' around, check out John McGhee's Legacy ATV website. Legacy ATV is currently taking resumes from riders for their three levels of available sponsorship. www.legacyatv.com
Latest rider and inside news
Special thanks to Teresa Creech and her www.danacreechracing.com web site for some of the info below…
Ben Jackson will be the GNC pro rider on the new Nac's/Cannondale team, while another Ohio rider – Kim Kuhnle rides the GNCC pro spot. Tyson Thomas will be their amateur GNCC main man, while Nate Leverantz will run the amateur GNC ranks for the team. The team will run all the GNCC events as well as all the GNC MX events.
Most of the Nac's 2001 pro riders have ventured into other programs. Dana Creech will be running a privateer program riding a Tom Carlson modified 2002 YZF 426 on a Laeger chassis. He will be jumping a LRD modified 300cc Laeger at freestyle events. He plans on chasing points in the MX events, but won't miss the two TTs that Fast-Trak Promo is promoting.
ATV Scene's own, Johhny Gallagher will once again team up with Jeff Seegott to chase championship points in the GNCCs. Gallagher will ride a 400EX while Seegott will continue to race his 250R. The team is definitely on the move. As of now they are working on a major deal with MSR clothing. Gallagher predicts a few GNCC wins and a repeat BUCCS ("Buddy-Up" Cross Country Series) championship for 2002.
Keith Little is working on some interesting ideas. He'll more than likely ride on the K&K race team. Rumors also say that Little will have major help from a race track. Keith's brother Greg Little will switch from GNC racing to GNCC racing. He'll still follow most of the GNC motocross races as well. No word on what team he'll race under. Nate Frees will be riding for Nacs Racing on a LRD 250R.
Doug Gust will compete in the GNC MX Series. "Digger" Doug will once again race his TC/Hinson tuned DRZ400 Suzuki with a Walsh frame and PEP Shocks.
I understand that Yamaha may be ready to go GNCC ATV Raptor racing in 2002! I see Yamaha looking further than just GNCC riders to compete on the team. T-Doc Spader is fired up and ready for 2002. He did hurt his shoulder in a get off at the legendary Southwick 338 motocross track, but nothing is broken. Spader is on the hunt (as are most ATVers about now) for a good sponsorship program. Hey, he's tougher than trees – maybe Yamaha should hire him.
Matt Bartosek will step up to the Pro Class. He will be riding a 250R and is currently looking for sponsorship to help his devoted commitment to ATV racing. Brother John Bartosek will concentrate on his education in Fla. John's studying at MMI – Motorcycle Mechanics Institute in Orlando, FL. He will however try to make it to as many GNC MX races as he can in the Pro-Am thumper class.
Tavis Cain will also make the move into the Pro Class with his Duncan/Roll/IMS ride. Tavis might try to compete in both the TT and the MX series.
Dave Diver will again ride for Lost Creek Cycle on a Walsh Racecraft YZF 426. Diver will chase points in the GNC MX series. Diver is practicing up for '02 by running the ATVA Winter Nationals in North Carolina and Virginia.
Jimmy Elza will ride the GNC MX Series but his priority will be his education at the University of Kentucky.
Shane Hitt and the his Curtis Sparks ride will campaign the Pro class in both the TT and MX series. Hittman might run a CRF 450R powered Laeger for the MX series. He'll use the same powervalved Sparks 250R stock chassis that he dominates the TTs on for next season's TTs.
Jason Luburgh will ride his TC Racing YZ 426 with new sponsorship aid from K&K ATV. He and his dad Andy (who won the '01 Plus 40 Championship) will try their hand at as many of the TT and MX events as they can. Andy will step away from his personal racing to better Jason's quest for a national championship. Luber will once again run the Pro and Thumper Pro Am class.
Joe and Heather Byrd. That's right, Heather Rose accepted Big Byrd's proposal and they are now engaged. No new news other than that. The duo will more than likely run the MX series under the East Coast ATV roof, but nothing is confirmed as of yet.
Jeremy Schell has been putting some time in on a Cannondale in California. For those that don't know, the "Hick" married Mark Ehrhardt's sister, quit racing ATVs and now lives in CA. No word but perhaps this is the start to some kind of comeback?
Matt "The Kangaroo Kid" Coulter is scheduling a few gigs here in the USA. One being some sort of record jump at the VA Beach race in April. The Kid is also wanting to race a few GNC events in the Open Pro-Am class in 2002.
Ben Bettis is going to be riding for Legacy ATV next year on a PRP LRD 250 in the TT series. You can "Bet" that Bettis will also show up at a few MX events.
Kory Ellis has been testing for Cannondale, and might even race one at the nationals in '02. Ellis and his new new pals at Powroll are stoked and ready for a major assault on the GNC MX series. Powroll has been testing a few different motor set ups for Kory – including a CRF 450R. He'll also run all the Fast-Trak promoted events he can.
Mark Kendall is planning on staying in the 250A class and the 250 Pro-Am class. Kames Sport Center will remain as his primary backer. Kendall will concentrate on his specialty MX racing, but he and his devoted father will more than likely make it to a few TT events.
Gilbert Attix, badly wants a 250A Championship. He'll run under the East Coast ATV roof with help from Diamond Motor Sports out of Dover, DE. He will also run the 4 Stroke Pro-Am class. He plans on running the whole MX portion of the series and possibly a few TTs.
Unfortunately, Keeton Hanks will no longer race ATVs. His dreams of being a professional race car driver are too strong. He will race sprint cars on a national circuit. The entire Hanks family will be missed. We wish Keeton and gang much success and look forward to watching this storybook racer develop into a race car celebrity – he already has the cool name. Good luck Keeton!
Ironman John Natalie is recovering from a gnarly get off while testing for Cannondale. He broke his neck and came very close to being paralyzed. I've lost count of how many lives he has used up. Hopefully he's still got some left in him, because Natalie tends to use them up fast. His plans include the stadium series and the entire GNC MX & TT series as well as the Baja 1000. He's more than likely going to ride a 250R with his final sponsors yet to be named.
Big-Bad Angela Moore will continue to race her TC Lonestar 400EX. She will be campaigning the Women's class, and the 4 Stroke A class at the GNC MX races and a few TT events.
Tim Farr, of course will defend his three Pro Quad Stadium Championships. He says he will probably end up concentrating on the MX series but wouldn't dare miss an Ashtabula TT and possibly a few Fast-Trak events. Look for Tim Farr to race a few GNCCs in '02 as well. Farr could possibly take a slot on the Yamaha GNCC race team. This is a complete guess on my part. There is no mention of any talks on this. This is nothing more than a hunch as to what Yamaha might be considering.
Just a reminder. You racers and sponsors alike should drop us a line and let us know of your new teams and sponsorships as well as news bits through out the year. After all, that's what the whole concept of sponsorships are — it's all about getting the sponsor in the news media – right? Getting your piece of news to the Scene as soon as it's official should be priority one! There's a good chance that your news will make it to many other publications just by getting it here first. Send to info@atvscene.com (pictures also welcome). C-mon, get with the Scene!
Tentative Clear Channel Pro Quad Stadium Series Schedule
Pace, SFX – now Clear Channel has yet to give us anything but this tentative schedule for the Pro Quad series.
TT — St Louis, MO –TWA Dome — January 12
MX — Anaheim, CA — Edison Field — January 19
TT — Anaheim, CA — Edison Field — January 26
TT — Houston, TX — Astrodome — February 2, 2002
MX — Atlanta, GA — Georgia Dome — February 24
MX — (To Be Determined)
Attention Pro GNCC race teams — C-mon Represent!
Hey Pro GNCC riders! For next season, when a television crew interviews you or anyone on your team in your pits – please leave the flannel shirts to the race fans and look and act the part of a professional ATV racing team. I realize the win money is far from what it should be, but you can make up for that by acquiring a quality sponsorship program. It all stems from how your crew represent your team and the sport. Since you and your pit-crew can be interviewed at anytime by the Fox Sports Net television crews – you need to be ready to portray the most professional image possible. Believe it or not, your image is representing the whole sport of ATV racing to many TV viewers and potential sponsors of the sport. So get with the program! Flannel shirts are about as half-assed as you can get. See Bill Ballance for details on the correct race day attire.
2001 Pont De Vaux Winning Yamaha Banshee
Bill Lanphier of ATV Illustrated.com wrote a really good story on the Duncan Racing Banshee that Paul Winrow and Doug Eichner used to blow away the competition at the annual 12 Hours of Pont De Vaux. Check it out here.
Fast-Trak's GNC TT events.
Early word on the Fort Dodge, IA and Bardstown, KY events… Kick Ass! Whoops that's two words. In all seriousness, the Fort Dodge, IA race will make history as it will be the biggest TT course ever. The track is a national CORR off-road truck track. Get this, the front straight alone is so big and wide – you can fit about three entire Pine Lake race tracks in it! It will be pretty fast with a ton of different lines that will offer many potential passing opportunities. I've never seen more excitement from a city. Fort Dodge has already ran a few articles in their local paper on the possibility of the ATV GNC coming to their town. They are just as stoked as I am to bring the GNC series west of the Mississippi River. In addition to the GNC TT we'll have a 20+ mile Mid West Fun Run and a mud bog obstacle course that will separate the sport utility men from the boys. We're already lining up the manufacturers and their semi truck and trailers so guests can try out the newest ATVs of their choice.
Since TBA can't be found on a map. Fast-Trak will more than likely run round four of the TT series at Bardstown, KY. The only thing keeping it from being an official deal is a signed contract from the track owners. They are however very much looking forward to holding the event there. The place is called Bluegrass Speedway. Since it is only 5 minutes away – it's basically Ryan Barnes back yard. After checking it out. I'm excited about the potential. The place is huge! The track, spectator parking and pits are bigger than Orrville. There is enough room to build a really cool track. Tentative plans are in the works for round one of the ATVA Short Track National Championship, a jet quad exhibition and a bigger and better freestyle showdown – complete with aluminum ramps and more time set aside for creative freestyle ATVing.
New Thumper Production Class for Fast-Trak TT series
While I'm on the subject. I'm wanting to introduce a non-national production fourstroke class for my two events. I want to make it a two-race series for any non pro class rider that races a fourstroke production ATV. Racers must ride a fourstroke, OEM ATV frame and ATV OEM motor. In other words, Raptors, Cannondales, 400EXs and whatever is available off the show room floors. Riders can modify the motors and bolt on anything they want to make them go fast but must run the machine's stock frame and motor cases. The rider who scores the most points from this new class at the two Fast-Trak's TTs would win a valuable first place prize. Maybe a pit bike or something. If anyone out there wants to get involved with a sponsorship program for this idea, let me know. jpellan@atvscene.com
MSN ATV Community Web Site
Chad Brock of Bedford IN is into creative ATV art. He's created his tapped mx logo for his small MSN based free web site we started for fun. Chad claims that it's something to do on those days you cant ride. He posts pictures, news clips and stuff like that. Sounds like a recruit for ATV Scene. Check it out at http://communities.msn.com/TappedMX
Classifieds coming soon
Speaking of used quads for sale. As you read this, web gurus are creating what you readers have been asking for for some time now – An ATV Scene Classified Section! Profiles, Forums and more are also being created. While I'm on the subject, if you've got any ideas on how to make ATV Scene better – shoot us an e mail. We value your input.
The Honda 2002 AquaTrax
Check out Honda's all new personal watercraft. Honda was the first company to announce a four-stroke powered personal watercraft. The 125 horsepower AquaTrax F-12 and the 165 horsepower turbocharged AquaTrax F-12X are the first four-stroke powered personal watercraft to meet the EPA's 2006 emissions standards. The 2006 EPA standards set a 75 percent emissions reduction compared to conventional carbureted two-stroke engines. These babies have some innovative ideas within them. Looks like they are pretty serious about producing potently fast thumper motors. Their ATV lineup is sure to share some of the innovative technology that they've succeeded with in projects like their new watercrafts. The AquaTrax F-12 has a manufacturer's suggested retail price of $8,999 and the AquaTrax F-12X retails for $9,999. They'll be available in early 2002.
Quotes of the Week
GNC ref – Tom Prendergast voices his opinion on the recent GNC changes…
"The reason that the motorcycle rule was put into the rule book in 1992 was because it looked like there was not going to be any new quads from the manufacturers. It turned out to be true. This was the time that aftermarket companies started to play around with putting different engines into quads. The CR500 comes to mind. Before this time, the rule stated that only ATV engines could be used. Now that we are starting to get some new quads from the factories, it would only make sense to go back to the ATV engine rule . This also might make Honda come out with a new sport quad instead of just selling the engine alone. We now have Honda, Suzuki, and Cannondale making new quads. Kawasaki also has a quad just about ready. Maybe this will also be the deciding factor that makes Yamaha put their YZ426 engine into a quad so that it could be raced legally. This is definitely something to think about. Keep in mind that aftermarket frames became common during the same 1992 period. It's my opinion that they are holding back the growth of the sport as well."
More from Prendergast…
"Yes the numbers will go down this year for TT, but they will also be down for MX. But next year, if the races are placed in the correct locations and the promoters do their job like they are supposed to, TT will grow and become a great ATV sport. If everyone keeps talking down the split it is not going to work and TT will die off. Think of it this way, when you are going into a race what kind of a race or day will you have if you are thinking negative? You do not have to race all 15 races, you just have to race 9 or 6. And if you have time, then run a few of the others to have fun. Everyone knew that the split was going to happen either this year or next year for sure. Let's quit talking about it and move forward and get ready for the next racing season."
Prendergast finishes with this…
"Also, find out who your ATV person is at your AMA district. Find out if they are a true ATV person. These people are being elected in this and next month, (Nov and Dec). They will represent your local AMA district and their voice will be heard at AMA Congress. In past years ATV delegates at congress were usually people that just took the spot for a chance to travel to Ohio and have a fun vacation. Now days the ATV committee has grown to about 18 people. Most are ATVers and are worthy of being there, but there is still room for more committed ATV enthusiasts to voice their opinions. Find out if your district has a non-ATV person. If so get yourself or a fellow ATV person voted in place of them. Then next year at the AMA/ATVA Congress you will have a true voice in what happens not some motorcycle person voting for you. Get involved in what goes on, instead of just complaining about it."
"IOWA!! For gripes sake! Don't you think we drive enough already? If I drown going across the Mississippi, I'm going to kick your ass!" — "Winky" Jim Winkelbauer on receiving the news that Fast-Trak Promo will bring a round of the GNCs to Ft. Dodge IA.
"The new Suzuki looks pretty good, but I'm a little confused about their new quote. When was the last time a Suzuki was the best thing on four wheels?" John Arens in a conversation with CT's Allen Knowles about the new Suzuki sport quad..
"1985! They were the only one!" — Allan Knowles
"Right, but the part that concerns me is that all of their guys with any quad design experience are either retired or dead…" — John Arens.
"That's a good thing!" — Allan Knowles
Well my pen is out of ink – talk to ya next time,
JP
Pix of the Week
Comments
comments