2005 Yamaha YFZ 450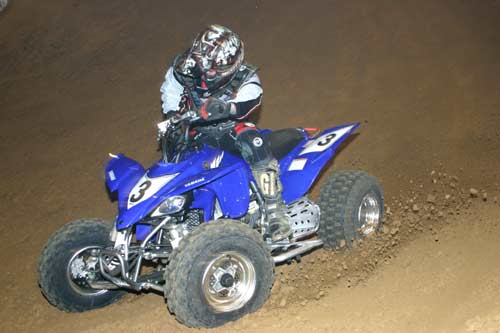 While the YZF450 remains mainly unchanged for 2005, so does its competition. Without putting everyone through another shootout, we can assume that the YFZ is still at the front of the high performance pack.In the late 1980s, 4 wheeled ATV racing was much more simple. Between the creation of the first true high performance four wheeler in 1985 and 1989 local racers across the country competed on machines that were mostly if not completely stock.
By 1986 aftermarket parts including chassis, suspension, and motor mods were becoming available, but were hardly commonplace. It was a good time, a racer could go to his local dealership on Saturday, purchase his brand of choice, and take it to the track and compete on it on Sunday. Tracks at the time were less demanding on man and machine, and racing was more affordable.
As manufacturers discontinued their support of ATV racing, and all of the big four, except Yamaha, stopped manufacturing high performance ATVs, the aftermarket revolution began. Gone were the days of racing 4 wheelers on three wheeler tracks. Even the local tracks that we shared with dirt bikes were getting tougher. The jumps grew, the risks were bigger, and the price of racing ATVs was skyrocketing. By the mid 1990s it was common to see even local racers on machines that cost upwards of $12,000 to build.
Since we were evaluating the YFZ as a motocross ATV, we installed a set of GYT-R nerf bars and heel guards. Of course the fit was perfect and we can't imagine anything stronger. By the turn of the century, manufacturers knew that the days of the two stroke were coming to a close due to emissions restrictions, so attention was shifted to building high performance four stroke engines. In 2001 Cannondale tried to revamp the high performance ATV market with their exotic fuel injected aluminum framed FX400. Consumer comfidence never took off and Cannondale's motor sports division closed. While we feared this was another ending for our sport, it was the dawn of a new beginning as Yamaha released the machine by which all others are compared today, — the 2004 YFZ450.
Have we returned to the good old days?
In case Yamaha hasn't pounded it into your brain, the YFZ450 has won every magazine shootout it has been in. It is the fastest and best handling high performance machine produced today. Its competition can be made competitive, but the performance Yamaha delivers off the show room floor is unrivaled.
We will tell you now, the YFZ is a more capable performer then the legendary Honda 250R which it replaced as king of racing ATVs. Stock vs stock, the YFZ is faster, handles better, and has far superior suspension. This makes us ponder a few questions. Is the YFZ450 in 2005, what the old 250cc two strokes were back in the 1980s? Does it offer the local racer a platform on which he can compete without spending upwards of twelve grand? Is a stock YFZ capable of handling the demands of a modern motocross track without the benefit of aftermarket components? Before we can answer these questions, lets take a closer look at what makes this machine so special, and its updates for 2005
The exhaust system on the YFZ is as restrictive as it is quiet. Besides the corked exhaust, the YFZ's engine is competition ready, just add an aftermarket exhaust and things go from fast to 20% faster.
Machine overview
At the heart of the YFZ is a 439cc 5-valve liquid cooled 4-stroke engine. Lubrication is handled via a dry sump setup, with the machines oil stored in an oil tank in front of the engine for better cooling.
With its bore and stroke numbers measuring in at 95mm x 62mm its obvious that Yamaha designed this large bore short stroke motor to rev.
To decrease moving mass and further increase the engines ability to rev, Yamaha utilized a piston with a short skirt and small pin boss, lightweight titanium valves, and a lightweight flywheel.
Additional weight-saving engine features include: magnesium cylinder head cover & right side crankcase cover; small-design cam chain tensioner and oil pump; aluminum oil hose; and light CDI ignition unit.
The cast aluminum swingarm is trick by stock ATV standards and helps keep the YFZ at a trim 350lbs. Chain adjustment is more simple then on previous Yamaha sport models. Carburetion is handled by a 39mm FCR Keihin with a throttle positioning sensor. The TPS is an electronic sensor that adjusts the ignition curve to match throttle position.
The goal? Quick throttle response. Air filter access is a 30 second process thanks to a lid that is held in place by three metal latches. All of this is mated to a five-speed manual clutch transmission, with final drive to the rear axle being handled by a sealed O-ring chain.
The YFZ's frame is relatively basic. It is constructed of tubular high tinsel steel with a geometry designed specifically for competition. Still on a quest for weight savings, Yamaha equipped the YFZ with a plethora of aluminum chassis parts. These items include the upper a-arms, one piece cast aluminum swing-arm, and a cast aluminum rear subframe. All are very trick by production ATV standards. Chain adjustment is much more simple then on previous Yamaha models, and the subframe is removable for easy maintenance.
 Yamaha went to the top shelf of production suspansion for the YFZ. Up front the 450 features preload, compression, and rebound adjustable Kayaba piggyback reservoir shocks, featuring 9.1in of travel. Rear suspension duties are handled by a remote reservoir equipped preload, compression, and rebound adjustable Showa . Rear suspension travel measures in at 10.1in.
To bring the machine to a halt, the YFZ features 160mm front disk brakes with dual piston calipers. Out back there is a single 200mm hydraulic disc. To handle all of the traction duties, Dunlop tires specifically designed for the YFZ were mounted on lightweight aluminum rims. Tires size measures in at 21x7x10 front and 20x10x9 rear.
Small details make a big difference in a machine's overall appeal and Yamaha worked overtime to leave no stone unturned. The machine is equipped with a flat seat for easy rider movement.
Wide 45mm footpegs with kicked up ends were installed for more comfort and control. Even the parking brake was addressed with a handy lever setup mounted on the left side of the handlebars.
Updates for 2005
With the only complaint about the 2004 YFZ450 being that the machines suspension and seat were a little stiff, Yamaha went on a quest to soften things up just a bit for 2005. They backed off on the preload settings a bit on the front shocks, making the front a bit more compliant on small bumps.
Reducing the front end preload also reduces the machines ride height a bit. This should help reduce body roll in corners. The seat got new foam and a gripper cover. The 04 seat was harder then the plank on captain hooks pirate ship, neither of which we want to have anything to do with. The new seat foam was a welcome change.
For further weight savings and perhaps extra strength, Yamaha switched out the steel rear brake and shifter from last year for lighter aluminum components. There were also rumors about some updates to the electrical system, minor updates to the transmission, and beefed up swingarm, however Yamaha is not claiming these changes so we cannot substantiate whether they are fact or fiction.
GYTR Add Ons
Since we are testing our machines worthiness as a motocross racer, we outfitted it with the necessary GYTR add-ons to make it track ready. For legality, we installed a set of white number plate backgrounds. Although some tracks don't require them, we think racing MX without nerf bars is moronic; so on went a set of GYTR nerf bars and aluminum heel guards. While the YFZ comes with plastic heel guards, we splurged for the extra strength and bling factor. The entire GYTR line features superb quality and you will have a hard time finding a stronger more precise fitting nerf bar/heel guard setup.
Ready Set Go
To put our 2005 YFZ through its paces we chose two test riders with very different riding styles and skill levels. Chris Earlywine is a pro level cross-country racer and expert level motocrosser. He should be able to push the YFZ to its limits. Robbie, (BIG-G) Frede, is a novice motocross racer and weekend warrior. We want to see how a novice level racer will warm up to the YFZ. Since we did not receive our machine until January, outdoor testing was out of the question without traveling hundreds of miles, so our testing took place inside at Earlywine Indoor Motocross in Maysville KY.
Even with a very short run, the YFZ has plenty of power to clear this 60ft tabletop with ease.
Drive it in hard and lean on it. The YFZ can rail turns or square them off equally well. Line options make it easy to maneuver through the pack.
Comparing ATVs to horses, the Raptor is like a good ranch horse that runs all day, The YFZ on the other hand is pure Thoroughbred. It's headstrong and prefers to be ridden wide open.
Protection comes from a plastic main chassis and swingarm skid. People who venture off he track or just want to protect the finish of their frame may want to add accessory aluminum skids. Yamaha offers excellent ones as part of their GYT-R line.
You will be amazed that stock suspension can be this good. Starting the machine is as easy as pushing a button. The choke is located just below the left side bodywork. Once they located it the first time, our test riders had no problem relocating it without looking down. Some may complain that it is not bar mounted, but this is a racing machine and we prefer a clean and clutter free cockpit. Fire it up and let it warm for a minute and you are good to go.
In the motor department the YFZ is a true performer. If you are used to open class four strokes, the YFZ might not impress you off idle, but let the machine accelerate into the midrange of the powerband and your eyes will widen. The machines midrange hit makes rocketing out of corners a blast and short runs at large jumps are no sweat. After the midrange hit inexperienced YFZ pilots may consider shifting, don't. The YFZ has more top end power and revs farther then any other four stroke on the market today. Everything about this motor was built for speed and while it eats up tracks with ease, its power curve does not lend itself well to casual riding, nor was it designed to.
With a midrange hit that rivals many two strokes, rocketing the YFZ out of corners is a blast.
Excellent brakes make blowing corners a thing of the past. Braksliding through Earlywine's bowl-turns super easy. Just lean a bit, turn the bars, and lock he rear end up. the YFZ will make you feel like a hero.
While the YFZ can be wheeled with easy, the front never comes up unexpectedly even under full throttle. Clicking through the machines five-speed transmission is smooth and slick and we rarely hit neutral. The close ratio gearbox works great for both track and trail. First gear is low enough for most situations and there are no annoying gaps between any of the gears. Clutch action is light and the clutch can stand up to all the abuse the stock motor and your left hand can put out.
The suspension absorbs everything from acceleration bumps to Earlywine's 65ft triple with no problem. While most other machines suspension would reach its limits rather quickly on a track like this, the YFZ's shocks are confidence inspiring. Whether you blitz or rhythm through the whoops, the suspension keeps the machine tracking straight and packing was never a problem. If you have the skills to go big, no worries, the suspension can take it. All but the nastiest landings can be handled without bottoming and suspension action is very balanced. We messed with suspension settings trying to make an improvement, but stock seemed to work just fine for us. Whether you race or just like riding tracks, you will be amazed that stock suspension can be this good. If you are a casual trail rider, you might want to consider a revalve. The motocross settings of the stock shocks don't lend themselves well to small trail obstacles and a sedate pace. Yes the front shocks are setup a tad softer then last year but its only enough to help hammerheads in the choppy stuff.
While it rewards precision and accuracy, its suspension is forgiving for mistakes that novice level racers often make.Ergonomically the YFZ is almost perfect. Wide pegs, and a narrow midsection make the machine both comfortable and easy to control, however some riders wish the bars were an inch higher, but that's simply personal preference. No matter where you are on the track, the machine responds well to rider input. Whether you are hammering out of a corner, or rocketing off a steep jump face, the front end never comes up unexpectedly. If you want to lift the front end, just lean back a little and stab the throttle. Turning is quick and precise. Rail the outside or square them off, the YFZ turns equally well inside or out. When your fighting for position, the YFZ gives you the options you need to get the job done.
Don't worry about blowing corners. The YFZ's brakes are as outstanding as the rest of the machine. Superb stopping power and progressive action allow the rider to dial in the perfect amount of deceleration for any situation. When Yamaha released the machine these brakes blew everyone away with their dual piston design and the only machine with brakes that can touch it is the Honda 450R.
Excellent details abound on the YFZ. Of course, all of the controls work extremely well. As we mentioned earlier, the wide pegs with kicked up ends delivered as advertised, and the three clip air filter access makes routine maintenance easy enough that even the laziest riders have no excuse. There are zerk fittings all over the YFZ for oiling various bearings, use them and your machine will live longer.
Maximize your motor
In order to keep from getting sewed and to keep the machine quiet, Yamaha built the YFZ to be quick revving with a free flowing five valve design, and enough compression and cam to give it eye watering top end. They then changed the exhaust timing and installed an extremely restrictive exhaust, to mellow things out. The good news is that Yamaha engineered all the performance that 90% of us will ever need right into the the stock machine, you just have to make a few simple changes to take advantage of the power on tap.
The bottom line
Both our testers and nearly everyone else who has ridden the YFZ agrees, for Motocross there is no finer stock machine setting on a showroom floor today. Chris was able to handle our test tracks obstacles with complete abandon, and the confidence the YFZ offered Robbie allowed him to take his riding to a higher level his first time on it. The machine can handle all but the ugliest motocross obstacles. Yes you can race it stock, and for the beginner to intermediate level racer, you may even pull off a checkered finish. For those at the upper echelon of our sport, the YFZ is not only completely competitive, it's the least expensive machine on the market to get race ready for the pro class. No one machine can be all things for all people, but for motocross, no machine has so much to offer for as many racers as the 2005 Yamaha YFZ450.
MSRP

$6,899* Available from June 2004
$7,099* (Special Edition) Available from October 2004

Engine

Type

439cc, 4-Stroke Single, Liquid Cooled w/ Fan, Titanium 5-Valve DOHC

Bore x Stroke

95mm x 62mm

Compression Ratio

11.9:1

Carburetion

Keihin 39mm FCR w/ Throttle Position Sensor

Ignition

DC – CDI

Starting System

Electric

Transmission

5-Speed Manual Clutch

Drive Train

2WD; Sealed O-Ring Chain

Chassis

Suspension/Front

Independent Double Wishbone, 9.1" w/ Rebound, Compression and Threaded Preload Adjustment

Suspension/Rear

Cast Aluminum Swing Arm, 10.1" w/ Rebound, Compression and Threaded Preload Adjustment

Brakes/Front

Dual Hydraulic Disc, Twin Piston

Brakes/Rear

Hydraulic Disc

Tires/Front

AT21 x 7-10 Radial

Tires/Rear

AT20 x 10-9 Radial

Dimensions

L x W x H

72.4" x 46.1" x 42.9"

Seat Height

31.5"

Wheelbase

50.4"

Ground Clearance

4.4"

Fuel Capacity

2.6 Gallons

Dry Weight

350 Lbs.

Other

Lighting

Dual 30W Krypton Multi-reflector Headlights & 21/5W Brake light

Colors

Team Yamaha Blue/White; White/Red; Yellow/Black (Special Edition)

Warranty

6 Month (Limited Factory Warranty)
More at yamaha-motor.com
Comments
comments