2012 Yamaha YFZ450 Review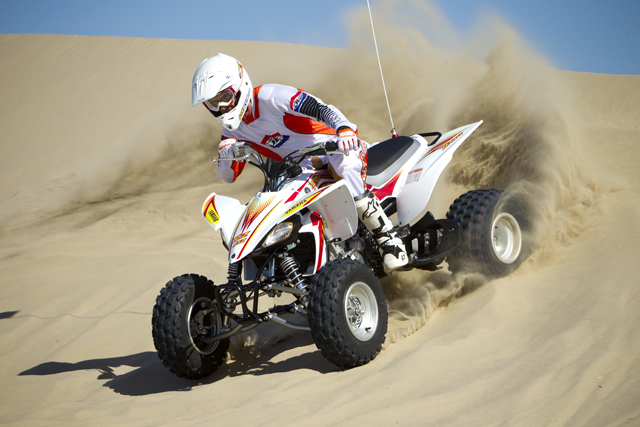 By: Jorge Cuartas
Photos by Adam Campbell

And the winner is………Yamaha. That's pretty much the way every 2012 400cc recreational sport quad shootout will end. Wait, the YFZ450 isn't a true 400cc, so why is it even in these shootouts? We know, we were scratching our heads too, but the YFZ450R is Yamaha's official 450 High Performance quad, and the re-introduced YFZ450 is priced to compete head to head with machines in the 400cc segment (LTZ400 & TRX400X), so why is it that it can't compete in the 400 shoutout? Oh that's right, the 400 market is supposed to be for machines with less performance, and less features than 450cc equipment. Now it all makes sense….or does it? We know, we're confused too, after all, we've been conditioned to expect less from that segment than is now available, and we don't know what to do. Damn Yamaha, just when our expectations were at a nice, low, manageable level, they had to go and do this. Like most consumers, we like having choices, but by re-releasing the YFZ450, Yamaha has taken away our options. Who in their right mind wouldn't want more for their money? How can we be expected to walk into a multi-line dealership, look at the models side by side, compare their options and not buy the YFZ450? It's just not fair. Yamaha has managed to raise more questions by releasing an eight year-old model, than they would've had they just re-named it the Raptor 450, and detuned it to the point where it could be more evenly matched with the competition. We're not sure how you feel about it, but we're outraged. Right? Wrong.
In all seriousness, Yamaha has once again turned the Industry on its' head, and not by releasing anything ultra groundbreaking (think Rhino YZ250F, or Banshee), but rather by re-releasing, and re-purposing an already great machine; the YFZ450. Re-releasing it in and of itself isn't necessarily that impressive, but doing it for $200 less than what it sold for in 2004 is pretty amazing. When was the last time you saw a product enjoy a slew of changes, get drastically better, and have the price cut? It just doesn't happen nowadays, which is sad considering how broke we all seem to be. The 2012 YFZ450 has lofty goals, and among them is Yamaha's desire to reinvigorate the Sport Quad market. It's an absolute fact that the Sport segment has been floundering, consumer excitement is way down, and statistics show that the median age of buyers has gone from 28 to 38, the average household income of 450cc machine buyers has gone from 69K a year to 99K, the average experience level has gone from 9 years to 18 years, first time buyers have dropped from 35% to 21%, and 450cc model prices have gone up from an average of $6999 to $8199. What does all that mean? It means average blue-collar guys just can't afford to ride anymore. The market has been kept alive by Dinosaurs like us, that have been hooked on ATVs for over half of our lives, and will make the sacrifices to stay on new equipment. But what does that say for growth if the only ones buying, are the afore-mentioned Dinosaurs? Without new riders, we're doomed as a Sport and Industry.
Yamaha recognizes this, and that's where the YFZ450's rebirth makes the most sense. Sure, it'll kick the asses of any and every 400 on the market. That's a no-brainer. Long travel suspension, kick ass performance, electric start, an aftermarket stocked up on upgrades, lightweight, low center of gravity, and a cheap price make it a shoe in, and obvious choice for new buyers. Yamaha hopes to make the idea of buying a really high performing machine at a decent price, feasible again. Getting financed for $6799 is a whole lot easier than $8199 especially when just about everyone is requiring 20-25% down. Will it work? Let's hope so, the industry, and sport could really use a swift kick in the rear to get us going again.
Aside from the socio-economic genius of releasing the YFZ450 again, the move really stands to light a fire under the other OEMs to either drop some pricing, re-think their own 450 options, or hopefully release higher performance machines that will go head to head with the YFZ450R. Either way, we win. In effect, Yamaha somehow took options away from us in order to create more options. We don't get it either, but it somehow makes sense.
| | |
| --- | --- |
| | |
Changes
As for the YFZ450 itself, it's still a great machine. Minor, but effective changes were implemented making it a bit more "Rec Rider" friendly. For starters, the cam profile was changed to improve low to mid range power, giving the machine a more "user friendly" feel, next, a new larger 42mm Mikuni BSR carburetor with TPS does a few things that we really liked, it drastically improves the feel of the thumb throttle (previous versions of the YFZ throttle just plain sucked) which we loved, and improves throttle response, as well as top end performance.
The suspension received some changes as well; gone are the piggyback front shocks, but shockingly the shock's performance isn't gone at all, they still feel good, and are more than enough for the average rider. The rear shock still has a piggyback, but hell, after feeling the fronts, who needs it. Handling, and everything else really, is as good as it's always been. Most of you know what a YFZ450 feels like, and that hasn't changed at all. It's still comfortable, still fast, and still a viable option regardless of whether you set out to buy a 400 or 450cc machine. You'd be hard pressed to find a legit argument to go in another direction. One area that usually sways our opini
on as to who to support, is how much the brand is doing to support the sport of ATV racing, and Yamaha does pretty damn good in that department as well. Thomas Brown, Dustin Nelson, Bill Balance, The Quad X series, and countless others have Yamaha to thank for their support, which is a big plus in our book.
Yamaha has done something which we as a Country could use more of, they've used common sense, resources already in place, and an open mind to address, and hopefully repair issues within the industry. Our hats off to Yamaha, thanks for somehow getting us excited about a machine we were last excited about eight years ago. We're not sure how you pulled it off, but you did.
Specifications
Model YFZ45BB; YFZ45BW
Engine Type 449cc liquid-cooled w/fan; 4-stroke; DOCH; 5 steel valves
Bore x Stroke 95.0 x 63.4mm
Compression Ratio 11.4:1
Fuel Delivery Mikuni® 42mm BSR
Ignition DC-CDI
Starting System Electric
Transmission 5-speed; wet multiplate clutch
Drive Train 2WD; sealed O-ring chain, eccentric adjustment
Suspension/Front Independent double wishbone; 9.1-in travel
Suspension/Rear Cast aluminum swingarm; 10.6-in travel
Brakes/Front 127mm Dual hydraulic disc
Brake/Rear 173mm Hydraulic disc
Tires/Front Dunlop® AT21 x 7-10
Tires/Rear Dunlop® AT20 x 10R9
L x W x H 72.4 x 46.1 x 42.9 in
Seat Height 31.9 in
Wheelbase 50.4 in
Ground Clearance 4.5 in
Fuel Capacity 2.6 gal
*Wet Weight 381 lb
Lighting Dual 30W Krypton headlights & 21/5W LED brakelight
Color Team Yamaha Blue/White; White w/ choice of graphic
Click to read our 2004 Yamaha YFZ450 Ride Review
Comments
comments