6-Wheeler 40th Reunion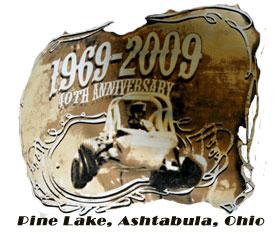 Pine Lake in Ashtabula, Ohio – America's Oldest ATV Race
Have you ever wondered why ATVers are such great people? This past weekend I finally figured out the answer. It all starts from the founders of our sport, the enthusiasts who kicked everything off with the 6-wheeled version of the ATV.
Before 3-wheeler races started popping up in Southern California, Ohio had several years of organized and heavily attended 6-wheeler events going on at legendary Pine Lake in Ashtabula, Ohio, making Pine Lake America's Oldest ATV Race!
Thanks to Bill, Bud, Dave and the rest of the Fischer crew, a 40th reunion event was held at scenic Pine Lake in Ashtabula, Ohio. Yep, it was 40 years ago in 1969 when the Fischer family started holding ATV events on their beautiful 140 acre ATV wonderland.
In the early days of our sport there were over one hundred different 6-wheeled ATV manufacturers, and you thought there were a lot of brands to choose from now days. Some of the biggest, including Attex, Scrambler, Tricart, Rupp, All Sport, Gotcha among others, were built right here in my home state of Ohio, yet another reason why 6-wheeler turnout at Pine Lake was so enormous. I've always called Ohio the heart of ATV racing, and here's further proof.
Like many of you reading this I've got some great memories thanks to the Fischers yearly one-of-a-kind event. My first Pine Lake event was in 1982, I thought I was a Pine Lake die hard, but after meeting some of the guys and gals this past weekend that attended events at Pine Lake in the 60's and 70's it looks like I missed a lot of incredible events at the lake. ABC's Wide World of Sports was on hand in 1972, how cool is that? Many Pine Lake regulars took part in the big Ashtabula parade that they used to have. Hundreds of three and six wheelers rode through Ashtabula and reminded spectators to come watch the ATV races the following day. What a site that must have been! Did you know the Good Year Blimp hovered over Pine Lake at a few events in the early 70's as well? Now that's a big time ATV race!
If you missed this first portion of the 40th year celebration don't worry there's more to come. As the Fischers celebrate 40 years of ATV racing a few other special events will take place at Pine Lake this year, the biggest is round four of the Extreme Dirt Track Series on July 24-26. Whether you're a has-been-rider that hasn't rode in years, an old school TTer, a cross country specialist or perhaps you're new to the scene and have only motocrossed your ATV – you really should come be a part of the 40-year celebration at Pine Lake July 24-26. Just some of the planned attractions include a Side x Side harescramble race complete with plenty of interesting obstacles, a show and shine complete with classic old school ATV equipment, trivia contests, a mud bog attraction, the traditional Saturday night pavilion party (which will feature a special 40 year's of ATV racing presentation), and of course all the fun that goes along with the Pine Lake experience. Those that have attended know what I mean.
Back to this past weekend's 40th 6-wheeler reunion, I'll sum it up like this….. Without a doubt, it was heavy on memories from the old days, but Pine Lake is a memory-making-machine, and as always the place makes more, some of which I captured below in this photo summary…
Mark your calendars! See ya at the lake in a few months on July 24-26!
Mark another rider's meeting in the books for Bud Fischer.
Howard Gerber of Attex was instrumental in the design, engineering and manufacturing of all Attex six wheelers. His creations have certainly been enjoyed by many people over the years.
Manufactured in Cleveland, Ohio in the late 60's, Action Age made four wheelers and six wheelers. The six wheelers were called Scramblers while the four wheelers like this one were given the name Gotcha. The Gotcha came with an 8 horse Briggs & Stratt
Those that dared, like PA's Dave Smith, put 440cc snowmobile engines in the little Gotcha four-wheelers, the result was a nimble little rocket ship.
It looks like there's nowhere this bad boy can't go and that's about accurate. It goes by the name Mudd-Ox and features a 40HP 1000cc Kohler engine with a full time eight-wheel drive hydrostatic transmission. The Mudd-Ox main man, Matt Oxender of Indiana
Some people's Sunday afternoon ride is way more fun than others.
Scot Cameron made the trip all the way from Florida. He and his big Argo Avenger 8 wheeler, which was made by Ontario Drive & Gear out of Canada, supplied a lot of fun for many people including smiling Summer Pacholke seen here in the back seat. Scot's not only an outstanding amphibious driver, he also knows these machines inside and out. He also owns a dealership called Iron Horse, check him out at ironhorse.net. And since he's such an ATV history buff he also purchased the DuneCycle brand, which formerly belonged to Allied Pacific Engineering – who manufactured the DuneCycle three wheeler from 1969 to 1982.
The mud bog course was a blast, as demonstrated by these three, who weren't yet born when Argo built the machine they're driving.
Look ma, here's proof we made it to Pine Lake and went on all the rides.
John Matticola puts a little more water on the track.
When it came to going for a ride everyone wanted to go with Scott in his Argo 8-wheeler.
If you thought Honda invented the three-wheeled ATV you're mistaken. It was John Plessinger who designed his Tricart as a graduate project in 1967. He later sold the rights to Sperry Rand / New Holland who manufactured the ATV. They made as many as 50 per day from his Dayton, Ohio facility. John raced a Tricart at Pine Lake in the early 70's in the 3-wheeler class, which featured many of Honda's new ATC 90s. The Tricart's low center of gravity allowed it to handle much better than Honda's ATC. Tricart riders were able to lap Honda mounted riders. Because of this, Honda was able to convince race organizers like the Fischers to separate the manufacturers and form separate three wheeler classes. In this photo John gives a lucky kid a framed print of the original Tricart in action.
Another Attex readies for the track.
Nope it's not a red bath tub on wheels, it's an early 70's Scrambler. This design was similar to the AmphiCat 6-wheelers that the Banana Splits used to drive in the late 60's – early 70's television show.
Shana prepares to take her dad's custom Max 6-wheeler for a spin. Dad went a little crazy and powered the vehicle with a four cylinder Ford engine. Shana tested the roll cage with a flip. It did its job, she was unhurt.
This futuristic six wheeler was built completely by hand by Bud Fischer. And get this, he built it when he was 15! It's power to weight ratio was unmatched. A two stroke snowmobile engine and aluminum fabrication made this one of the quickest rides ever. And Bud's custom springer suspension helped it handle better than most as well. Today Paul Laurello owns the machine. Paul is seen here blasting the infamous Pine Lake bowl turn, while Bud watches from afar with a smile.
The main man Wild Bill Fischer patrols his area. Over the last 40 years Bill has been known to have kicked a few people out of Pine Lake, but trust me he's got a heart of gold and has provided hundreds, many thousands, of people with priceless memories with his Pine Lake facility and Fischer Cycle Sales dealership.
David Fischer Junior and his aunt Janice Dorsten assemble 6-wheeler plaques.
Al "The Whipper" made the long haul from Phoenix. AZ. This is one of several of his heavily modified Attex 6-wheelers. This one features a twin cylinder Briggs engine that makes over 50HP. Al runs a shop in Phoenix called Apache Gear. Besides fabrication of all sorts of things he sells suspension kits for old six wheelers. Back in the early 70's Al jumped four cars ramp to ramp at Pine Lake. I guess you could call him the Evil Knievel of 6-wheelers.
Three Attex 6-wheelers back in action.
Here's another Apache Gear Attex Springer built by Al.
This Attex looks happy to be out on Pine Lake's course once again.
Michael Gerber shows the plaques he won while racing the 1970 Attex 6×6 that his grandfather, Howard Gerber, engineered nearly 40 years ago.
Here's a Pine Lake event poster from way back in the day.
More on this event and everything 6-wheel at www.6x6world.com  
Comments
comments