Apex MXR 250, the First Ever 250cc Production Racer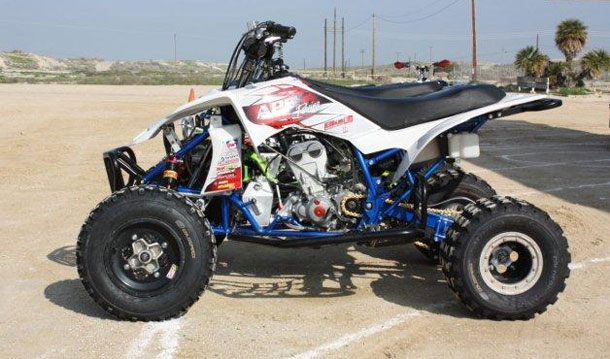 By John Pellan
I wonder if ATV racing would be more popular if racing a quad in the mini classes was as easy and affordable as it is in the two-wheeled scene. The lack of high-performance machines for kids from the big four manufacturers as well as KTM and Can-Am has probably turned hundreds, maybe thousands, of would-be quad riders into dirt bike riders. Being competitive in youth quad racing hasn't been cheap or easy and this hasn't done well to improve the growth of ATV racing over the years.
Youth ATV racing has survived thanks to parents willing to spend a lot of money to modify their son or daughter's quad. Manufactures like DRR, Kasea, Kymco, Cobra, Extreme and Apex have certainly done their part to fuel quad racing's grass roots, but none have created a production race-ready high-performance 450-like machine capable of transitioning youth riders into premier 450cc classes – until now.
Chandler, Arizona based Apex Motor USA, Inc. has just mass produced a 250cc race-ready, and now AMA production class legal, ATV that I think you're going to be seeing a lot of in the near future. It's the quad I was hoping Yamaha was going to announce back in 2004 while their YFZ450 dominated the ATV racing scene throughout the country. It uses a Lone Star Racing designed tig-welded Chromoly frame with six point subframe, dual-rate adjustable compression and rebound Elka shocks, and roosts dirt with Yamaha's new 5-valve YZ250F race engine, which makes 35 horse power to the rear wheels!
Creating race-ready production class legal ATVs is nothing new for Apex, they've sold high-performance 50cc, 70cc and 90cc mini race quads for well over ten years, but their recent announcement on the new AMA legal race-ready Apex 250 really got my attention. I've kept an eye on their Yamaha YZ 250F-powered prototype but pretty much just saw it as as high-dollar one-of-a-kind garage project. After seeing that the new production version of the machine didn't skimp on quality or equipment whatsoever, I just had to talk with the owner of the company, Greg Beckman, and thank him for the new Apex 250 and his continued efforts to take ATV racing to higher levels. Below is our conversation…
How did Apex get started? Are you the original owner of the company?
My wife Teri, kids (Tanner, TJ, Tyler and Travis) and I started the company in 1999.  We bought our first youth mini quads and soon after started a business out of our garage. It grew so quickly that we opened a dealership six months later. We sold youth quads and aftermarket performance parts all over the country. Our boys started racing and were hooked! We knew there were a lot of improvements that could be done to make the youth mini quads better and safer, yet none of the manufacturers were interested in making any major changes. In 2005 I built my own chassis and took it to Taiwan to manufacture my own quad. Our idea was to build a quality youth racing quad that was affordable for the average family. We wanted our customers to be able to purchase the quad and take it to the race track without having to modify or rebuild it with aftermarket parts. The Apex mini quad has captured a large share of the market and has certainly proven its durability. We say "From the crate to the gate, Apex is #1".
Why did you choose the Apex name?
If you look up the term "Apex" in the dictionary it states "Apex is the upper most point or the highest point" the synonyms are "pinnacle, peak, and tip-top". Since our goal from the beginning has been to be the top youth quad builder, Apex seemed appropriate.
I understand you've been dialing in the Apex Pro MXR 250F for two years. Was the original intent from the start to mass produce the machine in order to make it AMA legal, or was it just an interesting one-off project that turned out so well you decided to take it to the next step?
We started out with the goal of making the MXR 250 a production quad from the beginning. We believed the race track was missing a true race-ready quad for 12-15 youth riders. We also felt that adult riders would be interested in the 250 as well once they saw how impressive the machine is and the benifits it has over a 450.
How was the Apex prototype race tested?
We tested the MXR250 in the WORCS series for over two years and won four Championships on the prototype. Unfortunately the release was delayed due to the uncertainty of the economy.
Who race tested the machine and what classes did it win championships in?
We weren't able to race the 250 as often as we would have liked in 2008, but in 2009 my son Tanner Beckman won our first championship on the 250 in the Shifter Open class and another in the Shift Open Sport class at the WORCS. In 2009 Tanner won the 12-15 Open WORCS Championship and in 2010 TJ Beckman won the 12-15 Open Sport Championship and got runner up for the year in the Shifter Open LC class.
And now your boys can use the Apex 250 to ride the production classes.
Yep! For 2011 TJ and Tyler are riding in the 12-15 Production and the 12-15 Production Sport classes.
Explain what it took to make the Apex 250 AMA legal.
The rules are simple, produce 100-plus identical units available for sale to the general public at multiple dealer showrooms throughout all six AMA regions. AMA staff will verify production requirements, fill out the necessary paper work and turn it into the AMA. This is nothing new, we did the same thing with the APEX Mini quads.
It looks like you've used the same, or slightly larger, dimensions as the stock Yamaha YFZ450R. In the dirt bike world 250s are smaller than their big 450 brothers. Why didn't you go this route with the Apex MRX250F?
After researching the past and the present youth intended quads we decided the best race chassis would be similar in size to the YFZ450 chassis given the racing conditions and the speed the 250cc engine produces. We had no interest in building a race quad with a 250cc engine for the smaller and younger race crowd. The other interesting fact is that this quad will help racers make the transition to a 450 much easer.
So are you saying this machine isn't intended for youth racers?
No, this quad was intended to run in the 300cc School boy Jr. and School boy Sr. classes, but we also feel it will be popular with adult racers once they see how much easier it is to handle over the 450s.
In professional Supercross racing grown professional men are racing the 250cc Pro Lites class. Do you see that someday happening in the ATV scene?
Yes we do as a matter of fact. The 250 engine is much more rideable and with the reduced weight of about 40 pounds it makes for a much more nimble ra
ce quad than the 450.
Building a race ready 250cc high performance racer that's eligible for production racing has probably been an expensive investment. What if next month one of the big four manufacturers announce the release of a made-for-racing 250cc ATV similar to the Apex Pro MRX 250F? I'm sorry to admit, I would love to see such a thing, but I'm guessing this would be a major blow to your investment. Would you stop production on word of this? Do you see this happening someday?
Given the current state of the off road industry and today's economy I think it's a pretty safe bet that none of the big manufactures have any interest in this particularly small market. If they did however accounce a made to race 250, it would only help make the class stronger. Our goal is to build the best factory 250 four stroke race ready quad the world has ever seen. We also believe in brand loyalty and have literally thousands of kids racing our Apex mini quads all over the world.
In trying to keep your price as low as possible I'm assuming you were able to make a deal with Yamaha to purchase a large quantity of YZ250F engines and engine components. Am I correct?
I don't think the price is ever low enough. Until then, we'll take what we can get, but yes, we made the deal with a Yamaha distributor. We're doing everythying we can to keep the cost as low as we can.
Did Lone Star Racing build this frame especially for the Apex 250 or does it utilize the LSR YFZ aftermarket frame?
Yes and Yes. When I started this project I went in and sat down with Dan at LSR and told him what I wanted to do and this is what he gave me.
The air box looks pretty trick. Tell us more about this and any other hidden gems on the quad.
Yes the aluminum air box is always a desired and much needed off road racing component that we thought was a necessity.. It also has the vented removable lid. But I think the biggest hidden gem is the fact the chassis is chromoly and tig welded.
What radiator, carb and gas tank does it use?
We thought an oversized aluminum radiator would be the best choice. The carb is a genuine Keihin FCR 37mm and the fuel tank is a YFZ450.
I know the original intent of the Apex MRX250F is motocross competition, but do you think this quad can be converted into a cross country machine. I think there may be a lot of potential GNCC riders that may be interested in this kind of upgrade. Are there any plans to offer another Apex 250 version, perhaps a "CRX"?
You make a great point. Since the MXR 250F model is 49" wide we will offer a GNCC XC version next month. Fortunately we used a 2+2 rear axle so it will be fairly easy to convert.
The YZ250F engine doesn't use a counterbalance system to reduce vibration. This usually isn't noticed in a bike frame but sometimes is in a quad frame. How did you combat this problem?
We don't feel this will be a major issue at all. First of all we installed a high quality anti vibe steering stem and a high quality SDG seat. We have had dozens of test riders and no complaints.
At $10k, this isn't a cheap investment, however the Apex Pro MRX 250F appears to come with quite a list of impressive components. Can you name some of them and tell why you went with each?
Hanging out at the race track for the past ten years gave us a great understanding of what racers need and want. Our goal from the start was to build quads that you don't have to replace a bunch of parts to make it race ready or look great. The Apex 250 uses nothing but quality aftermarket parts. The 49" wide chassis is durable and light weight Chromoly, gusseted and poweder coated. What could be better than that? Shocks are Elka Stage III because we wanted the best shocks on the market. Wheels are DWT ROKOUT and G2 Beadlocks. They're ight weight with great function. The tires are DWT MX Series. A fantastic tire choice without a doubt. It uses aluminum bumpers and grab bars and Pro Peg Nerf Bars. They're light weight and look great. It also comes with an aluminum air box that offers great performance and function, an antivibe steering stem and 1 1/8" fatty bars. There's even a Billet Fuel Cap, Billet Brake Pedal, Billet Throttle, Billet Double Row Bearing Axle Housing and Streamline Stainless Steel Brake lines and wave Rotors. It's all about performance.
What kind of plastic comes on the quad, and what color combos are available?
We opted for Maier since they are the leader in aftermarket plastic. There's two color options, black or white. Carbon Fiber White with Black Bumper, Nerf Bars and Grab Bar or Carbon Fiber Black with Polished Bumper, Nerf Bars and Grab Bar.
Is a customer able to make any changes, in example a different engine, tires, shocks etc?
We have factory options available. We have two tire options (DWT cross country or motocross), two shock options (Elka Stage I or Elka Stage III) and a custom powder coated frame color option.
Do you have a list of dealerships that have a unit or two available?
We have been busy shipping pre-ordered quads. The dealer units are also in the process of being shipped.
Is it possible to mail order the bike and receive it at a dealership near the customer?
No, you must buy it from an Apex dealer.
Does Apex sponsor any riders? What are your marketing plans for the 2011 Apex Pro MXR 250F?
We do sponsor riders, in fact a whole bunch of riders. Fortunately we pre- sold a lot of units. We plan on advertising and getting out to as many races as possible coast to coast with a truck load of quads for people to kick the tires and test ride. It should be an exciting year getting to meet a bunch of loyal customers!
We are finalizing the 2011 sponsored rider list this month. To be considered as a 2011 Apex rider please fill out this form.
On behalf of serious ATV racing enthusiasts worldwide I thank you for going forward on such an enormous project. Any thank you's or last words?
Yes I would first like to say thank you to all the thousands of Apex customers, without them the 250 would have never happened. Secondly this project would have never turned out so well without help. We have some great companies that really stepped up to the plate, Dan at Lone Star Racing, Tony at Elka Suspension, Johnny at DWT, Paul at Streamline Brakes, Jeff at SDG Seats and Jeff at Maier Plastic were huge in making this machine as good as it truly is! I would like to thank Robert for his relentless hard work. We used a lot of aftermarket components to build this quad. Why? The idea is to eliminate the need to "rebuild" the quad after the purchase. We could have used no-name products to save money only to watch everyone spend money to buy the products like the ones we chose. Our business model is to produce a high quality race quad at the best possible price. Anyone that questions the price tag probably hasn't built a high-caliber national-level race quad. This quad is going to turn heads and rewrite racing history!
Lastly I would like to thank ATV Scene for the opportunity to tell you about this great quad.
2011 Apex Pro MXR 250F Specs:
Frame: Chromoloy Tig Welded w/six point sub-frame

Suspension:
Front: DC4 Long-travel 2+1 A-arms
Rear: Billet Axle Housing / Billet Wheel Hubs / Billet Sprocket Hub / Billet Brake Rotor Hub

Axle: 2+2

Wheel Travel:
Front: A-arms w/11.5"
Rear: Swing arm w/12"

Steering: Anti-vibe Stem w/T2 1 1/8" Handle Bars
Bumper: Aluminum
Grab Bar: Aluminum
Pro Peg Nerf Bars: Aluminum
Air Filer Box: Aluminum
Oil Tank: Aluminum Oversized
Fuel Cap: Aluminum Billet
Brake Pedal: Aluminum Billet
Seat: SDG
Body Cover: Maier YFZ 450, Color – Carbon Fiber Gray or White (White plastic comes with Black Nerf Bars, Bumper and Grab Bar)

Shocks:   
Front: Elka Stage III Quad-Rate Adjustable Compression & Rebound Piggy Back Reservoir
Rear: Elka Stage III Dual-Rate Adjustable Compression & Rebound Remote Reservoir w/Linkage

Engine Type: New 250F DOHC 4-Stroke 5-Valve
Transmission: Manual Clutch 5-speed (No Reverse)
Starting: Kick
Fuel System: Keihin FCR 37mm
Fuel Capacity: 2.6 gal
Final Drive: Chain-520 (14×42)
Length/Width: 71"/ 50"
Wheelbase: 51"
Seat Height: 31"
Wet Weight: 340 lb

Brakes:
Front: Dual Hydraulic Discs w/Wave Rotor & Dual Stainless Steel Brake Lines
Rear: Hydraulic Disc w/Wave Rotor & Stainless Steel Brake Line

Tires: 
Front:  DWT 20×6-10
Rear:   DWT 18×10-8

Wheels: 
Front: DWT Rok-Out 10×5 (4+1) Black
Rear: DWT Beadlock 8×8 (3+5) Black

Horse Power: Estimated 35 HP @ the rear wheels

Tested: 2008 WORCS Series
Proven: 2009 WORCS Series – 2 Championships, 2010 WORCS Series – 2 Championships
Comments
comments