Barry Hawk 6-29-98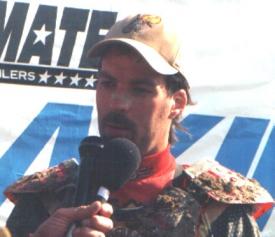 Barry Hawk has won an amazing five ATV GNCC championships and has raced to countless cross-country wins in his ATV racing career. If Vegas took wagers on ATV races, Hawk would be a sure bet! So, what's next for arguably the best ATV woods racer of all-times? The Predator is going hunting for new prey in the pro GNCC bike ranks!
ATV SCENE: What's new for '98? We've heard rumors you're riding BLUE!
Hawk: I'm riding for Yamaha on the new WR400 in the Pro class for the bike events. Randy Hawkins and I will be teammates. Randy has been great. He set up the whole program. He's well-connected in the industry.
ATV SCENE: What about riding a Banshee?
Hawk:We talked about it, but decided against it. The major reason is that we're changing my whole program on the bike–from a two-stroke Suzuki to a four-stroke Yamaha-and I'm moving from 250A to the Pro class. I'm going to be concentrating on that and didn't want to also change the four-wheeler program. LRD, Laeger, ITP and [chief mechanic] Tony Kellner are backing my ATV program again this year.
ATV SCENE: Do you think your success on the quad has helped you establish a reputation in the two-wheeled world?
Hawk:Definitely. Although I'm really not one of the top guys in the bikes. In 1996, Dirt Bike magazine named me one of their riders of the month. I had clinched two bike championships-the GNCC Four-stroke A and National Hare Scrambles 250A titles. But, I think I won the award because I was also the ATV champ. I was racing Saturday and Sunday-doing more than anyone else.
ATV SCENE: Your bike success has also probably helped legitimize top-flight ATV racing in the eyes of many two-wheeled enthusiasts too, right?
Hawk: I'd like to think so. I really don't know why the quads aren't on the same level as the bikes. The ATV market is huge, but I guess the lack of new sport models and factory involvement in ATV racing has a lot to do with it.
ATV SCENE: What do you find more difficult, racing the bike or the quad?
Hawk: They're both tough. They are kind of the same, but it takes two different abilities to go fast. The ATV physically beats you more, but the bike is more about finesse.
ATV SCENE: Does racing the quad on Saturday give you a big advantage in Sunday's bike event?
Hawk:Most of the time it is an advantage for the first lap because the bike track is usually pretty similar to the ATV course. I'm familiar with the track when the bike-only guys are just learning it. But, then there are times when it's a disadvantage because at some events the bike track is quite a bit different and I'll go the wrong way.
ATV SCENE: Are you going for eight titles like Gary Denton or will you give up the quads for bike fame?
Hawk: I don't look that far ahead. I focus on the year ahead and concentrate on that. My future in ATVs depends on how I do on the bike.
ATV SCENE: Man, how many races have you won over the years? If there was a Guinness Book of Worlds Records category for motorsports wins or winning percentage, you'd have to be right up there with the best of them-bikes, quads and cars!
Hawk: That's funny you'd bring that up. Back when Jeremy McGrath was breaking Supercross and MX win records in '96 and the media was talking about his 68% winning percentage, I tried to sit down and figure mine out. I really need to call Racer Productions up and see if they would go back through the records and figure it out.
ATV SCENE: Oh, yeah, I'm sure Paula, Rita and the Racer Productions gang would love that!
Hawk: Yeah, they'd probably want to kill me. I've been racing pretty hard since '89.
ATV SCENE: Now that you're tight with Yamaha, have you heard anything about them maybe coming out with a new sport ATV?
Hawk: Well, not really. I can't say yes or no. I've talked to them about it though.
ATV SCENE: Where do you see the future of ATV racing going?
Hawk: It's been growing and growing. Every year we have more riders. I'd like to see all the manufacturers get back into it. If the sport keeps growing, the factories would have to do something.
ATV SCENE: As far as the different disciplines of ATV racing go, cross-country has to be considered the most grueling. You're one of the few guys who shows up at the first event in full race shape. What do you do for training?
Hawk: I sit back and relax during November and December. Then in January and February, I train at least every other day. I ride the quad and then I'll jump on the bike, plus I work out at the gym. Actually, I think my biggest advantage is that I don't spend the winter getting my machines ready. Tony Kellner handles all of that, so I just concentrate on getting myself ready.
ATV SCENE: Who owns all the race quads, you or Tony?
Hawk:Tony owns the three race quads. One's the actual race bike and two are backups. I own a quad that I practice on and my two-wheeler.
ATV SCENE: Do you come out ahead financially racing the quads?
Hawk: Yes, If I win races and championships. If I get second, no.
ATV SCENE: Boy that's tough.
Hawk:Yeah, the difference between first and second is huge. A sponsor is willing to pay if you win. If you are a pro, it's important to have win bonuses set up in your contracts.
ATV SCENE: Cross-Country has really gained a lot of respect in the past few seasons, with top MX and TT riders like Joe Byrd and Tim Farr not being able to just jump over and win in the GNCCs. You guys are phenomenal athletes. What do you think makes a good woods warrior?
Hawk: There's more to it than just going fast, although you do have to be able to go wide open between two trees with just inches of extra room. It's a mindset. Also, I think a big part of it is lappers. You got to know how to get through the lappers quickly.
ATV SCENE: You guys really haul ass through the trees and tight trails, with sections as fast or faster than any MX. What about fear and risk? How do you deal with it?
Hawk: Well you know what they say about fear. When you start thinking about it, that's when you lose the edge, slow down and something is more likely to happen. I mean you have to be aware of it, but you can't let it overpower you. I'm comfortable out there.
ATV SCENE: To what do you attribute the increasing popularity of GNCC ATV racing?
Hawk: The Coombs family and the Racer Productions crew are 100% responsible for its success. Without them, who knows where we'd be. They're the best promoters in the sport.
ATV SCENE: You've crossed over and raced a few of the GNC MXs. You even got the holeshot and led for awhile at Mt. Morris a couple of years ago, right?
Hawk:Yep. I think that if I concentrated at it and trained for it, I could win at those too. Believe it or not, my forearms get pumped up in MX. It's a totally different game. MX is wide open for twenty minutes. GNCC is 90% for two hours with a few 15 minute wide-open sessions in between.
ATV SCENE: You won a couple of amateur classes on a Mojave back in '89 or '90. Is that how you got started in ATV racing?
Hawk: Yes. My mom, dad and myself started hitting the GNCC series in 1989. Actually, a buddy of mine talked me into going the first time. Then I talked my parents into taking me after that. I won my class at the third GNCC I entered. From then on, I was hooked! My parents have always been very supportive. My dad always had bikes since I was a baby. He still says to this day that whenever I'd hear the bike start up, I'd go running for it. I'd never whine or complain. He could go up any hill or do anything and I'd just hang onto the crossbar and have a smile on my face. When I was old enough, he got me a mini bike, then an XR75 and on and on. I've always ridden.
ATV SCENE: Your dad still races too, right?
Hawk:Yeah. Back in 1990 he decided to give quad racing a try. I think after his first race he was hooked. He's raced all of the GNCCs since. He's won the senior class a few times and is racing Open A now. He's a mechanic and probably has one of the cleanest four-wheelers at the track. I think he's only had one DNF in three years.
ATV SCENE: Do you do much with the Internet?
Hawk: Well, yes and no. It's sad but I don't even have a computer at home. But I do have a pretty cool website! Tony Kellner's future son-in-law actually designed it and put it together. The address is: http://www.voicenet.com/~glorybox/. There's lots of racing stuff on it, including some pictures of one of my quads which is on display at Race Rock Restaurant in Florida.
ATV SCENE: That's great exposure for an ATV to be showcased along side other big name motorsports like Winston Cup and drag racing in a famous racing theme restaurant like that.
Hawk:Tony (Kellner) and Mark Laeger put the display bike together. It's been there for a couple of years now. The quad is just off to the left when you come in the front of the restaurant. It's funny, but one day I noticed that a guy I work with had a Race Rock sticker on his truck. So I asked him if he had seen the quad there. He says "Yeah man it was cool. I guess that guy is from around here and he's really good." I told him that guy was me. He was like "No way! cool man!" He went back down there a couple of months ago and brought back some pictures of the display.
ATV SCENE: Speaking of work, where do you work when you're not off racing?
Hawk: I work for the county road department. Plowing the roads in the winter and stuff like that. I start at 3 a.m., which makes for an early day, but I get off at 1p.m., which is pretty nice.
ATV SCENE: Plenty of daylight left for riding, huh?
Hawk: Yep.
ATV SCENE: Any famous last words?
Hawk:I really want to thank my wife, Kristen. She's so supportive and never complains about all the time we spend on the road or at the track. She's great. I've had a lot of buddies who have girlfriends or wives that say they love racing at first, but then…well, you know.
ATV SCENE: Yeah. The coolness of it wears off and they get tired of spending every weekend at the "dirt pit."
Hawk: Not Kristen, she loves it. She's a great motivator. She makes sure I eat healthy foods. Some days I just won't feel like training, and she'll start saying "I can't believe you aren't going to work out." So then I'll go.
Comments
comments