Curtis Sparks 8-3-98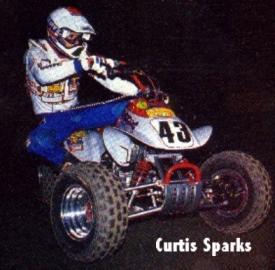 Do you know anyone that used to race an ATC 90? Probably not. Curtis Sparks began his racing career on a 1976 ATC 90 three-wheeler. Ever since those early days, Curtis has been heavily involved in the sport of ATV racing–either tearing up a race track, or tearing apart a motor. He was one of only a few to race for the factory Honda ATV race team. Now Curtis Sparks Racing has the respect of everyone in the ATV industry. His ability to deliver serious power to an ATV engine, specifically the legendary Honda 250R, has landed the Sparks Racing Team a national championship, in rider Shane Hitt. We got Curtis and right-hand-man, Billy Hart to turn off the grinder long enough for a short telephone chat.
ATV Scene: Hey Billy. What do you think about Honda's new 400EX?
Billy Hart: I think that's going to be the shot in the veins that everybody needs.
ATV Scene: In the very near future, the sport is going to see a lot more interest and really turn some heads.
Billy Hart: I've been around since the three-wheeler days–not as long as Curtis–but since the early to mid eighties. It's getting back to the proportions it was back then. Then, it was growing by leaps and bounds. But the government thing, and the 60 minutes deal just buried it for a long time. But, us ATV guys just don't know how to take no for an answer!
ATV Scene: That's right, rock on brother! It's in our blood! We can't help it. Are you and Curtis official partners?
Billy Hart: No, I'm kind of like his right-hand guy around here. He used to build my engines on my quads when I raced.
ATV Scene: You used to race the nationals?
Billy Hart: Yes, and the majority of the Mickey Thompson Series. I'm originally from Texas, no kin to Marty Hart [former Team Honda ATC three-wheeler pro champion]. I used to race in the Charlie Shepherd/John Scott era. I was just starting to get real good in the three-wheeler days in '86. Then, they stopped doing those and everybody went to four-wheelers. I was just about to get factory support, too. I was in tight with some of the guys at Kawasaki. But, after that, it kind of took the wind out of my sails, because a lot of people could go fast on the four-wheelers, but the three-wheelers were more of an art form. I hated to see them go. I had a lot of fun racing three wheelers, I don't know if it was because you didn't have to work on them as much, or what the deal was, but it was a lot of fun none the less. Hey, here's Curtis.
Sparks: Hey! How's it going?
ATV Scene: Great, real busy. Billy is pretty cool. How long have you known him?
Sparks: Oh, a long time. He could hardly see over the dashboard, so I know it was a while ago! You should interview him, he's got plenty of stories to tell.
ATV Scene: We just did! Was he one your first sponsored riders?
Sparks: No, probably Todd Williams was the first. He won a few pro four-stroke TT titles for me back in the late '80s-early '90s.
ATV Scene: You were my favorite racer when I was growing up. I thought you were the best ever. You were always so smooth on that three-wheeler. Is there anyone today that reminds yourself of the way you used to ride?
Sparks: I don't know if I was the best ever, but thanks. I would say maybe Gregg Bakker. He's just this kid from Sioux Falls, South Dakota, and he doesn't think of himself as being anything special, but he is just oozing with talent. When I was first discovered, so to speak, I was just this kid from LaMont, California. Who's ever heard of LaMont!? You know? I wasn't really in the hotbed of ATV racing, but they had this big race in Riverside, California. I went down there and raced against the best there was, and I whipped them all. Bakker kind of came on the scene the same way. He tried out a national at Boyd, Texas and won! So, some of the things that happened to Gregg, I kind of relate to because that's very similar to my experiences. There are a lot of talented riders out there right now, but the one thing that I see now that has changed a little bit is the fact that the majority of the top riders aren't mechanically that good. They're great riders, but they don't understand their bikes very well. I could basically do anything that needed to be done to the bike , and I feel that that's a real asset for a guy who's racing.
ATV Scene: When did you start racing?
Sparks: I started racing three-wheelers around 1976. That's when three-wheeler racing started out here, in San Diego and Los Angeles. There was some ATC racing going on in Bakersfield later on, like in '78 and '79. It was all on modified ATC 90s and 110s.
ATV Scene: You did all your own engine work back then?
Sparks: Oh yeah.
ATV Scene: What did you like better, motocross or the TT?
Sparks: I would say at my peak I liked motocross better, but I really enjoyed both.
ATV Scene: Why did you retire? Trouble with your knees?
Sparks:Not really. It was a combination of a few things. I had knee problems and my back was hurting a little bit, and of coarse, the business. It got to be a little too much. I felt like I was just being spread too thin. I had raced for ten years straight without letting up. I needed a break. I felt that there was nothing left that I wanted to prove. I was real fortunate and I had a lot of fun. I was involved as a rider at a real good time. I had the opportunity to ride for American Honda and be the beneficiary of everything that went along with that. I got to meet a lot of people, and it was just a real positive experience for me. I'm grateful for what Honda did and the good things that became of it.
ATV Scene: It's too bad more people couldn't have seen you flying by the two-stroke ATC250Rs on that four-stroke 200X. It was a sight to see. You flat out flew on that three-wheeler.
Sparks:Well it surprised me a lot of times. I had it dialed in, that's for sure.
ATV Scene: Back to today. Your engines are incredible. How do you get so much out of your engines?
Sparks:Well, that depends on who you're talking to. It appears that we do have some top-notch stuff. It's just a matter of paying attention to detail and working at it. I don't have a magic wand and there are no secrets. There is no special thing that I do for certain people that others don't get. It's just a matter of sticking to the basics, and doing those to the best of my ability.
ATV Scene: Your results are impressive. Look at Bakker at the 1995 Ashtabula TT National. There were four restarts, and he pulled the holeshot in everyone of them by a couple of bike lengths, each time. C'mon Curtis, give us just one of your secrets. How can you get so much more out of that decade old 250R engine?
Sparks:We have some good engines. Seriously, there are no secrets. The thing is, you can give the same engine to ten different riders, and your successes will be different. They're not all going to be winners. I've been involved in the sport of ATV racing from its inception. There has never ever been anyone like Gregg, and that includes anyone who has ever ridden for Honda, or was involved back in the three-wheeler heyday. I think that says a lot about for him.
ATV Scene: Why did he leave the sport? Do you know if he is ever going to make a comeback?
Sparks: He was planning on going to the first national this year in Florida, but that race was scratched from the schedule. He does miss the sport a lot. However, he is really committed to his sprint car racing program. That's where his main focus is now.
ATV Scene: Do you help him with his sprint car set-ups?
Sparks: I did the first year he started, but not too much anymore. I always hope that he will come out and race a couple of events each year. He usually blocks his mind and focuses in on what he is doing. It's always a possibility though.
ATV Scene: Do you think the AMA should be impounding the top machines in the 250 Pro class at each GNC and checking displacement and fuel?
Sparks: I don't think that there is any cheating going on at all. However I do think that it would be a good idea.
ATV Scene: Who makes up Team Sparks in the pro class this season?
Sparks: Shane Hitt, Harold Goodman (who will also run the four-stoke class), Mike Maniaci, George Balhan, Jeremiah Jones, Mark Ehrhardt and Kory Ellis. (Editors note: Keith Little also recently made a mid-season switch to Sparks power)
ATV Scene: Do you see a future for ATV racing?
Sparks: If you would have asked me ten years ago, would I still be involved in this sport? I would have said "no." I would have thought that by now the sport would have dwindled away. I was involved from the beginning. I saw it rise and get really strong, and I also saw it start going away. I would have thought that it would have continued to slowly deteriorate until there was nothing left. But it has remained intact and it seems that within this last year there is a renewed enthusiasm with the people involved. ATV racing is making a strong comeback! With the new 400EX, it will really take off. When you add up all the suspension components, the engine, and everything that is needed to build a top-notch racing quad, it costs about $14,000. If Honda would come out with a production, racing four-wheeler–the FourTrax equivalent of a CR motocross dirt bike–they would sell all that they could build. They could probably sell for them for around $6000 to $7000, and this would allow lots of people to race because that's affordable to the average person.
ATV Scene: Hey, congratulations on winning the Pro Pit Crew Challenge at the Loretta Lynn's National finals last August.
Sparks: Thank you! That was a lot of fun! I was a little disappointed that not all the top companies competed in it. They really missed out, because it was a great time. That weekend it just kept coming, win after win after win, and we even won the mechanic's race. Instead of going home, I should have went to Las Vegas!
ATV Scene: What happens when someone calls you to build an engine, but isn't sure what he needs?
Sparks:If they don't know what they want, Billy will kind of counsel them and figure out a game plan.
ATV Scene: Any thing that you want to say in closing?
Sparks: I would like to thank all my loyal customers. At times it might seem like they get forgotten, but I don't take them for granted. You say I had a good weekend at Loretta's. Actually, we had a really good weekend. It's a lot of people working together who make it happen. I have people here at the shop, and at the races that all contribute to our success. Without them there is no way I could do what I do. I'm very grateful. The people I'm surround by are some really good, quality people. Actually, I think the sport is swamped with good people, and that's why ATV racing has survived as long as it has!
Comments
comments