Eric Dubb's Kawasaki Tecate project caught our eye a few months back. Now that it's finished, thanks to Eric's wife Jodianne, we have these killer photos. As you can see, Eric doesn't just poke around when it comes to bringing the new back into a 30 year old machine.
Eric, a former professional ATV racer, has always had some of the sharpest looking and fastest ATVs in the ATV racing scene, so it's no surprise how bad-to-the-bone his recent Tecate racer project turned out. What was surprising is the fact that he built two at the same time, a racer and a complete stock one that looks just as perfect. We think you'll agree the Kawasaki Tecate is one of the coolest looking ATVs ever made. Seeing two of them side by side in such perfect condition and set up so professionally makes it seem like it's 1986 all over again.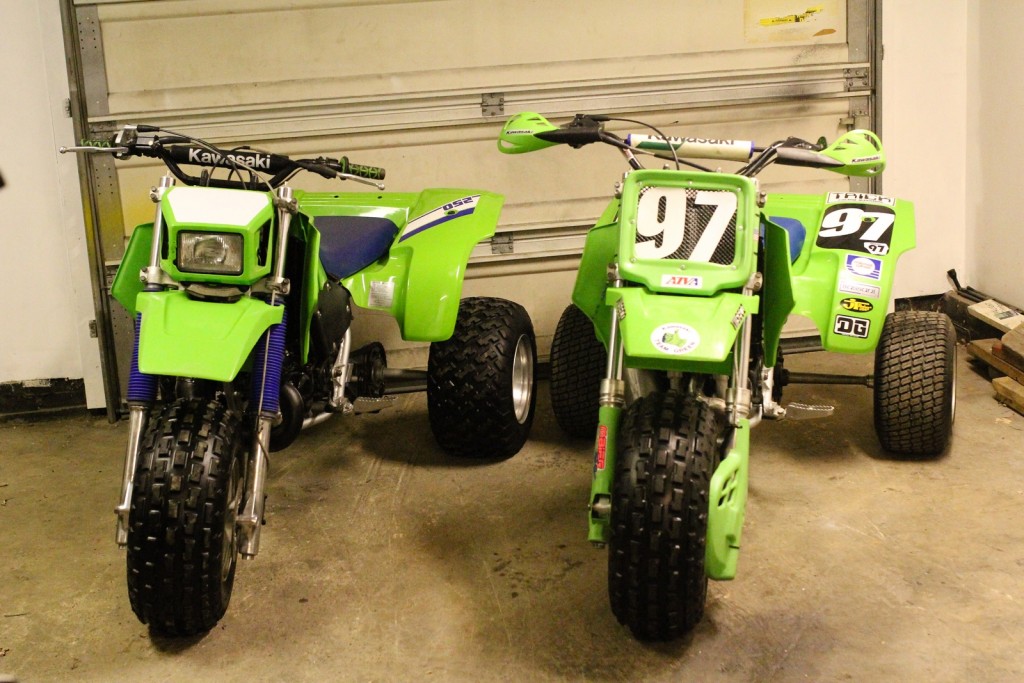 Despite it being hard to find new or like new parts for these now 30 year old three-wheelers, there were no compromises made, that's just how Eric rolls. Both three-wheelers feature pristine legendary lime green OEM plastic, but Eric wasn't able to find a tank that never had gas in it and retained its correct lime green color. In case you didn't know, used Kawasaki tanks fade to a greenish brown look and no longer look vivid like they're supposed to, that is unless Eric gets a hold of one. "Yeah you need to put a coat of red in the tank, that's the secret, if not it wont take long before the gas and fumes eat through the plastic and this fades the color every time. The darker red on the Hondas helps this from not happening," says Eric. He adds. "The trick is to thoroughly clean them out with acetone then hit them with a coat of red gas tank sealer, then spray adhesion promoter, then gray sealer and then Kawi green and finally a clear coat."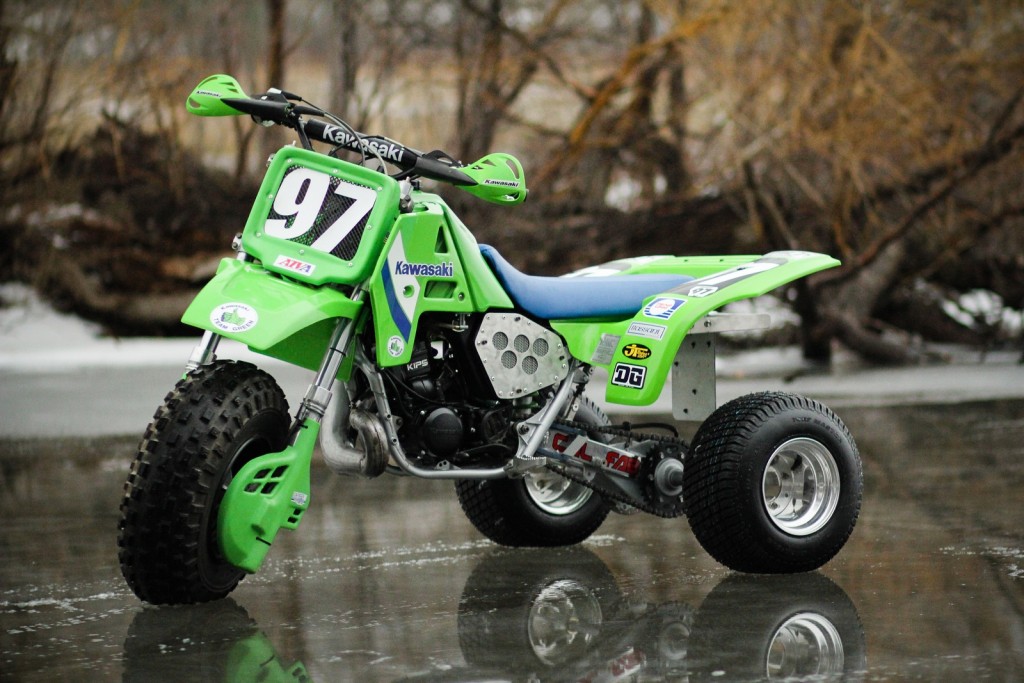 The frame looks as correct and new as the rest of the machine because it was carefully sanded, primed and panted with Nissan Silver and followed with a clear coat. Everything else looks as good as it does because Eric spent the time and money to find new or like new components, he says this was the hardest part of the project because it is so difficult to find parts now days. The stocker is stock OEM from bottom to top, the made-to-ice-race trike, our favorite of the two, features suspension tuned by Eric himself and an Arlan Lehman built 300cc engine. Arlan, of LED Performance (Lehman Engine Dynamics), is a long time sponsor of Eric's so of course the engine department of the project got lots of love from the legendary ATV racing engine-builder. Arlan used his potent 300cc kit, complete with custom porting from the master himself. A custom pipe, not yet complete will greatly improve the top end power as well as improve the Tecate's mid range grunt, making this two-stroke an ice racing monster.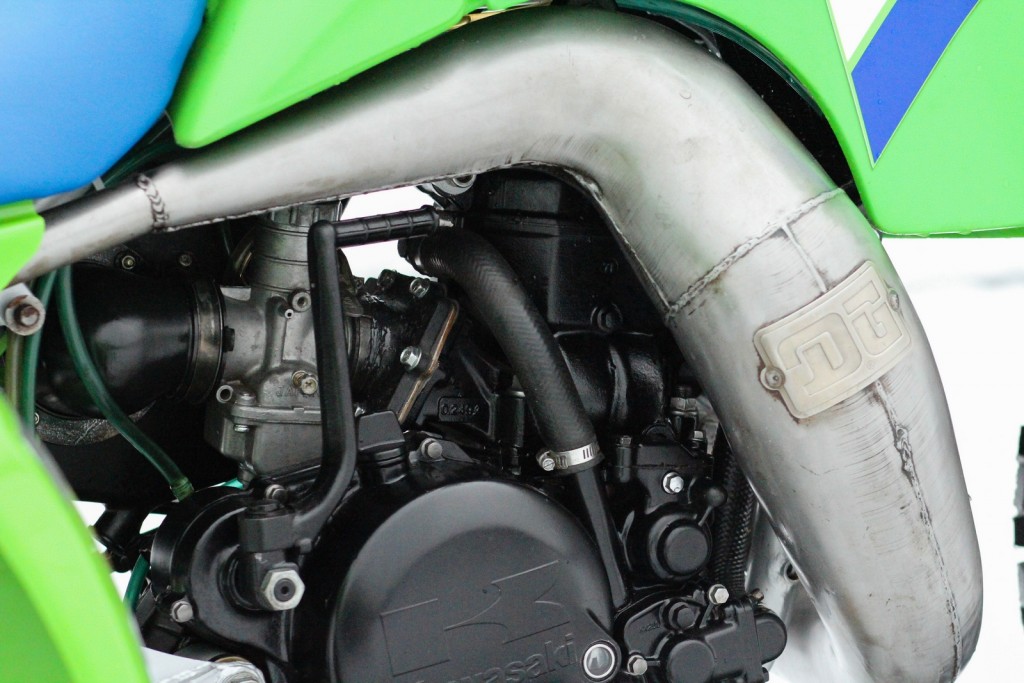 A Cheng Shin 23.5x8x11 front tire and Cheng Shin 8X8 rear tires with a carefully planned out stud pattern are used. "We build the tires to get far less traction than our quad tires because they will simply over power the front. After talking to Jackie Meadows, I have learned the set up on a three-wheeler is all in the front tire," proudly says Eric on the perfectly dialed in ice racing set up.
Eric says he gave new life to his Tecates because epic three wheelers like these shouldn't be collecting dust in a barn. That and the fact that the Tecate engine flat out flies! Its main purpose in its newborn life is ice racing, but we have a feeling you may see Eric racing his epic #97 Tecate at this year's Pine Lake ATV National in Ashtabula, Ohio. "I have always loved going to Ashtabula and Bill at TPC has offered me a ride for the Ohio race. It's always fun to ride the latest and greatest trikes on the market and TPC sure does make the latest and greatest stuff, that's for sure, but I just may ride my Tecate in the Vintage class, we'll see" says Eric.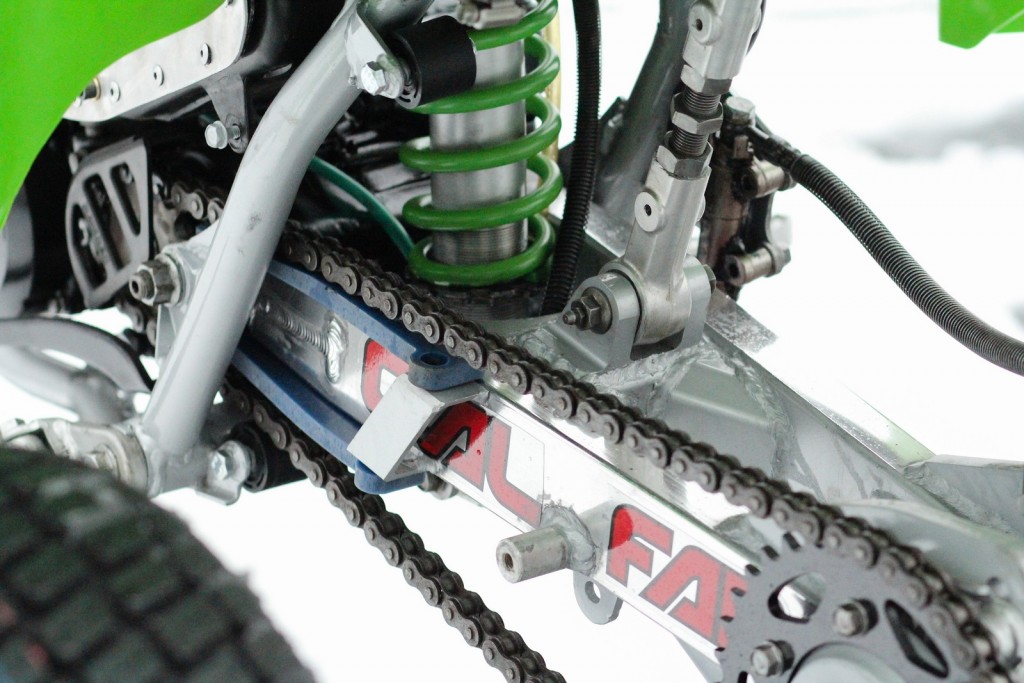 As for future builds, besides old cars, boats, bikes and trike projects Eric is wanting to build a Kawasaki Tecate 4 quad next, but not just any Tecate 4. "I personally think the Tecate is the baddest old school trike and quad, so now I need a Kawi Quad to match my three-wheelers. The thing is, I want big power so I'm looking into putting a DS650 motor in a Tecate 4. We love our oval racing in the Northeast, and I think this retro set up would not only be unique and look killer, but I think it would do quite well on the round track."