On The Fast-Trak 8-5-00

It has been a busy past four weeks here at the Scene. First we busted our butts promoting the Buckeye Nationals then jetted right into presenting the Legends 2000 at the Pine Lake National in Ashtabula, Ohio. But man was it rewarding—Looking into the Orrville grandstands at 6000 screaming ATV fans, watching ATV freestyle sensation, Dana Creech bust out huge tricks one after another, Spader in victory lane, the Kangaroo Kid going big twice and then hanging with all our childhood heroes a week later. Damn we love this sport!
Spader, Hitt and Creech conquer the 2000 Buckeye Nationals
The third year running of the Jerry Ferrell Yamaha Buckeye Nationals proved to be the most exciting event yet. The Buckeye Nationals delivered it all — High speed extremely competitive short track racing, The most exciting ATV freestyle event ever, The largest purse in GNC history – ($5,000 going to the winner alone), Beautiful trophy girls delivering special prizes to record breaking fans and racers alike, And a once in a life time world record attempt by Matt Coulter – The Kangaroo Kid. All together the above activities combined for non-stop action packed excitement that will be remembered forever.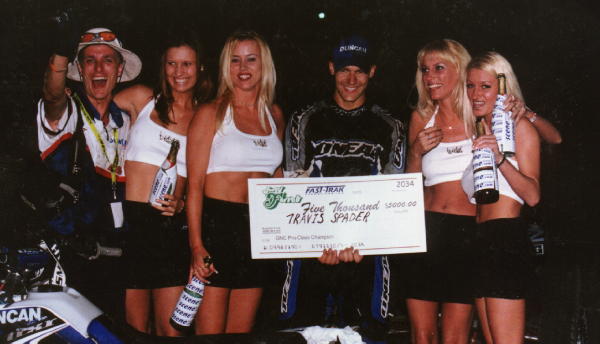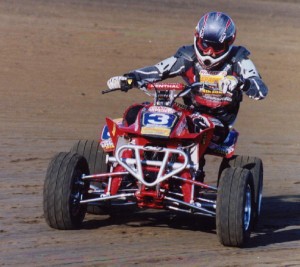 Short Track Nationals Round 3 – Wayne County Speedway – Orrville, OH – July 21, 2000
Heavy downpours threatened to ruin the Friday night oval-racing program. They Wayne County Speedway drainage system lived up to the wet challenge allowing the Friday night program to go as planed – high speed action packed racing was underway. The pro class main event got underway with usual favorite, Shane "Dog" Hitt leading the 13-rider pack. Hitt and his highly tuned Sparks Racing 250R screamed down the massive front and back straights with style. Valley Springs, SD TT and Short Track ace, Jeremy Skiles gave chase while Ohio's own Tim Farr and Sapula, Oklahoma's Chris Bartholomew battled in all four turns lap after lap for the three spot. At the checkers Hitt pulled off the big win followed by Skiles. Bartholomew edged out Farr for third on the white flag lap.
Division 4.com Triple Crown of Freestyle Round 2 – Wayne County Speedway – July 21, 2000
Friday night's spectators piled into Wayne County Speedway in droves. The tolls counted over 2,000 fans, of which most were charged up to see the top guns in the country bust out extreme tricks while 30 plus feet in the air. Wes Miller, creator of the Division 4.com Triple Crown of Freestyle events, fine-tuned the massive piles of dirt, which stretch some 80-feet from one another! The champion would receive a $1,000 check from H-Bomb films Division 4.com. The winner would be the guy that scored the most points in two motos or sessions. Scorers, Paul Turner (Duncan Racing), Scott Generky (Jackson Racing/Autolite), Harold Goodman (Sparks Racing) and Sean "Serm: Sermini (Nac's Racing/ATV Scene.com) took their position with score cards in hand and the event was on. Entries shined with the best freesylers in the world, Tavis Cain (Duncan Racing), Dana Creech (Nac's Racing), Jimmy Elza (LRD, Nac's Racing) and Johnny Hale (K&K ATV). The crowd was on their feet and cheering heavily as Dana Creech took home the win by creatively busting out bigger and bolder tricks than his competitors. Creech was so in the freestyling zone that he launched off of Coulter's massive wooden ramp and landed on the flat sending the crowd into a cheering frenzy and giving reason for the scorers to break out their perfect ten scores.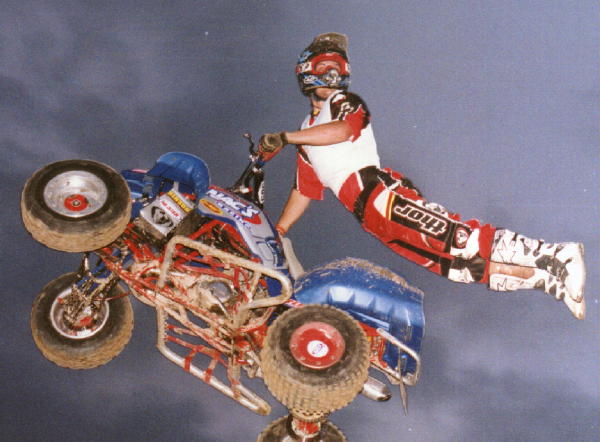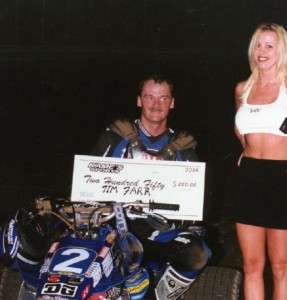 GNC Round 9 – Wayne County Speedway – Orrville, OH –July 22-23, 2000
The Saturday night crowd packed into the speedway's grand stands and quickly exceeded the 6,000-seat capacity. Race teams paid a tad more attention to detail, as their riders would be racing the huge $5,000 win money compliments of Fast-Trak Promotions, Jerry Ferrell Yamaha, Kames Sports and Wiseco Piston. What's more is the big money and special features of the event attract a 28 pro rider field, (the most entries in a long time). Local hero, Tim Farr pulled a picture perfect holeshot in front of his riled up hometown crowd. A debated two laps later, a tangle up brought out the red flag. The AMA ref elected for a complete re-start. The second start ended in the same result, Farr leading the pack and collection the $250 holeshot money courtesy of Kames Sports.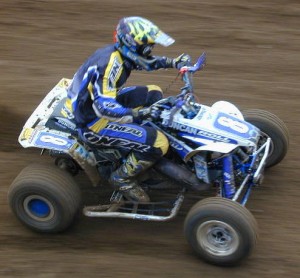 Our soon to be 2000 AMA Grand National Champion, Travis "Doc" Spader on his lightning fast Duncan Racing/Roll Design/Golden West Cycle 250R gave chase to Farr. Hot on Spader's heals was, Tom Miller (Tom Miller Motorsports), Doug Gust (Nac's/TC), and an avalanche of riders pressuring Tonganoxie, Kansas native, Ryan Detrick (CGR) four the four spot. As laps progressed on the super fast super wide Orrville track, Spader proved to be the fastest ATV pilot in the world by motoring around Farr and pulling ahead to a demanding lead. In Farr's defense of not being able to hold ground to speedy Spader, his clutch faded heavily right from the start. He was forced to go easy on the clutch in hopes that it would last the entire twenty laps. "Digger" Doug Gust, Mr. Consistency of the Buckeye Nationals, passed his way to the third spot and once again put himself in the winner's podium, (Gust placed in second – almost winning the inaugural Buckeye National in Deerfield and won last years big event in Orrville). Miller and Detrick rounding out the top five respectively.
Pro Class Results:
1. Travis Spader (Duncan/Roll/Golden West)
2. Tim Farr (Baldwin/Ferrell/White Bros.)
3. Doug Gust (Nac's/TC Racing)
4. Tom Miller (Tom Miller Motorsports)
5. Ryan Detrick (CGR)
6. Jeremiah Jones (Legacy/Sparks)
7. Michael Walsh (Walsh Racecraft)
8. Justin Gandy (Sparks/Hollywood)
9. Chris Bartholomew (Sparks)
10. Keith Little (Nac's/PRC/Sparks)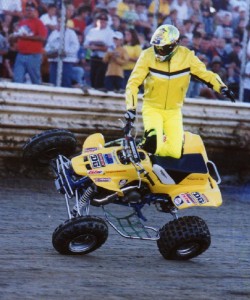 Kangaroo Kid – Take Two – Wayne County Speedway – Orrville, OH –July 22, 2000
Matt "The Kangaroo Kid" Coulter arrived in Orriville to outdo his current quad distance Guinness World Record. This year's attempt featured a specially built wooden take off ramp and Coulter's very own Phillips framed, KTM 550 two-stroke powered jump quad. The wooden ramp was built so Coulter could practice jumping before moving the ramp back for the record. Coulter decided he needed no practice and elected to move the ramp to the record-breaking spot and go for it as is. In early run-ups, Coulter maxed out the big bore KTM motor at 69 mph. He felt the ramp was built perfectly, as it would launch him out and not up. He estimated that if he got anywhere near the top speed of 69mph, he would break his 148' Guinness record. The eager crowd cheered the Aussie on as he did acrobatic tricks and wheelies before the attempt. After many trial runs, he held the gas on and flew his quad over the 130 gap and landed safely at 138 feet, (just barely downsiding the dirt landing slope).
Coulter eagerly awaited the official measurement. As soon as he found he was only ten feet shy of the record, he quickly announced that he would try again. Coulter stopped by the four trophy girls for a good luck kiss, and rode by the crowd with fist clinched in the air. The crowd rose to their feet in appreciation of the heroic act of daredevilism. This time he was riled up and seemed like he would surely soar his quad the needed distance to break the record. After a practice run up, he twisted the throttle to the stops, flew through the air and landed smoothly on his rear wheels, this time more on the meat of the down slope. The officials measured, but once again, Coulter was short of the record. They stretched the tape to the 141-foot mark, 8-feet shy of the record. Coulter admitted that he probably wouldn't be able to break the record since he was flat out full on the gas the time prior. He felt he maxed out at the 141' mark so he surrendered once again to the Orrville, Ohio world record. After trying the record twice and entertaining the thousands of people on hand, he once again signed autographs until 1:30AM!
For more hip news on the Buckeye Nationals, check out what ATV Source has to say at:
http://www.atvsource.com/articles/ama_grandnational_80300.htm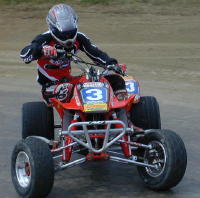 GNC Round 10 – Pine Lake TT – Ashtabula, OH –July 30-31, 2000
Northeast Ohio fell victim to torrential downpours and extreme flooding. Storms circled the Ashtabula area and threatened to put a stop to Round 10 of the GNCs and the big ATV Legends 2000 event. The 429 riders that decided to brave the forecast and headed to the legendary Pine Lake facility made the right decision. The rain passed by and allowed for a picture perfect racing weekend.
The 32nd Annual Pine Lake Summer National offered a unique challenge to the Pros, as it was the only TT race this year to run during the day instead of at night. The hot daytime racing called for a different tire and chassis setup. The Pro heat races were won by Harold "The Bumblebee" Goodman (Sparks/Walsh), Travis Spader (Duncan/Roll/Golden West), and Shane "Dog" Hitt (Sparks). Hitt earned the fast qualifier honor.
In the Pro main event, Hitt grabbed the holeshot, followed by his Sparks Racing teammate Harold Goodman. A surprise front runner, Jimmy "Superfly" Elza (Nac's/LRD), held down the third position. Elza managed to hold off advances from the freight train of riders behind him that included Travis Spader, Keith Little, Tim Farr, and Ben Jackson. In front of the pack, Hitt stretched out a huge lead and took the easy win. Hitt was so far out front that he slowed down at midrace to let his overheating tires cool down. There was little passing to be done and the race finished almost as it started with Goodman, Elza, Spader, Little, and Farr finishing behind Hitt.
Spader's fourth place ride, combined with Doug Gust's disappointing day (Gust sheared a wheel hub in the pro main), allowed Spader to stretch his points lead to a staggering 46 points. Barring any freak incidents, Spader virtually has the GNC title wrapped up. A strong ride at round 11 at Loretta's should put the icing on the cake. And Spader owns Loretta's with three wins in a row there! So let us be the first to congratulate "Doc" Spader and the Duncan Racing/Roll Design/ Golden West Cycle team for a well deserved National Championship.
Pro Class Results:
1. Shane Hitt (Sparks/Kames)
2. Harold Goodman (Sparks/Walsh)
3. Jimmy Elza (LRD/Nac's)
4. Travis Spader (Duncan/Golden West Cycle/Roll Design)
5. Keith Little (Sparks/Nac's/PRC/Roll)
6. Tim Farr (Baldwin/Ferrell/DG/White Bros)
7. Ben Jackson (Jackson Racing/TC/Autolite)
8. Kory Ellis (Trinity)
9. Mike Walsh (Walsh Racecraft/Sparks)
10. Nathan Dallas (Fischer Cycle)
On Deck
Next Stop on the GNC Tour—Loretta Lynn's MX in Hurricane Mills, Tennessee on August 18-20, 2000. For more information click over to Racer Productions at www.racerxill.com
The GNCC takes a little time off until Aug. 26th for the Hardrock in Fairmount, WV
For more GNCC event info. click over to www.racerxill.com/gncc
Here is the complete GNC Point Standings
Calculated 8/5/00 (after Ashtabula, OH)
1. Travis Spader (245)
2. Shane Hitt (199)
3. Doug Gust (182)
4. Keith Little (170)
5. Tim Farr (167)
6. Jeremiah Jones (162)
7. Joe Byrd (119)
8. John Natalie (116)
9. Ben Jackson (113)
10. Justin Gandy (109)
11. Kory Ellis (84)
12. Michael Walsh (75)
13. Jimmy Elza (74)
14. Ryan Detrick (69)
15. Chad Lohr (57)
16. Tom Miller (51)
17. Harold Goodman, (43)
18. Chris Bartholomew (38)
19. Johnny Hale (37)
20. Nathan Dallas (26)
21. Jeff Seegott (24)
22. Aaron D Reisig (23)
23. Peter Carlotto (21)
24. Roy Bresnahan (18)
25. Eric Dubb (17)
26. Derek Wiseman (14)
27. Bradley S Ader (10)
28. Todd Vescovi (8)
Jereme Skiles (8)
29. Rusty Clapsaddle (7)
30. Scott Constantine (5)
31. Joel Grover (4)
32. Jeremy Schell (3)
33. Ted Plachta (2)
Jeff Isabell (2)
Making the Scene
Travis Spader
Spader makes the Scene for taking home a cool $5000 for winning the Orrville TT in front of 6000 spectators. A little more realistic than the usual $1000 a GNC win pays and sparse crowd in attendance. Spader all but has the GNC title in the bag and should wrap up the title at Loretta's. AND of course Spader gives us the perfect forum to shout out a challenge. Come on other promoters, let's step up and give these guys a little more dough and work harder 'promoting' to bring in the crowds!
Sam Gammons
Victory Sports, Sam Gammons is stepping up. GNC round 2 in Tennessee on Sept. 1-3 is going to be a huge event. Besides being the GNC series finale, Gammons is promoting the event as the US ATV Jamboree. The three-day event will feature national Short Track and GNC TT racing, mud bogs, trail rides, grass drag action and manufacturer displays. For more information contact Victory Sports at (423) 323-5497 or www.victory-sports.com
Shane Hitt
Hitt was in a league of his own at the Pine Lake TT. He was fast-qualifer, holeshot the main and proceeded to run away from the field. He was so far gone that by mid-race he put it on cruise control to cool his overheating tires… yet continued to motor away from Goodman, Elza and the rest of the pack. Hitt even had time to play around with doing wheelies. Then the Hittman went out and decimated the 250 Pro-Am class.
Dana Creech
Creech busted out some unbelievable Supermans at the Orrville Freestyle. (As you can see from the awesome shot captured from Thom Veety of Action Photos). Creech, and possibly, fellow northern Californian, Tavis Cain are definitely the favorites to win this year's Division 4.com Triple Crown of Freestyle National Championship. Dana not only proves he's got technical superiority over the competition, he also adds some spice to his program with creative innovation. He even mooned the crowd on his last jump of the night! This was all in good fun of coarse – the crowd found it hilarious. Creech knows how to have fun out there and it shows in his routines. He certainly has earned the two victories and the $2000 for his efforts.
Tom Miller
Props go out to TM of TMM for his career best 4th place Pro class finish at the Orrville TT. Miller was on the gas!
Ryan Deitrick
LRD/Lonestar's Deitrick broke into the top 5 at the Orrville TT, posting his best-ever-Pro class run. It's cool to see some new guys out front.
Jimmy Elza
Superfly's 3rd place at Pine Lake should be a precursor of great things to come. The Nac's/LRD kid is loaded with talent and is ready to run with the likes of Spader, Farr and Hitt. Look out in 2001.
Harold Goodman
The "Bee" returned to Ashtabula where he got his TT roots and where he's won many of GNCs.
Harold arrived in Ohio hot off a bunch of extreme ATVing while touring the States and Canada with Wes Miller and the H-Bomb crew. Harold was his same old fast self and proved he hasn't lost a thing by not contending all the GNCs this year.
Kawasaki
Hats off to Team Green for going all out for the Legends 2000 event! The green team (with major effort by Doug Roll) set up ex-factory Kawasaki 3-wheel hero Jimmy White with a prototype KX250 racer. The bike was bitchin'. Longtime Team Green support rider, Timmy Helter also got some help from Kawi. Helter showed up on a styling Lone Star frame – KX 250 powered quad in which he won his heat race on. Now, here's hoping that Team Green steps up to support a GNC team in 2001 AND releases a production version of the bike for the masses.
Dean Kirsten, Tim Orchard, Steve Casper
The Legends 2000 event was not meant for just legend racers. You long time ATV enthusiasts know all three of these guys. Dean Kirsten was the instrumental force in starting the whole ATV magazine business off. He was the senior editor at 3 Wheeling Magazine. Tim Orchard was the associate editor for 3 Wheeling. Casper has been into ATVs for a long time as well. He's been one of the key journalists at Dirt Wheels since the early eighties. Currently Casper is still at Dirt Wheels, Orchard owns and operates the successful OMF Performance Products (you know the best skid plates money can buy) and Kirsten is still with Wright Publishing Co (the publishing company behind 3 Wheeling). He's the Technical Editor for Dune Buggies and Hot VWs.
PACE Pro Quad indoor series
U.S. Off-road Championship series promoter PACE Motorsports has announced that although the USORC will go the way of the dinosaur, the Pro Quad class will live on! PACE will run the high-flying Pro Quads in conjunction with its popular Monster Jam at 6-8 major stadiums in 2001. The race action should see its way onto TNN's Motor Madness cable TV program as well. This is big exposure for ATV racing! Stay tuned for more information as it becomes available, and ATV Scene will definitely be at the stadium events for in depth coverage!
Texoma Quad Racing Association
If your anywhere near the Texas/Oklahoma area the place the be September 16th and 17th is Caddo Point MX Park in Cash, Texas. They are putting respectable money into the their pro class by posting a guaranteed $1000 first place prize money. All of the details can be found at their web site www.serve.com/tqra
On going project quads
You Yamaha Banshee fans might check Project Banshee at www.QuadStore.com These are the folks that provide ATV Scene readers with videos shot at the GNCs. Follow the Project Banshee link on your left for the Banshee news and follow the videos link to watch the latest videos from the nationals.
You Honda 400EX guys and gals might be interested in an on going hop up evaluation from Moto Joes.com Motorcycle and ATV Accessories. Check out what they think on the available 400EX aftermarket parts at www.motojoes.com  (Click Team Moto Joes). This might be a good place to get the lowdown on which product you should or shouldn't buy. You might highlight the page by holding your mouse over all the text. (Otherwise plan on a headache from reading blue text on a black background.)
ATK Goes ATVing
ATK will mostly bring the Husaberg sport quad to market. They plan to use the Swedish-built engine and build the machine here in the US of A. If all goes as planned the production run should be 200 machines.
WANT RESULTS???
Here's your links for complete pro and amateur class national results.
All you GNCCers surf over to the GNCC site. In addition to complete results, you'll find lap times downloaded direct from the Racer Productions computerized barcode-scoring system.
Check out complete GNCC results at http://www.racerxill.com/gncc/
For GNC results, click here to retrieve the pages of ATV national results on the AMA's web site: http://www.amadirectlink.com/amrace/00atv/00atv.html
Quotes of the week:
"I went to the Orrville GNC this year with high expectations of my self. I was really hoping for a top five but instead I DNQed. I should have been miserable all weekend, but instead, I had the best weekend ever! Seeing that many people there to watch ATV racing was enough to give me chills and make me realize why I compete." — DUBBER97 Pro class number 97, Eric Dubb on his trip to the Orrville GNC.
"There simply is no better way possible to pay tribute to the roots of ATV racing than what Fast-Trak Promotions did for us." – Todd Williams #11 on the recent Legends 2000 event.
"It's been fun hanging out with all of my old friends like Nac's and Hinson again. It's an honor to be here with all the past champions. I didn't realize how much I miss racing. I miss the whole element of excitement. This whole event has brought back some memories that I'll cherish forever" – Gary Denton on Legends 2000.
2000 Buckeye Nationals, ATK, Buckeye Nationals, Creech, Dana Creech, Dean Kirsten, Division 4.com Triple Crown of Freestyle, Eric Dubb, gary denton, Harold Goodman, Hitt, Jeremy Skiles, Jimmy Elza, John Pellan, Legends 2000, Matt "The Kangaroo Kid" Coulter, on the fast-trak, PACE Pro Quad indoor series, Ryan Deitrick, Sam Gammons, Shane Hitt, Shane "Dog" Hitt, Spader, Steve Casper, Texoma Quad Racing Association, Tim Orchard, Todd Williams, Travis Spader, Travis "Doc" Spader, Wayne County Speedway
Comments
comments