On The Fast-Trak 12-19-00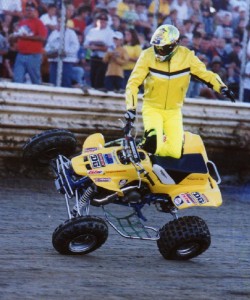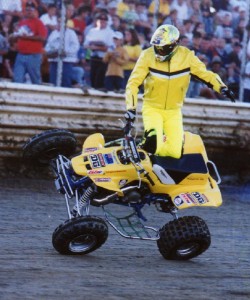 As you may or may not know we (Fast-Trak Promotions Inc) is the agent to the Matt Coulter Kangaroo Kid Stunt Entertainment Show. This made official last week. Matt will be jumping over a small single winged aircraft in mid-flight on January 6th at a private location in Southern California. The stunt will later be featured on MTV's Senseless Acts of Video, (Air time still not known). Originally stunt men and women copied special effects scenes from current music videos. Now the show has slowly evolved into anything goes with nothing written in stone that the stunts need to follow what someone has already done with special effects. Who knows, maybe the opposite will happen with Matt's jump and an artist will use his stunt in their music video. Matt will not only be trying to get enough lift and distance to fit an airplane under him and his KTM 550 powered Phillips jump quad — he'll also be attempting to break his current ramp to flat ground Guinness World Record of 134'! Believe it or not, Matt has experience in jumping over airplanes in flight. He's jumped a Cri-cri acrobatic plane in flight at Renkin Airfield in England in 1998. This jump was featured on ITV's Don't Try This at Home, (a European television program).
We would love to give Matt some encouragement for the upcoming jump. If you would like, e-mail him a letter to wish him luck. E mail to kangarookid@atvscene.com
More Coulter News
Matt has been the right hand man for special effects on a movie set. The movie has something to do with sled dogs. Matt is responsible for towing a sled with an ATV while cameramen get their needed shots of actress – Angelena Joley in action. He's been on the set for two months now contributing his ATV riding skills for several scenes in the movie.
Cannondale Update
What's new with the new Cannondale FX400 ATV? Click below for the most current pictures of the new sport quad. We have word that Cannondale is torture testing their new quad in North Carolina. We understand that they will be releasing the first units within a month after the torture testing is complete. http://www.cannondalemotorcycle.com/gallery
New GNCC Team
ATV Scene GNCC Correspondent, Scott "Sherlock" Johnson attended a secret testing session for a GNCC race team. The new team will be backed by Supertrapp, Maxxis and Miller's Yamaha. Mickey Dunlap of Four Stroke Tech will do all the motorwork. The team will consist of Bryan Baker (#6) riding a 721cc Raptor all decked out with all the finest goodies from suspension to exhaust. Bryan will run the pro class with this screaming Raptor thumper. It's said that there will be four Raptors and two utility quads on the team. As of this date there are no other riders officially signed on to ride the Raptors. The two Utility-Mod guys will be Richard Travalena and Randy Kilby. In one of the closest battles of all classes this year, Rich won the competitive Utility-Mod. Class and Randy came in 2nd. Dunlap set up on these winning utility quads last year and plans on tweaking some fresh utility mounts for them to defend the title on. Rich's 500cc Wolverine is already a powerhouse. The quad wheelies and jumps like a dream.
Dunlap and team are negotiating with Maier Plastic in hopes that they will become a major sponsor for the team. This might be a great position for Maier in that most GNCC competitors go through plastic like tearoffs. Mickey could very well be the hardest working man in the industry. He is also working on project quads to take to some of the ATV festivals and jamborees. One of them is going to be the meanest monster utility quad you've ever seen. It's being built for the pull contests and mud bog events.
More GNCC stuff
In other team news, Mike Penland, (who just finished 2nd in the Sportsman class at the Baja 2000) will be back with Team Green for 2001. Mike will be on the new Kawasaki 650 Prairie. Mike was testing the new Prairie, and says it is now a monster! He rode a pre-production model that would lift the front wheels off the ground and spin the tires on pavement. Mike is not sure at this time what class Kawi will have him run.
Speaking of Team Green GNCC
The big wigs at Kawasaki have recently signed on the first ever female factory ATV racer! Her name is Heidi Landon from Connecticut. She will be riding a Kawasaki Lakota in the Women's class and also racing a bike in the Women's class on Sunday! She may be the first Iron-Woman!
William Yokley will be back in the pro class. Todd Knippenberg will not be with Team Green, but he is on the top of their list when they get a quad that can be more competitive in the stock set up.
A final word from "Sherlock" Scott Johnson
"I will have plenty of time to track down these details since I don't have to get a quad ready to race next year. I found out in my shoulder surgery that I only have about half of my shoulder left. If I keep racing I would end up with a shoulder replacement. I am married to a physical therapist and trust me a shoulder replacement is not the way to go. I would not be able to ride anything again on top of loosing my real job in the police force. I am still going to try and make it to as many races as possible. Just depends on expenses and time. (OK mostly expenses). I am scoring a new camera so I'll have better pics (and more of them) for next year. Check back here for all the latest news in the GNCC and to find out who the first factory female in the GNCC is gonna be. See Ya in Florida!"
Letters
Dear ATV Scene:
First and foremost, keep up the good work with the site — it rules!
I thought I would write in to say that that new 250cc two-stroke Bombardier that you mentioned in your last column just may well use the very same Rotax GS 257cc motor that I have in my Phillips quad. We've used it for years and I must say it is very quick! It's water-cooled, 6-speed, and puts out around 50 hp in stock form! Mine easily out-drags race prepped 250Rs on that track here
in the UK. The barrel has a power-valve, and from the looks of it, it's the same as that used on the Duncan Racing barrel used by Travis Spader.
I think Lone Star used one in their quad, but theirs is an off-the-shelf model, which does not have custom tuned and modified ports and gear-ratios like mine. You may have heard that they are all top-end. Wrong! My GS 257 motor pulls really hard — right from the bottom end all the way through to the top end. It's really a great motor. You can also change the power valve spring pre-load to alter when the valve opens.
Just thought I would let you guys know that I have heard that is indeed the motor Bombardier has up their sleeve for their new two-stroker.
I'm also doing the Le Touquet beach race in France in February. I remember Justin Gandy came over for it last year to race with Paul Winrow, but they broke the gearbox on their 330R.
P.S
Next year I will hopefully be reporting all the nationals here in the UK as well as racing in them. I finnished 5th this year in the 250 class, that was after a few mechanical DNF's. Hopefully next year I'll get a top three! Check out my site: www.dstracing.com
Bye,
Giles Davis
DST Racing
Honda Motorcycle Racing teams up with Universal Studios
This agreement will highlight Universal Studios' Woody Woodpecker as Honda's Official Team Mascot. This unique alignment puts Woody Woodpecker front and center on their motocross and roadracing teams. Universal Studios will become the primary racing team sponsor for two motocross and two road racing events in 2001 and 2002. Additionally, Universal Studios will represent the merchandising and promotional rights to Honda Racing Team's motocross riders, Sebastien Tortelli, Ezra Lusk, Ryan Hughes and road race riders, Nicky Hayden and Miguel Duhamel. Feature-length Universal Studios films will be showcased with special designs on the bodywork and uniforms of one Honda Racing Team bike and rider for each of the selected races. Also Jurassic Park III, the third chapter of one of the most successful film franchises in Universal Studios' history, scheduled for release on July 18, 2001, will also be featured on the 2001 Honda Racing Teams.
"As leaders in our respective industries, Honda Racing and Universal Studios will see 'Performance First' reach new heights in the coming years", says Ray Blank, vice president of Honda's Motorcycle Division. "The selection of the feisty red-headed Woody Woodpecker as official Team Mascot is a perfect compliment to the Honda Racing Teams featuring the Red Riders.
During the 2001 and 2002 racing seasons, Woody Woodpecker will be featured in AMA sanctioned Honda factory racing efforts in Supercross, national motocross, and national road racing competition. A special Woody Woodpecker / Honda Racing Team logo has been developed and will be featured on the CR250R, CBR600F4i and RC51™ racing bikes, the racer's uniforms, the Racing Team trucks and promotional materials.
"Cross-licensing between entertainment and motorsports has been a very successful combination for Universal," said Elliot Lederman, vice president, licensing and sports, Universal Studios Consumer Products Group. "Universal has had successful programs with NASCAR Champions Jeff Gordon and Bobby Labonte, NHRA Funny Car Champion, John Force and Formula One Champions, WilliamsF1. We are very proud to have the opportunity to sponsor and represent Honda, the winningest team in motorcycle history."
Hard to swallow, but regretfully ATV racing will take no part of this huge merger.
Surf's Up!
SFX Pit parties are set for Saturdays between 2:00 – 5:00 PM. Pit pass entrance: B for the first event in St. Louis, MO. Pit passes available at www.Ticketmaster.com For more event information go to www.ushra.com
Suzuki to invest $40 Million to build US ATV plant
http://biz.yahoo.com/rf/001211/t99187.html
Cannondale Updates Status of Motorcycle Shipments and Introduction of ATV
http://biz.yahoo.com/prnews/001208/ct_cannond.html
Sundiro and Orbital to Cooperate in the Manufacture Of OCP Automotive Two-Stroke Engines in China
http://biz.yahoo.com/prnews/001208/mi_orbital.html
Motorcycle Safety Blueprint for the Future Released by the AMA.
http://www.amadirectlink.com/legisltn/releases/g00037.html
Accidents Up for All-Terrain Vehicles
http://dailynews.yahoo.com/h/hsn/20001207/hl/accidents_up_for_all-terrain_vehicles_1.html
AMA Pro Racing. — Progressive Insurance to launch website devoted to flat-track fans
http://www.amadirectlink.com/prorace/releases/r00102.html
The Memories Remain – The Baja 2000 Through The Eyes Of Those Who Dared
http://www.off-road.com/race/2000b2k/wrapup/index.html
Kawasaki Announces Organizational Changes
http://www.speedvision.com:80/pub/articles/motorcycles/09inews/001213a.html
BLM Unveils Off-Road Vehicle Plans
http://dailynews.yahoo.com/h/ap/20001206/us/off_road_vehicles_1.html
Legislator Seeks to Overturn Ban on Off-Road Vehicles
http://www.latimes.com/news/state/20001214/t000119556.html
Quotes of the Week:
"ziggy zoggy, ziggy zoggy ouey–ouey-ouey".
Pix of the Week:
These from the recent Triple Crown of Indoor TT in North Carolina…
Comments
comments