Introducing Team Media Allstars 2008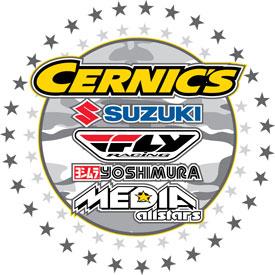 The 2008 incarnation of this year's Media Allstars MX team is a slimmed down version of the 2007 roster. Cody Grant & Aaron Meyer are leading the charge aboard a couple of ATP Racing Engines tuned Suzuki LTR450s in the Pro Am class.
Austin Wilson and Chase Cunningham will be heading up the A Class, and Age Group duties (16-24, and +25 respectively). Danny Cooper, and Jake "The Snake" Brattain will handle the B Class, Leslie Ragon and Brittany Snider will attack the Women's Classes. The only new additions come in the way of Mario Diangelo, and Dale Batson, both of whom are long time friends of the team, and just all around good guys of the sport, both will contest the A class, as well as the +25 class. The team will once again focus on what we feel is the number one series in the world, the WPSA ATV Tour, although we'll also contest select GNC MX Rounds.
"We realize that the sport has definitely changed; the Pro Am class is now every bit as competitive as the Pro class," says team coordinator, Jorge Cuartas. " The OEMs are fielding Pro Am riders now days, and teams like ours are fighting tooth and nail for support." With that being said, Team Media Allstars is now slimmed down. The team has refocused their efforts on the infrastructure of the team.
Pictured here is the entire Media Allstars team at the final round of the WPSA ATV Tour in Boswell, PA in 2007.
Production Lites/ Super Mini rider DJ Spurling pictured.The biggest changes to the program are the additions of ATP Racing Engines, and Moto X Nutrition. "We feel Mike at ATP will provide us with the mechanical reliability, which we lacked in the past, and with Moto X Nutrition's support, our riders will now be as reliable as our machines," says Jorge. "Having a dedicated mechanic, and team nutritionist are probably the biggest advantages we've ever had."
This year Team Media Allstars has looked no further than their own youth racing efforts to farm out a team within a team. They're calling this bunch of talented youth quad racers "Media Allstars Youth Bomb Squad". The youth riders are managed by Guy Land. "This new youth team should be a force to be reckoned with in the Youth Divisions," says Land.
The Media Allstars Youth Bomb Squad is a new concept for the team. Guy Land decided to put the focus where he feels it should be; the kids. Guy's new team is simply a Youth Powerhouse, the likes of which this sport has never seen. The roster is headed up by returning '07 Media Allstars Jordan Digby, and DJ Spurling, joining them are Cody Land, Tyler Whitmire, Tyler Pittman, Dillon Starks, & Cory Gonzalez. Each and every kid on the team has the ability to win races, and with the proper grooming one-day make it in the Pro Ranks. Sharing Guy's vision is H-Bomb Films/ Division Four's Wes Miller, who stepped up with the kind of support normally reserved for Pro Racers.
"I am so proud to be part of the Media All Stars. The riders we have assembled for this team exemplify the top riders in their respective classes and have proven to be leaders on and off the track. So much is said about the future of this sport and how the youth will one day inherit the spotlight. With the backing of Jorge and support from the likes of an industry giant such as Wes Miller and H-Bomb Films, the spotlight will be cast brightly upon this ensemble of talented racers," concludes Guy Land.
"I couldn't be more excited about this deal, it's like killing ten birds with one stone for us. For starters, it allows me to put forth the kind of time and effort required to run a good Pro Am team, it'll give Guy some experience in team management, it allows us to gain a half dozen new top notch kids for the team, it provides more exposure for our effort as a whole, it gives us a better pipeline to graduate kids through the ranks, and lastly it fits right into our "Without roots the tree won't grow" philosophy. These kids are the future of this sport."-Jorge Cuartas (Team Owner/ Manager).
The last big change the team's expansion into the Quad Terrain Challenge, and Side-By-Side markets. "In theory, Stan "Big Daddy" Digby will be competing in the WPSA's Quad Terrain Challenge aboard an American Suzuki, Cernic's, Yoshimura, FLY Racing Media Allstars King Quad 750," says Jorge. "Unforeseen hold ups have left Stan twiddling his thumbs for the majority of the off season, but in the off chance that things come together, "Big Daddy" will be waving our flag. "We're excited about having Stan out there for us, he's one of the best characters in this sport, and we're doing our best to make it a reality for him."
A massive support program was also put into play for 2008, with the help of Cernic's and the team's sponsors, over 100 riders will now be waving the Media Allstars flag at ATV Races of every level from Coast to Coast, and Border to Border. The Cernic's Rider Support Program will allow Team Media Allstars to follow the careers of some of the nation's top racers, while at the same time create a direct pipeline on to the main team.
Lastly, Team Media Allstars announces the "Maxxis Tires/ FullBore/ DG/ Media Allstars" Side By Side Team. This three UTV effort will contest the four UTV rounds of the GNCC series, as well as select WPSA rounds.
Headed up by Yamaha Rhino mounted Dustin Shuler of Sylva, NC, the team is poised to bring a "Media Allstars" level of professionalism to UTV racing. Shuler's team management skills go way back to the late nineties where as a member of Team Nac's he coordinated the team's amateur efforts.
Team Media Allstar rider Caleb Moore can do what most dont dare, an ATV backflip!
"I'm super excited about this, the side by side racing is tailor made for us old fathers. I've kept up with all of the racing since my retirement, because ATV racing has been such a huge part of my life (1993-2006)," says Shuler. "This is the best way for me to stay involved with the sport I love. We will have a great presence at the GNCCs holding up the Media Allstars name. And get ready, the world famous "Dustin Shuler Pep Talks" will be back!"
Joining Shuler is former ATV Pro Josh Starrett of Bowling Green, KY. Josh's side by side prowess will be tested while driving a Yamaha Rhino in the stock class. Rounding out the driving trio will be MX Team Manager Jorge Cuartas aboard a Polaris Ranger RZR.
"All three of us are dads now," says Jorge. "With that there's new responsibilities, plus the reality is we're no longer the MX Superheroes that we imagine ourselves as once being. We could've probably named the team "Two Has Beens and a Never Was". In all seriousness, The SXS market is huge and we want to make our way into it, but more importantly it's a safe and fun way of still going out and competing. I'm taking a backseat to Dustin on this one as far as team management goes, I want to enjoy racing without having to do 100% of the work, I just hope I don't get kicked off the team."
2008 MX Team Sponsors/ 2008 Cernic's Support Rider Sponsors:
Cernic's, American Suzuki, Yoshimura, FLY Racing, Maxxis Tires, ATP Racing Engines, Maxima Lubricants, Fullbore Innovations, Rath Racing, Walsh Race Craft, DMP Covers, Division Four Clothing, Fasst Company Flexx Bars, Uni Filters, Smith Optics, Regina Chains, Quad Tech, CV4, Exceldyne, EBC Brake Pads, Outerwears, Powermadd, Motion Pro, Updog Industries, Fox Racing Shox, Precision Steering Stabilizers, EVS, RPM, O'GIO, Hinson Clutch Components, DWT, Braking Rotors, Sunstar Sprockets, Moto X Nutrition, Olletsoc web design
2008 Side By Side Sponsors:
Freedom Powersports, FullBore Innovations, DG, Maxxis Tires, Outerwears, Hi-Per Technology, Ohlins Shocks, Olletsoc Web Designs, Obrien Orthopedics, Ink & Dagger Tattoo, AKA, three patient baby mommas, and five screaming babies
About The Media Allstars
The Media Allstars Team was formed in 2004, since then, the team has reinvented the amateur team business model, as well as the way sponsors view Amateur ATV Racing. More of a trackside marketing firm than team, the MAS have thrived due to innovative advertising and promotional plans, as well as a deep commitment to bringing amateurs into the spotlight. Since the teamÕs inception, Pro Team's and the press have viewed the team roster as a who's who of amateur racing, as well as a breeding ground for future Champions. The Media Allstars home office is based North of Atlanta, Georgia in the city of Cumming. The riders are based in Kentucky, Texas, Ohio, Mississippi, North Carolina, Pennsylvania, Maryland, Tennessee, Alabama, & Indiana.
Not pictured:
671 Dale Batson (+25, A Class) Age: 32
yfz671@yahoo.com
Top Ten in any class he has raced since 2000
67 Mario Diangelo (+25, A Class) Age: 28
tdshop@aol.com
Comments
comments