Jay Gobel 7-4-00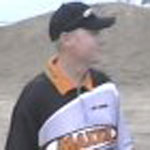 ATV Scene: What is Team Safari all about?
Gobel: Team Safari is basically an incorporated promotion and advertising company that promotes non-standard extreme sports, such as ATV racing. Our focus is to attract non-industry sponsors to the sport. The capital that these sponsors could provide would definitely elevate the overall quality of the sport, not to mention the size of the pro purse.When a large non-industry sponsor does get involved and others see the potential this sport has, our hope is that it will have a snowball effect. The more sponsors that get involved, the more exposure the sport will receive, again making our sport more attractive to other sponsors. For our sport to get to the professional level it deserves, it's going to take sponsorship of that magnitude.
ATV Scene: What role do you play in Team Safari?
Gobel: Team Manager, Program Organizer and Director of Team Safari Motorsports.
ATV Scene: If you don't sell any products through Team Safari, why promote the name?
Gobel: People that follow sports of any kind tend to associate themselves with something that they can identify with. Teams and the teams star performers are what leaves a lasting image. Team Safari is trying to provide a focal point for fans to channel their enthusiasm. In theory we don't see any difference in Team Safari and say the New York Jets. By promoting the team name it guarantees the survival of the organization even if a team sponsor should depart. That way the team and its stars remain alive in the minds of the fans. For example if we were just known as Team Coca-Cola and then we parted with that sponsor we would have to rebuild the team's image under a different title which would cause confusion with the public. Now if we are known as Coca-Cola's Team Safari or Budweiser's Team Safari the industry and the fans will be able to identify with the team regardless of sponsor changes.
ATV Scene: Any leads in an outside sponsor helping the cause?
Gobel: We are attempting to do some cross-marketing with some outdoor sports companies and we do have some promising discussions going on with a number of other non-industry companies. I can't mention any names at this point though. The next few months will tell the tale.
ATV Scene: Has Team Safari had the race results that you expected so far this year?
Gobel: Overall I'm satisfied with our results so far. We had some mishaps at the beginning of the season that was unexpected but I think that's all behind us now. At least one of our riders has been on the podium at every GNCC event except one, and at a few events we've had two out of the top three. At the last race we had all four of our guys in the top ten. With a record like that I can't complain, especially with the level of competition at the GNC pro level this year.
ATV Scene: Who do you think will win the GNCC championship this year?
Gobel: I hope it will be either Chad (Duvall) or Matt (Smiley). They both are in contention to win it, but Bill Ballance and William Yokley are riding extremely well too. Any one of the four of them would make excellent champions. The racing this year has by far been the best that I've ever seen in this sport. It's been so close at each event that it's impossible to predict anything. Regardless of who wins, it will be well-deserved. I really like the fact that they're counting 11 of the 14 races this year (instead of the usual 8). Now the guy that has the most consistent finishes for the whole year wins the series. That's the way it should be.
ATV Scene: Tell us about the other two members of the race team #7 Brad Page and #16 Jared Huffman.
Gobel: Both guys have several top ten finishes this year and a few top fives as well. They both have a lot of racing experience under their belt and they should definitely be the guys to beat within the next couple of years. Jared had a broken collarbone that caused him to miss a couple of races, but he's back up to speed now and Brad has had some pretty bad luck of his own this year. Both guys definitely have the speed it takes to win and I know they're both looking forward to the second half of the season.
ATV Scene: Do you think Team Safari will ever expand into the GNC series or any other forms of racing?
Gobel: I think so and that's something that has been discussed but right now we need to focus on the GNCC series. That doesn't mean that we have our eyes closed to everything else we just don't want to spread ourselves too thin too quickly. Assuming everything works out like we plan, we will definitely expand into other areas of the sport.
ATV Scene: Do you feel you have an advantage with the Duncan Racing/Roll Design/Custom Axis setup? And how so?
Gobel: Absolutely, our team has the best combination of equipment hands down. Even if we tried to buy better equipment we couldn't do it, it doesn't exist. Over half of the GNCC pro class runs the Roll Design/Custom Axis setup, and Duncan Racing itself has a large percentage of the entire field using their products.It makes a huge difference when you have sponsors that are constantly testing and developing new products. Doug Roll, Mike Hallock (Custom Axis) and Loren Duncan fly out here several times a year to attend races and/or to test products. The advantage to us is obvious with that kind of commitment from them. Duncan Racing has also just released the new PC 2000 engine kit, which they have been testing and developing for years. We will probably be running them for the second half of the season and judging from Travis Spader's results in the GNC series it's going to be well worth the wait.
ATV Scene: In your opinion, what's the best thing about GNCC racing? What's the worst?
Gobel: The best thing about the GNCCs is that it doesn't matter what kind of quad someone rides, how old they are, or what experience level they are at–they have a class for them. Anyone can participate. It's great when you can buy a quad of the showroom floor and go race it without putting thousands of dollars in it first.The worst thing that I see about the GNCC series is spectator turnout. One of the keys to obtaining the bigger corporate sponsors is having a large number of spectators. In order to do that we need to focus on making the races more spectator friendly and moving them closer to more populated areas.
Professional bass fishing is a good example of a sport that had most of the same problems we are faced with now. It didn't have much going for itself in the way of being spectator friendly or location for that matter. Now they have a ton of TV coverage with huge corporate sponsors and single events that pay up to a million dollars to win. What would be more exciting to watch on TV, an ATV race or bass fishing?
ATV Scene: How and when did you get started in the sport?
Gobel: I started riding ATVs in 1984 and then I started racing in 86 after my parents took me to my first Blackwater 100. After that I was hooked. I started racing the GNCC series that same year and I continued racing clear through to the end of 96. In 1995, I started racing for Duncan Racing and Roll Design and then I packed up and moved to California at the beginning of 97 to work for Doug Roll as a Race Support Manager/ Field Representative. I guess I've been involved with the sport in one form or another for about 15 years now.
ATV Scene: Now that your working for Team Safari Motorsports on the eastcoast do you still work for Roll Design and IMS as their East Coast Representative?
Gobel: Yes, I still represent both Roll Design and IMS at all of the GNCC races as well as selected GNC and local events. At the beginning of this year Roll Design and IMS sent out a 20' enclosed trailer for race support that's stocked with spare parts and product. I'm there to help anyone that needs it at anytime.
ATV Scene: With the sudden focus on sport performance ATVs from the manufacturers, do you feel that major factory race teams and help with the series is on its way soon?
Gobel: I think we will see more involvement from the factories, but it will probably be another year or two before they start to get into it full force. I don't think any of the factories are ready to jump in with both feet yet. Factory support needs to increase to really develop the sport into all that it can be. The potential this sport has is incredible and with their help we'll get their sooner.
Comments
comments