Jeremiah Jones, Life After Paralysis
Jeremiah won the MX Title in 2000, the Grand National Championship in 2001 and another MX Title in 2003, and when Suzuki launched their made-to-race LTR 450 they quickly signed him to a full-on factory-backed contract in 2006.
It happened at the first turn of the 2006 Unadilla ATV Motocross National Series in New York. This crash would severe Jeremiah's spinal cord and paralyzed him. This life-changing moment ended his extraordinary professional career, he would never walk again and later his wife divorced him.
[Editor's note: Jeremiah and his ex wife Jamie divorced six years after the accident, the two are still friends, get along great and have a son together, Nathaniel is jointly raised by both of his parents.]
I mention these three things because many times even one of the above is so devastating it sometimes breaks an ordinary person, but here we are a dozen years after the accident and Jeremiah is doing just fine. Besides his new found love with his girlfriend Tammy, he has a little quad-flipping business where he seems to churn out some of the nicest sport quads you'll ever see, including pristine Honda TRX250Rs and Suzuki LT-R450s, which are his specialty. But most recently he has taken on the roll of running a full-on ATV racing team and representing Hinson Racing with trackside support at all the ATVMX National events.
While passing through Bowling Green, KY I stopped in, grabbed my camera and recorded the 27 minute video above.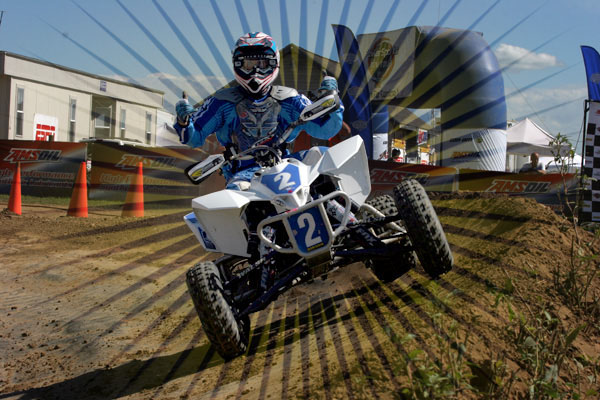 You can follow Jeremiah at his facebook page here: https://www.facebook.com/jeremiah.jones.5872
Some footage provided by H Bomb Films. Follow Wes Miller's second phase of H Bomb Films here: https://www.facebook.com/HbombWes
Please subscribe to the ATV Scene and UTV Scene Youtube Channel so you can be updated when a new video like this is released
ATV: https://www.youtube.com/atvscene
UTV: https://www.youtube.com/utvscene
Comments
comments