Joe Byrd Quad Riding School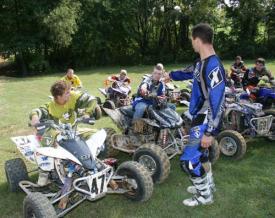 By Joe Tolle
The Joe Byrd Quad Riding School is located at Joe's home in Union City Tennessee. Joe started racing ATVs in 1986 and began teaching the art of quad racing in 1993. "I remember when I first got started with two students at $65.00 a piece." Well, Joe has come a long way since then. He now offers lessons for different skill levels which can be had in either, group, semi private or private settings.
Starting with the basics, Joe has his students work on body and finger positioning. We signed up for Joe's two day standard school for riders of all skill levels. Group lessons can have up to 20 students and cover all of the basics an aspiring racer needs to know including bike setup, diet and nutrition, starts, passing, jumps, whoops, braking, turns and more. First we checked out joebyrd.com to see what we needed to bring. There was the expected list of items such as the ATV, tools, riding gear, food, spare parts and a note pad. Then there was the addition of a mountain bike and tennis shoes. It looked as though Joe had more in store for his students than just ATV riding.
Schools in session
Saturday morning all of the students gathered in the barn for their first class. First on the agenda was machine setup. Joe gave a very detailed lecture on how to setup up your machine. Nothing too extravagant, just the basics that racers need to know in order to make their machines operate safely and handle correctly. What was most surprising was just how few students knew this information coming into the class. This is basic survival stuff and information that most of these students had been racing without.
Drills, drills, drills….Joe has his students do various exercises to help ingrain the things they learn throughout the weekend. This one works on body positioning for turns. From there it was onto nutrition and exercise. Joe gives his students the basics of diet and exercise telling them which foods and exercises will most benefit their racing programs, as well as which ones to avoid. Following this segment was a review of everything that they had covered. Joe gives his students extra motivation to learn, by handing out pushups for those who answer questions incorrectly, what a nice guy. Finally, Joe inspected each student's machine for safety, going over each nut and bolt on the machine, pointing out necessary repairs and more pushups to remind his students of the importance of bike maintenance.
From there, all of the students headed out to the track where they were first allowed to get acquainted with the layout. Soon after that they took each student's lap time. The lap times were to be used for comparison at the end of day two school. Joe said if riders were able to beat their lap times after being tired and worn out on Sunday – the school would definitively be a success for that person.
A few feet here and there make a big difference. Joe teaches his students to brake as late as possible heading into corners. On the right, Joe has his students demonstrate proper body positioning for hard braking into turns. Back in learning mode, Joe starts with the very basics of riding starting with riding position. Joe shows his students the proper attack position, finger placement as well as body positioning for corners. As with each segment of learning, Joe follows by having his students perform drills to ingrain what they have learned.
Next it was time for the basics of braking and cornering, followed by more drills. From there it was onto braking hard into turns. Joe uses a cone as a reference point to test how late his students were willing to brake. Back to fundamentals, students were instructed on proper body positioning and brake application to minimize their braking distance heading into corners. With new information in their heads, it was amazing to see how much farther the students could push it down the straight before braking. Undoubtedly, this would be one of the biggest lap time reducing exercises of the weekend.
Joe gives his students the secrets of speed coming out of the gate early on in day two.Little did the students know, there was a special surprise awaiting them to finish up the first day. Joe had a special physical challenge in store, which explained the extra items on the list of things to bring. Joe instructed his students to run a lap, bike two laps, and ride three laps of his entire MX track, without skipping any jumps. Obviously this was going to be tough after a half day of riding, but Joe gave the students some extra motivation by offering a $500 reward for anyone who could complete the test in under 26 minutes. Well, we might as well tell you now, no one won the money, but our boy Aaron Meyer came the closest missing his goal by a minute and five seconds.
Day two started with a brief stretch out and warm up ride, then it was back to work. Joe started things off with starts, once again covering the importance of body positioning, as well as throttle and clutch control. After practicing solo, students were paired up for head to head drag races. Of course losing had a penalty, — push ups.
To measure his student's results, Joe takes lap times at the beginning of day one and at the end of day two. Joe says, "We take the lap times of the students when they are worn out on day two. If they can improve on their lap times when they are all worn out, they definitely learned something."For those races where you didn't get a great start, next up on the agenda was passing. Joe first identifies the three types of passes, explains the differences and how to execute each type. After taking each student out and practicing the different types of passes with them, Joe paired up the students for a little pass sparring. Side by side, students would head into the turn where one would try and execute a pass using one of the three types of passes they had practiced.
Up next came jumping. Joe starts by explaining that none of the students had to jump anything they were uncomfortable with. From there, he explains the different types of jumps and the technique necessary for them. Instead of attacking the entire track all at once, the students work on jumps one or two at a time. Everyone started off on small jumps and worked their way up. All types of jumps were covered from small singles, to doubles, tabletops, whoops and huge triples. Joe made working up to larger jumps easy, by leading students over jumps so that they could gauge the speed necessary to clear them. While everyone tried jumps according to their ability, each student clearly made improvements in their jumping ability. And Aaron was able to clear several of the large triples that he had not been previously attempting.
According to Joe there are two types of whoops, "rhythm and shimming", with rhythm whoops being definitely the harder of the two. With most of the weekend behind them, Joe lined the students up and had each of them ride half of the track while he followed,. In this he was able to see how well they could put together all that they had learned. From there, it was onto lap times, — the true test of each student's improvement. All was going well until Aaron lost it on a downhill triple. Fortunately Aaron was okay besides a few scratches, but his race machine was severely damaged resulting in no day two lap lap time for comparison.
To kick back and have some fun before heading off, all of the students gathered for a game of ATV soccer. Radiators were bubbling and wheels were grinding as the students battled for goals. After the game everyone once again met in the shop for lap time comparisons. Everyone who completed their second lap time had made significant improvement over their first lap time. One student improved on his day one time by a whopping 39 seconds.
From there, it was time for certificates for all who attended, and free swag for all. Joe gave out hundreds of dollars of coupons good for substantial discounts on the brand names that sponsor Joe during the GNC series. Two lucky students even got a free Yoshimura exhaust system! After two days on intense learning and training it was finally time to depart. With handshakes and smiles all around, school was dismissed.
Joe explains the basics of machine setup, diet and exercise to his students. Not some mindless racer, Joe Byrd has a degree in engineering and is an extremely adept communicator.
Grading the teacher
Knowing how to ride is one thing, knowing how to teach is something completely different. Joe Byrd has mastered the art of both remarkably. Whether it was in the shop or on the track, Joe does a good job of making his curriculum make sense to his students. It seemed that everyone was able to clearly follow his instructions and understand the concepts he was trying to convey. More impressive was Joe's ability to see when a student was having trouble. He did an excellent job giving students individual attention, making sure that they were getting the most out of their learning experience. Joe also offered plenty of time for asking questions, but his clear teaching style generally eliminated the need for that.
The entire Joe Byrd Quad Riding School experience was well worth the $375 price of admission. There is no part at any price that will make you faster or safer then the knowledge of knowing how to ride your ATV properly. Joe is a phenomenal instructor with several years of professional racing experience to back it up. That's why he scores an A+ in our book.
For more information on the Joe Byrd Riding School, make sure to check out joebyrd.com.
Comments
comments