Johnny G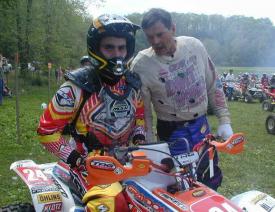 By Johnny Gallagher

I had really good intentions when I first started writing this column. I would simply bang out one edition per month and everyone would be happy. Well after I finished the first one I had so much left to say that I just couldn't wait, I sat down about two days later and out came issue 2 full circle. After I submitted the second edition I was warned that it would be difficult to keep that pace up, and I should just try to stick to the column per month schedule. "What the hell does he know," I thought. "I can do one of these a week – easy."
So here it is almost five months later and my lazy ass just put the wraps on column #3. In my defense there has been a lot going on during these last five months, with the help of Tom Miller Motorsports and RPM I built what I feel would have been the absolute baddest cross country 400EX ever. Notice that all of that was in the past tense. As you probably already know, some low life hooked up to Bill Ballance's trailer the night after the GNCC opener in Okeechobee and made off with my race quad as well as two of Bill's brand new Roll Design bikes.
One race into the 2002 season, and I was left without a ride, or any kind of a budget to build one. My dad stepped in and offered to build the new bike, which was not an easy task, considering that this was a ground up project that had to be completed in less than 10 days if I was to race the Steele Creek GNCC. By the way, I rode my buddy Greg Byler's quad at the Macon GNCC, 4 days after the bikes were taken. Thanks Greg!
So now all I had to do was come up with the necessary $20,000 worth of parts that it takes to build a pro-level GNCC race bike. It looked like my season would be two rounds long and I would be saving for next year. Fortunately, that's not what happened. I really do have the best sponsors in the world. Each and every one of the companies listed on the left went way above and beyond any contractual obligations to make certain that I was able to return to the track immediately.
Since the Steele Creek GNCC debut of my new ride, a Predator 250R with all the necessary go-fast parts, things have been going well for me. I've had three solid finishes, and feel that I am getting faster with each race. We don't have another GNCC until June, so I am planning on using this month off to prepare. I am going to defend my title in the BUCCS series, that's — Buddy-Up Cross Country in case you didn't know. It looks like I'll have a new partner this time out, since Seegott won't be racing any more. Jared Gruca and I will be teaming up for the three round series.
I've been spending four nights a week in the gym in an effort to gain some ground on the GNCC front-runners. If there's one thing I've noticed that seems to be different this year it would be depth of talent. There are about a dozen guys now that are absolutely flying. If you want to beat them, you'd better do something more than just think you can. I've been preparing for each of these races like a battle knowing that I have to leave everything I have out on the track, yet be reserved enough to make certain I finish each round. Especially now that I already have three DNFs, (Pros count their best 11 of 13 races) – there's no more room for poor finishes and DNFs if I'm to earn a single digit this year.
I got a nice e mail from Lynn Sheridan from Massachusetts. She asked what the typical race day for a pro rider is like. I thought I would share my response here. The beauty of GNCC, and GNC racing is that you can walk right up to your favorite rider, and have a conversation with him or her, nothing like at a NASCAR event or a Supercross where you might see them for a second from 100 feet away, or stand in an hour long autograph line. So, if any of you readers can make it to a GNCC this year, I and most every pro class ATV racer, would be happy to show you exactly what the race day looks like through my eyes. Come up and see me or any of the other pros at any GNCC event, we'd be only too happy to say hello, all that we ask is that you make sure to really yell loud for us as we try to squeeze out every drop of energy to make that last lap. Believe it or not, prodding fans make that last torturous lap go buy a lot faster.
On another subject, I have taken quite a bit of criticism for what some people feel was irresponsible writing. You might remember reading about the "toll booth incident" and the "snow bank dilemma" in my last two columns. Let me make it very clear that the end of my column is the area that I share some type of event that has happened to me during the countless times that I have spent traveling, and racing ATVs. I am not saying that driving through a toll both at a high rate of speed is an intelligent thing, or that repeatedly ramming a rented vehicle into a snow bank is going to get you bonus points with Avis, but both incidents happened and were funny as hell and that's why I shared them. If you're one of the people who sent me an email complaining about the message that I am sending to the youth of today's ATV world, please stop reading now. And thanks for coming!
If you are interested in hearing what happens when three pro riders go golfing together, then read-on…
Fun with golf carts
Saturday's heat races finished up early at the '97 Huntsville, TN GNC TT, so Todd Vescovi and I decided there was time to go play nine holes of golf, so we headed over to the only golf course within 100 miles. When we got there Jeff Seegott and our mechanic, Mike, Quickly pointed out that the carts were gas powered, much faster than the puny electric motors typically used by golf courses. Needless to say, by the completion of the first hole we had already removed the governors from the carts and were drag racing each other like we were on Comp Hill at Glamis. By hole number three, I was riding with Todd, (against my better judgment), while Mike and Jeff gave chase in the other cart. For no apparent reason, Todd locks up the brakes and cuts the wheel at high speed. Needless to say, the cart flipped, and we were both ejected. I guess our past quad crashing experience helped us roll with it since neither of us got hurt. We managed to right the cart, and straighten the mangled roof just moments before a course ranger rolled by. Seeing as how I had given them my driver's license I decided that I would finish out the driving duties for the day. It looked as though we got all of our extreme-carting out of our system. That is until the 8th hole. I was checking out my second shot when I heard them bickering. It seems that Todd had found a natural terrain jump he felt he was capable of launching a golf cart over the 8 foot wide stream that it bordered. Two minutes later Todd was lined up for launch. He floored our abused cart with an evil smile and aimed toward the jump. Standing safely on the fairway, it was easy to see that he didn't have nearly enough speed to clear it. I'd say he made it about two thirds of the way across in the air, and the rest was a skip/bounce combination. When the cart rolled to a stop on the other side of the stream, Todd was no longer at the wheel, he had been catapulted out the back sometime just after impact. Also ejected from the cart during the launch were two sets of golf clubs, cooler and all contents, and other miscellaneous personal items. All of which currently sat at the bottom of the stream. After completely dismantling the intake system we finally got the waterlogged cart to fire, and run well enough to return it to the clubhouse. The irony was that the owner refunded our green fees when he found out that we were racers, he said he used to do a little bit of motocross himself.
Until five months,
Johnny G -out
(just kidding)
Comments
comments