Jorge Cuartas 3-19-03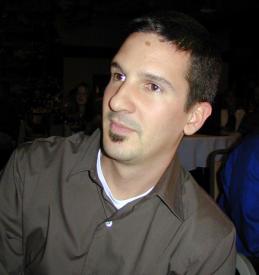 You may have noticed that the GNC series and ATV racing in general is catching on rapidly. Rather than take for granted why the nationals are such a hit these days, we thought we would introduce you to one of the reasons. His name is Jorge Cuartas, (pronounced like "George"). After several years of volunteering his time anywhere needed, (including right here in the Scene), Jorge was recently been named the GNC public relations liaison. He also heads Nac's Racing amateur rider support and Nac's Public Relations person. In addition, Jorge finds time to contribute editorial for ATV Scene.com. Jorge is also seen on the other side of the fence at each of the GNC motocross events that roam the eastern half of the country on board his Laeger/Sparks 330R and Cannondale ATV. What's more is the fact that Jorge lost his left leg after a few dogs attacked him when he was 11 years old. Interestingly enough, many people that know him probably don't even know that, he gets around the pits and the track that well.
We wrestled Jorge to a chair long enough to answer a few questions before he got back on the phone with a local news channel. Here's what the likable Savannah, GA ATV extraordinaire had to say…
Name : Jorge Cuartas
Occupation: Bar owner, GNC PR director, amatuer team coordinator & sponsorship coordinator for Nac's Racing and ATV Scene.com contributing editor.
Residence: Savannah, Georgia
Birth date: 07-09-72
Hobbies: Primarily MX & Paintball, aerosol art (graff)
Accomplishments: I've managed to trick all of my sponsors into believing that I can ride an ATV. I was the #2 ATV-am rider in Georgia in 2000. I won a moto at Red Bud last year, and I tricked my wife into believing that I'll make money at this one day.
Current Ride: Laeger/Sparks 330R, & Walsh/Axis Cannondale
Racing Number: 72
Sponsors: Nac's Racing, Hanger Prosthetics, East Coast Clothing, Prewitt's ARS (VP), SHIFT, Smith, Maxima, Terry Racing, Quinn Motorsports, Stealth Mfg., Moto Tees, (I'm working on Maxxis & Digby Sales).
ATV Scene: First off how in the World do you race an ATV with one leg?
Cuartas: Very carefully! The people at Hanger Prosthetics have made doing anything that a two-legged guy can do possible; my prosthesis is absolutely state of the art. As for the quad, I used to just run my shifter real high so I could slip my foot underneath. This pseudo seat humping movement allowed me to shift but wasn't ideal. I went with that set up for about 14 years for rec riding. When I started racing I started landing on my shifter and wrecked a lot as a result of knocking my quad into neutral without realizing it. In 1998 my mechanic (Keith Meador) designed a linkage to move my shifter to the right side. I've been using an updated version (designed by Damon Jurkiewicz) since then.
ATV Scene: What classes do you ride, and what number should we look for on the track?
Cuartas: Primarily I'll be running the Open-B class, I'll also be running the +25 & +30 classes. I may also make an appearance in the 4 stroke- B class. Look for #72, but don't get your hopes up too high.
ATV Scene: Tell us more about the 6-foot stack of photo albums also known as your art portfolio.
Cuartas: I've always been a doodler, since I was a kid I've always drawn a lot. Growing up in the Bronx & Miami and being predisposed to art led me to Graffiti, it just seamed like the perfect niche for me. Unfortunately the graffiti subculture tends to be kind of troublesome, mix that with the gang problems we had in Miami in the 80's and you end up in a lot of bad situations. In 1990 I decided to get out of Miami and attend the Savannah College of Art & Design where I studied Illustration and Graphic Design. Now I do a lot of freelance work, I also helped my cousin start a helmet painting company (Stealth Mfg.).
ATV Scene: Let's get this straight. You paint graffiti! Do you still do this?
Cuartas: I've slowed it down from being the main focus of my life to just a part time hobby, I now paint a couple of times a year during the racing off-season. I still take an occasional trip to the Bronx and get busy though.
ATV Scene: You're pretty knowledgeable in the amateur GNC quad racing ranks. Who should we watch for up front this year?
Cuartas: In the A classes the usual suspects (Attix, Wimmer, Chaler) will be joined by Jason Rich, Kyle Taylor, & Patton Thompson. Women's B will come down to Tracy Solomon and Jamie Rentz, I see another good Moore vs. Rose kind of thing going in the Women's A class. The 250 B is up for grabs, but I would look out for #357 Hunter Johnson, and #46 Todd Cox to be out front by year's end
ATV Scene: Who is your favorite pro rider to watch?
Cuartas: Style wise Kory Ellis, brutality wise – Jeremiah Jones.
ATV Scene: Who do you think will win the Pro and Pro Production classes?
Cuartas: If he has no DNFs, Jeremiah will win the pro class, but Gust will keep him honest. The pro production championship will be a toss up between Gust, Farr and Ellis.
ATV Scene: What are you going to do as the GNC PR person?
Cuartas: The basic idea is to inform the general public about our sport and series. I'm hoping to plant the seeds for a real spectator base at the GNCs. I'm going to be traveling throughout the states in which the GNCs are held and doing a lot of hands on promoting at the local shops, tracks, schools, etc.
ATV Scene: Maybe you're lost leg will be the GNCs benefit. Do you think this will help in getting media attention at the nationals.
Cuartas: I do. News reporters (both print and television) are always looking for an interesting story. I think the ITP Nationals offer that alone, but if my lost leg is what gets them to come and feature our sport – so be it.
ATV Scene: What can riders look forward to now that you are behind the scenes?
Cuartas: Growth! I'll be doing alot of hands on promoting and press work at all ten rounds of the series. The level of proffesionalism relating to all aspects of racing WILL increase by the end of the year! I want our top guys to become stars. And I want to call out everybody that has been doing a half-a** job in our sport.
ATV Scene: So is there anything you don't do?
Cuartas: I don't dance, and I can't ride an ATV to save my life. Nac's must've had a "gimp quota" to meet when they put me on the team.
ATV Scene: Any parting words?
Cuartas: First off, I want to thank all of the under appreciated, behind the scenes, slaves to our sport, like John Pellan & Ray Christy. I also want to thank Jim, Shirley and Brad at Nac's racing for the faith they put in me, and the staff of Hanger Prosthetics for giving me the opportunity to do all of this. I would also like to thank SHIFT, Smith, Maxima, MotoTees, ATV Scene.com, Capitol Cycle, Prewitt's ARS (VP), the Meador family, and the whole staff at Nac's. Lastly I need to send out a special thank you to my wife Angela, for nursing me back to all 678 of my comebacks.
Comments
comments