Leatt's Commitment, Passion and Dedication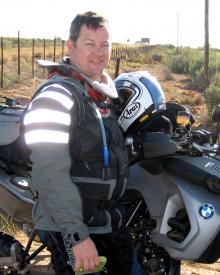 By Anthony Martin
Unless you have been under a rock for the last five years, you already know Leatt braces save lives. What you might not know is the company doesn't just make top notch neck braces. They also offer chest protection, hydration, jackets, body cooling systems and several additional products that you might want to check out.
We caught up with Phil Davy of Leatt to learn more on one of the more influential and interesting companies in our industry….
Looking back, it's hard to believe that only recently has there been neck protection products available. How did Leatt show the industry that their neck protection products were needed?
There's no doubt, Doctor Leatt's invention of the modern motosports neck brace changed the motorcycle and bicycle industries. But it certainly didn't happen overnight. The Leatt company in the US was born because no distributor, no protective equipment company and no clothing line company was interested in neck protection when it was first introduced. Leatt had to open their own small company to stock and distribute our neck braces to riders across the US. It was only after a lot of hard work, a lot of riders seeing the light, a lot of mention in the media that the industry as a whole finally took notice. It was frustrating in the early years to see so many people ignoring our efforts, or worse mocking us. Now that neck braces are a clear success story lots of people would like to distribute our products or, in some cases, copy our products.
How long have you been in the industry? And how did you end up on the Leatt team?
This is the beginning of my 36th year working in the motorcycle industry. During that time I have always been either designing, developing, selling or marketing protective equipment for motorcycle riders and mechanics. I was the Brand Manager for the Icon brand of street apparel for Parts Unlimited when Leatt first contacted me about consulting for them. Knowing about Dr. Leatt's new invention I wished them luck and hoped they protected thousands more riders but that consulting outside of Parts Unlimited was a conflict of interest – so I declined. They later came back with a job offer and, after some conflicted emotions over leaving a job I enjoyed for so long, I took them up on their offer and am very glad I did. It's a fantastic company with very meaningful and important products.
Now days it seems like Leatt is releasing new interesting products every month. How have you guys been able to consistently stay on the cutting edge of the industry?
We have a team of great people here in the US, in Europe and in South Africa. We also have distributors in most countries around the world. We listen carefully to what riders say, what questions they ask and try to make products that fill in gaps left by other protection companies. We're also not afraid to create products that don't fit into traditional product categories and price points.
Imitation is the highest form of flattery. Do you feel other neck braces are up to the standards that Leatt is? Why not? What sets Leatt apart from the imitators?
There are some we respect and some that are a joke. We test everything in our lab using state of the art testing procedures. I'm glad you mentioned this because we will soon be releasing our comparative test results and that will tell the whole story. Because, as you may suspect, it's easy to design a neck brace but it is very difficult to design one that actually offers the safety people think they are buying.
What are some of the products you are working on now?
Softer, more comfortable and more effective upper body protectors. That's a big goal for us because we feel that traditional thinking has not given motorcycle and bicycle racers the evolutionary products they want and need. We also have several other exciting items in the works, but you'll just need to wait and see later on.
| | |
| --- | --- |
| | |
| Leatt Chest Protector Adventure Pro | Leatt SP1 Bracy Hydration System |
The Club 3 is the newest neck brace offered, correct? Why another brace if the others in your lineup offer such great protection?
We are constantly testing our products and constantly finding new and better ideas to add to already successful products. In most cases we don't recommend anyone quit wearing an older brace for a newer one, unless it has been damaged. But the newer ones don't just come in new colors, they're improved and better.
Do customers contact you after a bad wreck?
Oh yes, we get thousands of calls, letters and emails each year from people who have been protected by our products. They're so sincerely thankful to have been wearing our products. I have to say this is a huge motivator for myself and the whole staff. We're not just building a widget to sell, we're saving lives. Check some out a few testimonials here www.leatt-brace.com/testimonials/

This nasty 2011 X-Games Enduro-X Final crash could have been deadly for Elizabeth Bash. Her Leatt brace may have saved her life!
Leatt seems to have really made an effort to be track-side at more events than ever. Why is that?
The Internet is full of lies, myths and rumors just as it is full of real, true information. We feel it's important to get out to as many events that we can to allow people to get the straight truth from us on what our products can and cannot do. It's also important for us to talk with riders that are using our products. This kind of rider feedback is very valuable. There are a sadly large amount of products in the marketplace today that come from companies who don't race, – not so with Leatt.
Thank you for your time today. We'll let you get back to creating more of your important safety products. Thanks for all you guys do for the sport and the riders in it.
Thank you for having me. And thanks to all the riders out there for choosing Leatt.
Learn more at leatt-brace.com
Comments
comments