The Making of a Local ATV Race Series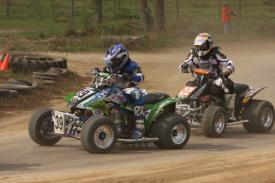 by: Dave Kutchenriter
David pulled together a group of various individuals, racers, excavators, people who had been in the racing industry for years, and whoever else he could get to come to his initial meeting. He asked the group of racers what he needed to do to pull off a race. So, after much discussion and many, many more meetings, plans were drawn up for a TT track and shortly thereafter, dirt was moving and the plans were starting to take shape. Within like a month, the track was carved out of the landscape and we were well on our way. While the building of the track was monumental, getting personnel around to run the race was yet another hurdle that David had to overcome. By the way, did I mention that David had never even seen an ATV track, race or anything even closely related to an ATV event and here he was, Project Leader!
With the never ending support of a core group of volunteers surrounding him, David and the group forged on and within 3 months the Onsted Kiwanis held the first of 4 weekend race events at their brand new track!! While it did not go off without a hitch, it did go pretty smoothly all things considered. The Onsted ATV Points Series Races have gone on each year thereafter, getting bigger and bigger with each year.
The racers that came to Onsted were always asking if Onsted couldn't hold more races or have some weekends of open riding. Unfortunately, due to the fact that Onsted race events were and still are put on totally by volunteers it is very difficult to get that volunteer base to put in more time let alone the cost of the insurance it takes to put a riding event.
So, once again, the core group pulled together and talked and talked and before long, this guy knew a guy who knew a guy who ran a track, who might be interested in a points series between the tracks. So, with introductions here and there and getting together on how we could make this happen, and all that, we ended up with a 3 track, 12 race points series!
For all those racers/riders that came to the Onsted crew and said we want more, Onsted delivered! All three tracks, Onsted ATV Racing, Moreland's USA Sports Park and the I96 Speedway will each hold 4 points races with the series grand finale, being held where it all began, on October 5, 2008 at the Onsted ATV Race Track.
The series appropriately named the OMI Outlaw Triple Crown Dirt Track Points Series race dates are: May 24 & 25; June 20 & 21; July 11 & 12; July 18 & 19; July 26 & 27; August 8 & 9; August 22 & 23; Sept 5 & 6; Sept 12 & 13; Sept 20 & 21 and October 4 & 5. Further detailed information, class structures, directions, rules, etc., are available at www.onstedatvracing.com or you can give Dave Kutchenriter a call at (419) 309-6936.
When we look back at how all this came about, it's astounding that we've come as far as we have in such a short period of time. Thanks to every one who had faith and supported us in the beginning and who continue to support us as we enter yet another season. One last thanks goes out to all of those volunteers who tirelessly continue to show up and put in the effort needed so others can enjoy a sport they truly love – ATV RACING!
Comments
comments