Miles by Kory Ellis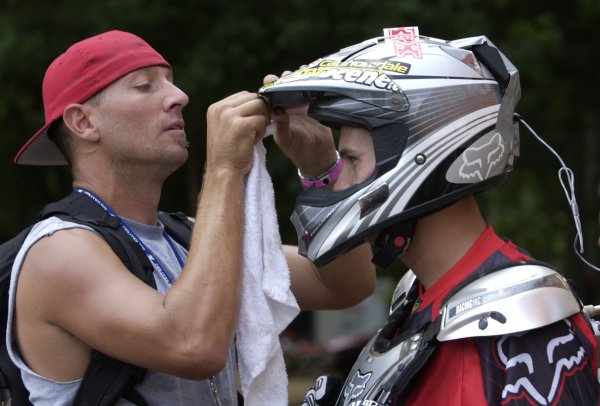 By Kory Ellis

A lot has happened since my last article. I've been very busy and had some weird adventures on the biggest ATV racing road trip ever. I know, I was supposed to get a column together on here more often than every 4 months. Sorry about that, but I'm not taking all the blame on running late with editorials on the scene. What was the name of that one column? O yeah, "On the Fast-Trak" – whatever! Enough said on that. On to my second edition of "Miles".
I think you'll agree, the coolest stories come from behind the scenes. This is why the MTV hit – the Ozzborns and Racer X Illustrated magazine are such hits. So here's my behind the scenes stuff – better late than never.
Worst hotel in the US
On my mission drive to the GNCC season opener, I drove 48-hours with only five hours of sleep in between. I arrived in Florida and began searching for John Pellan, who had checked into a cheap hotel after arriving via United Airlines. How many of you have ever seen the inside of a $19.99 hotel room? Believe me you don't want to. I'm pretty sure JP found the worst room in the state if not the whole country. As bad as I wanted to sleep for a few hours the cockroaches under the covers and the fact that we only had an hour of cushion before we needed to practice – sent us out the door quicker than I came in.
A brief list of the "specials" I saw at the season opener in Florida…
– CT's Allan Knowles and his impression of the Rockford Files with his white-trash-Camero rental car.
– ATV Action's Adam Cambell trying to copy Knowlsy's rental car antics.
– Knowlsy blowing up the motor of his red t-top Camaro rental car.
– Alba's 4-day-old Cannondale Blaze wrapped around a tree like a pretzel.
– JP frantically running around in circles while he tried to think of what he should do when I limped the wrecked   Cannondale back to the pits for a quick repair job.
– JP frantically beating the living hell out of the Cannondale with a sledge hammer while trying to get me back into the top five overall.
Too many races too little money
By the time we got to Atlanta on our way to the first round of the GNCs, I had logged 8,000 miles on my small box van. I never realized just how cramped it can be in that hot-smelly-claustrophobic cab. Since this was going to be one huge race season, spending money on hotels would have to be kept to a minimum. After almost four weeks into the season we had only spent $230 for hotel rooms and that's because of the $230 phone bill that John had while downloading 150 e-mails on a long distance call for 8 hours on a slow connection. Lesson here? Always check with the hotel person. Sometimes you don't have to dial a 1 first for it to be long distance, especially when you're in Scratchass, PA. At least the room we were in that night was a freebie.
We had slept on the floor 12 times in other peoples hotel rooms and got a room and dinner from my aunt and uncle in Washington DC as we passed through, (thanks Robin an Doug!). As the season went on, we had slipped our way in and stayed with everyone from magazine editors, other racers to OEM sails reps. Bike pro racers would probably laugh at this half-assed way to get through the season, but you ATVers know where we're at with all this – there's not much money to make in this sport – not yet anyway. After weaseling in on a lot of dinners here and there along the way, we sure were glad to see mom and dad pull in with the big rig.
Absolute Worst Laundrymat in the Country
After a truck stop shower we surrendered to the fact that we were out of clean clothes and had to find a laundromat mat. We had some time to kill before Quad Tech's Billy Pointer arrived at the Atlanta airport. Not knowing that our lives would be in great danger, we aimlessly drove into a laundromat. The jail-house bars on the windows of every business in the area should have stopped us but they didn't. We did sit in the van for a couple of minutes debating whether or not to chance getting shot and killed. We were down to only 45 minutes until we needed to pick up Billy. Decisions-decisions. We agreed that laundromats always seem to have a couple of crazies around them no matter where you are at. So we unlocked the doors, ignored the guy mumbling to himself outside our window and went for it. Much like JP's hotel room in Florida, we had found the worst laundromat in the state of Georgia, if not the whole country. The crazies must have seen us coming from a mile away because they started to flock like birds – vultures might be a better word. Before I could even get my clothes in the old-mungy washing machine, one of them was already advising us that we needed to pay him so he could protect us, since we were a couple of crackers and would definitely be needing help in a few minutes. Needless to say, that was about the time we started to put our clothes back in the hamper and back in the van. I think we left just in time because we got some bad looks from a bunch of guys that probably wanted our lunch money and more. We later found another laundromat where the attendant washed our clothes for us because we could not understand her Iranian jitterish instructions. At least we lived to thank her and went away with clean clothes.
Only 1200 miles one way – no sweat!
Thanks to Yamaha's Terry Beal and a rare week off of racing, I got the chance to go back to my stomping grounds where I grew up as a kid in Washington state for Yamaha's Vacation – media days .
Fox Racing
The trip to ride Yamaha ATVs started off around 5 am. I pulled out of the driveway and began my quick trip of 1200 miles each way. I had a lot planned for such a short trip. After driving to Florida and up and down the east coast a zillion times, 1200 miles felt short to me somehow. First I would swing by Fox Racing in Morgan Hill, CA for a walk through of their business. While there I got to see the preliminary design to my own signature jersey. Too cool! After that I got behind the wheel and aimed my trusty Ford to my parents house. Nothing like good ole' home!
Yamaha
I was off to meet JP at the Yamaha ride in Olympia, WA. I can't tell you how fun it was to just go riding for once and not have to worry about jetting problems or starting positions, not to mention Tim or Doug nipping all over me. Yamaha took us bowling too. What a riot it was watching Adam Campbell and Bobby Parr try to bowl their ball through the back wall of the lane. Surprisingly they didn't break anything. The next day we went to a meeting in the morning to go over all the new models and features of each quad. We got to the track and it was a race to get dressed and claim a quad. They had about twenty different quads lined up and ready to go, at least one of each model. JP and I made a mad dash for the two Raptors and got them. After a couple of laps on the motocross track, we got comfortable and started doing some of the smaller jumps. Soon I was doing everything the track had to offer except a large step up. This bothered me so I tapped out the Raptor in fourth and went for it. As I limped the quad back to the pit area with a blown out rear tire from the impact of the landing, I reminded myself not to try that again. I didn't need to be tweaking up their quads or myself for that matter. All that was left to choose from was a Blaster and a Kodiak. I hopped on the Blaster and made it my new ride for the afternoon. Once again, I headed out to the motocross track to see what kind of fun I could have on the little quad.
We decided to go to the woods to get some different photos. Good thing the new Blasters have disk brakes, with my weight I needed the extra stopping power – especially after pushing it to its extreme max on every inch of the track and trail. I have to say, the little quad is amazingly fun. After that it was 4×4 time. JP and I swapped out our sport quads for a couple of Mack-daddy stealth black Grizzlys with four wheel drive and dif. lock out. I was amazed how fun the Yamaha Grizzly was to ride. It's not your ordinary utility quad that's for sure! Trail bashing on a tank-like Grizzly is a part of ATVing that I never thought I would be into – but boy was I wrong. If you ever get a chance to try this type of riding, go for it – and that goes for you die hard sport quad guys too. There was nothing safe in my path! I went anywhere I wanted to go and over anything that was in my way. What a rush!
The next day a lot of editors left so there was more than one of any quad I wanted to ride. I even had my choice of color. Believe it or not, I went for the Blaster again and headed off to the motocross track. All the sudden I had a cheering section going – led by Adam Campbell. Before long I was busting out sixty-foot doubles with the bone-stock Blaster. I was hitting doubles with it pinned in fourth and it took every landing I gave it. Pretty impressive little squirt considering I'm way to big for it. I have to say thanks again to Terry and everyone at Yamaha for letting me have-at-it on their '03 lineup. I had a great time meeting everyone and hanging out too. Maybe next year there will be a YZF 450 powered quad there to ride.
 Powroll
After the Yamaha ride, I was back on the road to pick up LoneStar's Scott Butler from the airport and head to Eastern Oregon to visit Powroll's facility and meet with Pete Fisher to see how they do things as one of the longest four-stroke engine builders around – and THE pioneer in ATV motor performance. Pete and Powroll have been around since the beginning of the three-wheeler days. He was the guy that modified the new 1970 ATC 90s that guys like Curtis Sparks raced in California. You might not know it but there has been a lot of people that have relied on Powroll motors over the years. Wayne Mooradian from PEP used to have a bored and stroked Powroll Z50 back in the day. Jackie Meadows, Charlie Sheperd and Ron Fields raced with Powroll motors. As did Curtis Sparks and many more.
We learned first hand all the tips and secrets of how to do a tear-down and rebuild a four-stroke. As soon as we walked in the building we knew there was some radical stuff going on. On the wall was an article on a CR80 two-stroke motorcycle that they turned into an aluminum framed CRF80 four-stroker. They had a ton of one-off projects that looked lightning fast just sitting there. They specialize in bore and stroking four-stroke motors, their XR50 turned 125cc proved that for sure! The last stop on the tour left was the flow bench. This is one of the last jobs that I ever want to do. Pete showed us how it works and how the air flows through a head, my head was spinning from his gravity defying demonstrations. We walked away with puzzled looks on our faces while Pete laughed at all he had completely confused us with.
After all this we drove the five-hours back to my parents house, got some sleep and then returned Scott to the airport. Last thing on the agenda – some road bicycling with friends, then back to my Murrietta, CA home.
Below are a few killer Frank Hoppen shots…
Comments
comments