New 2012 Can-Am 1000cc ATVs and UTVs Unveiled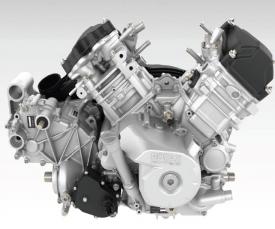 In a time when many ATV manufacturers are laying low, Can-Am has made quite a few changes to its most popular models for 2012.
Can-Am's 976cc V-Twin engine (used in their Commander UTV) is now also available in the Renegade and Outlander. And we're happy to report that Can-Am didn't just change motor mounts and wedge the bigger engine in their 2012 Renegade and Outlander, instead they completely redesigned the chassis of each, updated the Dynamic Power Steering (DPS) systems with three selectable modes and threw in several other impressive upgrades.
Below is an overview of the exciting new changes in Can-Am's 2012 lineup…

What's New At-A-Glance
New generation Outlander 1000 and 800R ATVs
New from the ground up, the 2012 Can-Am Outlander 1000, and Outlander 800R feature an innovative ride quality and superlative comfort. BRP engineers took an innovative approach to all aspects of the chassis of these new-generation Outlanders. The next generation Outlander maintains its unrivalled engine performance with a new 976cc Rotax V-Twin option, industry-leading horsepower and a stellar power-to-weight ratio, all of which are integral attributes for a modern rec-utility ATV.
New generation Renegade 1000 and 800R ATVs
The next-generation Renegade 1000 and 800R line of ATVs continue the path the original Renegade blazed and raise the performance bar even more. The new Renegade 1000 features an EFI-fed, 976cc V-Twin power plant, and both have the next-generation chassis, improved suspension and enhanced ergonomics. All combine to make the Can-Am Renegade 1000 and 800R the king of the sport 4×4 category. The machine's unique blend of sport and utility trail manners along with its superb power-to-weight ratio and acceleration makes it the most impressive 4×4 ATV on the planet.
Outlander MAX 800R XT-P and Outlander MAX 650 XT-P package
Newly configured for 2012, the Outlander MAX 800R XT-P and the Outlander MAX 650 XT-P are the only sport-oriented two-up ATVs. It starts with our signature Outlander MAX XT platform and two-up configuration, and then adds ACS rear suspension, a striking painted Black/Flat Black and Yellow color scheme and much more! The Tri-mode Dynamic Power Steering provides three levels of steering assist, plus controls kickback and trail feedback. Riders can select preloaded ACS settings on the fly to match the trail or load conditions.
Tri-Mode DPS
The new tri-mode DPS system features three modes (MIN, MED and MAX) lets riders select the desired amount of steering assist for the terrain and conditions. DPS offers variable steering assistance no matter what mode is selected. The system is designed to offer less assist at high speed and more assist at low speed.
12-inch (30.5cm) cast-aluminum wheels with inserts
Selected XT models now feature stylish black wheels with color-matched inserts.
New Pure Magnesium paint option selected XT models
New for 2012 is the Pure Magnesium painted plastic. Not only does the color project pure refinement, but it also offers improved scratch resistance and a unique look.
Fox Racing Shox Podium X suspension on Renegade X xc models
All Renegade X xc models now feature FOX Racing Shox Podium X piggyback shocks with high- and low-speed compression adjustability, rebound and preload adjustment.
2012 Can-Am Side-By-Side Improvements
Commander 1000 LTD package
The luxurious Can-Am Commander 1000 LTD offers the most style and prestige of any Can-Am side-by-side, and any side-by-side in the industry. Add in the new, sophisticated Pure Magnesium or Orbital Blue painted plastic, 85-horsepower 976cc Rotax engine and other premium upgrades and this Commander is truly supreme. We also took comfort and convenience to the next level with the 1000 LTD by adding key accessories — WARN winch, Garmin GPS, Air-Control Fox Racing Shox — so your side-by-side not only looks good, but performs to your strict standards.
New Pure Magnesium paint option on XT models
New for 2012 is the Pure Magnesium painted plastic. Not only does the color project pure refinement, but it also offers improved scratch resistance and a unique look.
For more information, complete specs, available option packages and to see Can
-Am's entire 2012 Lineup click to www.can-am.brp.com
Comments
comments