Norway's Ben Roger Olsen Comes to America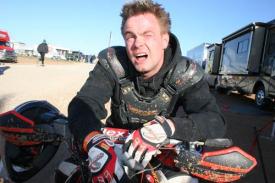 "American ATV drivers (riders) are faster and more aggressive than I expected."American Honda/ FMF Media Allstars' ATV Ambassador Ben Roger Olsen of Norway contests ATV GNC MX rounds one and two.
American Honda and the FMF Media Allstars have once again teamed up to offer foreign ATV racers a chance to compete on American soil through the ATV Ambassador program. American Honda supplies TRX 450R machines, while the FMF Media Allstars outfit the TRX with components from Lonestar, DG, Douglas Wheel, Maxxis, Fasst Company, Ohlins, Quad Tech, Uni Filter, FMF, Regina Chains, Powermadd, Updog, DMP covers, & Hinson Racing in order to make it 100% race ready. Candidates are than picked to contest one or more MX rounds of the ATV GNC MX series.
Out of focus? Not Ben, he rode strong to make his ATV Ambassador mission worth while.This year's first ATV Ambassador came by way of Norway to contest the first two MX rounds of the 2006 season; 25 year old Ben Roger Olsen traveled almost thirty hours (seventeen by plane and twelve by car) in order to pursue his dream of racing against the world's best ATV MX Racers. Armed with riding gear, a GPS unit, jetlag, and three traveling partners, Olsen arrived in Southern California with enough time to rent a PT Cruiser and enjoy the complete American experience (Disneyland, Hollywood, the Pacific Ocean, and everything else that Southern California has to offer).
After three days of pop culture overload, the Norwegian ATV racing contingent headed to Glen Helen in order to start the MX portion of their vacation. Unfamiliar with the American procedures or class structures Ben and friends headed to sign up where it was determined that the Production B class would be the safest bet. Norway's ATV races offer classes based on age rather than skill level so determining the proper class was a challenge. With the FMF TRX 450R prepped and ready to go Norway's finest rode out onto the track for the first time. After taking a couple of laps to familiarize himself with the track and get acquainted with his ride, Ben returned with a huge smile and the realization that this American racing thing might just be a little tougher than he and travel companion/ road manager Paul Steinrud had initially anticipated. FMF Media Allstars truck driver and resident mechanic Kevin Johnson, and Ohlins' shock guru Mike Hallock did everything in their power to dial the TRX to Ben's liking, and the Norwegian returned from his second practice a bit more confident and a whole lot more comfortable.
Mission accomplished. The Norwegian is going to the big show.With the TRX set up to his liking Olsen's crew headed to the hotel to attempt to shake off the jet lag. By 8am on Saturday it was clear that the weather would not be cooperating as extremely windy conditions greeted everyone at the track. The unexpected cold weather did little to discourage Ben as he explained that temperatures back home were currently around 2-3 degrees Celsius (that's freezing in Fahrenheit), therefore California's fifty degrees felt like summer. The track length, variety of obstacles, nerves, and stiff competition on the other hand were a new experience and proved to be of more concern. "The track is really difficult to memorize, all the jumps look the same and the track is very long." Apparently, US race tracks are considerably longer than those in Norway; Ben's concern shifted from his set up to his ability to recall what would be on the other side of the jump faces. Roughly twenty laps later practice wrapped up, Ben's lap times dropped considerably and his confidence grew. By Sunday morning everything else fell by the wayside as the gate dropped and the Norwegian proved why he deserved to be here, fast riding, great timing, and an iron will combined to put Olsen easily into qualifying position, as luck would have it, a misjudged braking bump accidentally knocked his ATV out of gear stalling his engine and sending him to the first LCQ of his career. A split second mishap and your out of qualifying position, welcome to the MX nationals. More braking bumps and the raised intensity level normally associated with consi¬ racing combined to keep Ben out of the big show, but the Norwegian kept his head up and focused on Round Two.
A New state, new track, new challenges, new costumes, and a whole new ATV racing experience were in store for the Norwegians at round two.

Fulfilling the dream. Ben puts forth his best effort at Oak Hill MX.After spending three days killing time in between rounds in Las Vegas, the Norwegians rolled up to Oak Hill MX in a bright yellow rented Hummer complete with horrible tourist trap trinkets, Vegas stories, Texas style cowboy hats, and a determination to make the main event on Sunday. The jet lag was no longer a factor and Ben Roger Olsen was ready for round two, practice went on without a hitch as the Norwegian quickly adapted to the pristine Oak Hill MX track, and got ready for another shot at qualifying, but not before heading to the local Chili's to hit on waitresses and celebrate Hunter Johnson's (FMF Media Allstars) 19th Birthday. As Saturday rolled around, so did a spot on the gate for Ben. Norway's number two rider had qualified for the big show in only his second try. When asked about the competition level state side Olsen replied "The skill level is far superior in the US. The tracks are nice, but the drivers are much faster than those in Norway". Regardless of the high competition level, Ben was happily going to Sunday's main event. Saturday night the Norwegians were introduced to an American MX tradition; it's always someone's Birthday when dining out with your buddies. As luck would have it, it was Ben's birthday whether he knew it or not, and the wait staff at Chili's helped him celebrate in style with a nice desert and a ridiculous Birthday song. (And we wonder why the rest of the universe thinks Americans are jack-asses.) With the Birthday festivities out of the way, the entire team geared up for Sunday. High winds and low temperatures Sunday morning made for miserable race conditions yet it wasn't a factor, apparently no matter how nasty it gets in the US it's still nicer than the weather back in Norway.
Road manager Paul gives the Norwegian hand signal for good job.As the day progressively got colder and windier the team spent more time in the rig getting to know more about our guest and his experiences racing abroad. "This is only my sixth ATV race, in Norway our Championship is very short and I broke my collarbone early in the season so I've only raced four times before coming to the US." When asked if he meant six races this season, Ben replied "Sixth race ever, I started riding ATVs at the end of 2003, and only ran part of the Championship in 2004 and 2005." Four races into his ATV racing career Ben Roger Olsen decided to travel to the other side of the world and enter the toughest ATV MX series on the planet. Not only that, he would be attempting to qualify against seasoned racers in one of the most highly contested classes on their home turf, not to mention he would be doing it all on an ATV he had never ridden before provided by a race team he had never met. I'm not sure what the Norwegian translation is for "Big Balls" but I'm pretty sure it's Olsen.
The skill set he has developed in that short of a time is nothing short of amazing. As Ben's final moto approached, the reality that his American racing experience was almost over began to set in. "I'm very grateful to Honda for giving me this opportunity, it has been very special for me." Ben's performance later that day wasn't stellar, but it was solid, especially considering everything he had to go through in order to be where he was. In the end Ben Roger Olsen proved to be a great ambassador for both Norway and the sport of ATV racing, his drive, sense of adventure, sacrifices, sense of humor, and willingness to throw caution to the wind in order to pursue his dreams is what ATV racing is really all about. Thanks again to American Honda, FMF, Lonestar, DG, Maxxis, Douglas, Fasst Company, Quad Tech, Ohlins, Uni Filter, Powermadd, Updog, DMP covers, Hinson Racing, & Regina Chains for recognizing the importance of supporting and keeping the ATV Ambassador program alive.
Comments
comments