Precision Racing Products Steering Stabilizer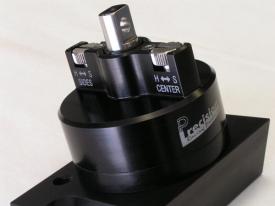 Since its birth a few years ago this strange looking gizmo has received plenty of hype. Is it all that, you ask? We certainly think so. "What a bunch of hype, $485! Whatever." We're sure you've heard comments like these about Precision's Stabilizer, but after bolting one on and trying it for ourselves, we're pretty sure you haven't heard comments like these from anyone who actually owns one for themselves.
George Athanasiou, of Precision Racing Products, met with us at the first round of the 2006 ATVA National Motocross Series at Glen Helen Raceway in sunny (and at that time, very windy) Southern California. ATVScene was on hand for the new Suzuki's LTR Intro. After reading our review of the new Suzuki, you'll realize that an integral part of our racing success was the stabilizer provided by Precision Racing Products. If you're a new Suzuki LTR owner, we feel that the absolute best improvement you can make to that quad is one of these stabilizers. We literally rolled this stock quad out of the trailer, bolted on a Precision stabilizer, and won the Plus 25 class with the stock machine. Without this stabilizer, the outcome could have been significantly different. For those of you that are familiar with the whooped out, rough conditions often seen at Glen Helen, you know how much of a strain that track can be on your conditioning. The PRP stabilizer greatly reduced the amount of stamina it took to hold onto the handlebars and allowed the quad to track much better during straight line acceleration. It tamed the otherwise harsh feel that we were experiencing and helped it to perform like a true MX machine.
There is only one internal moving part. It's made of solid heat treated stainless steel. Outside the housing all parts are billet hard anodized aluminum or stainless steel.Seeing that the LTR would not fit in our carry on baggage, we were forced to leave the LTR there in California, but were fortunate enough to take the stabilizer home with us. Seeing that the first time we rode a Precision stabilizer was on the LTR, we were all very anxious to put this on a quad that we were more familiar with: the subject, a 2006 TRX450R.
This quad has been built with the best of the best, including the common dual (stick-style) stabilizer setup. For this reason, it was perfect to test the performance factor added by the Precision stabilizer. The dual stabilizers were replaced and the beefy Precision unit took their place on the new TRX. The first ride on this machine was during a SEQuads event. The track, Estes MX in Vernon, AL, is known for brutally abusing riders into submission. This track almost perfectly duplicates the tracks common to the ATVA GNC series. The Expert class runs twelve minutes plus a lap, so there was plenty of time to get the feel of the new stabilizer.
Hammer Time! Here you can get an idea as to how the Precision Stabilizer handles a bar-jolting hard hit. In the heat of the day and under the pressure of a 15 minute race the Precision stabilizer performed flawlessly. Comments like, "that track is rough" and "I couldn't hold on out there" rang loudly through the pits. However, the Precision-equipped TRX did not suffer from these problems whatsoever. It was a quad on a mission and that mission was to perform exactly as the rider directed it. Our test rider Brit Mansell was talking to another rider after the race, which consequently finished second in the main. We discovered that this guy was one of few who were not complaining of the rough conditions. Later, we found out that he was also running a Precision stabilizer.
The bottom line on these stabilizers is that they're expensive for a reason: they were engineered to be the best stabilizer on the market and made specifically for performance ATVs. The extreme low tolerance machining and high quality parts come at a price. The benefit of that price is amazing performance and unmatched durability! When other riders are replacing their worn out stick stabilizers every season, your aged-yet-fresh Precision stabilizer looks more and more like a bargain in the end.
Bottom line, in our more-than-qualified opinion this amazing piece of machinery is worth every penny and if you're serious about running up front, you should have one of these on your quad.
Comments
comments