Project CT Racing Raptor 700R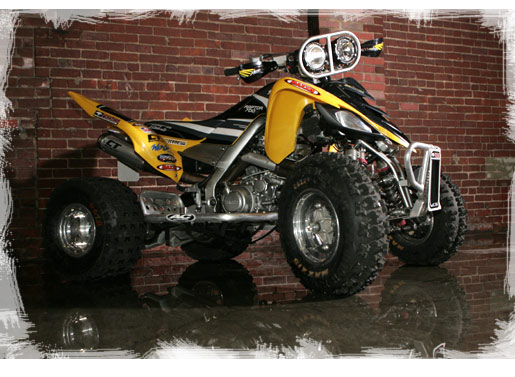 Test Riders: Cody Miller, Hunter Miller, Cale Downen
Photos: John Pellan
Video: Premis Ind. (Brad Phillips)

The sixth annual Maxxis 12 Hours of ATV America is nearing, Nov 10th to be exact. For the second consecutive year the event will take place at Caddo Point Motorsports in Greenville, TX, otherwise known as Cody and Hunter Miller's ATV Wonderland.
Let's first talk about track conditions. In year's past 12 Hours of America courses were more similar to Chinese torture chambers and proved to be absolutely brutal on equipment. To the delight of those that entered last year's race in Texas, the opposite held true as the terrain held together very nicely throughout the long race. As a matter of fact, as laps progressed, many of the long straight stretches and sweeping turns resembled something you might see come race day at Ohio's legendary Pine Lake TT National. Perhaps four-time Maxxis 12 Hours of America Champion Chris Borich explained last year's course best. "The 2006 track was the easiest by far, and I loved it! I can handle a rough whooped-out track but to be honest it isn't even fun after a while. This track had a good mix of everything and held together all day long. It was awesome."
CT Racing "Knowles" What it Takes
Allen Knowles has a lifetime of ATV racing know how to his credit. In fact, he's often called, "Knowles It All" for that very thing. Over the years CT Racing has utilized its relationship with many of the sports' top riders including; Gary Denton, Charlie Shepherd, Doug Gust, John Scott, Rodney Gentry, Andrew Buck, Mike and Steve Holbert, Chuck DeLulo, John Neary, Mark Ehrhardt, Greg Row, Hiro Koike, Adam Campbell, Jeff Watts, Bobby Parr, Nick Granlund, Boyd Calvert, Josh Fredrick, Jarod Fleck, Cyle Chislock, Levi Marana, Greg Stuart, Jimmy Stephensen among many others. As time has progressed Knowles and his CT Racing counterpart have become especially knowledgeable and proven in the ATV endurance race scene.
"Building a pro-level race-winning endurance quad is not something we take lightly. We strive to build the most reliable and user friendly engine combinations possible then we mount the engine with the best chassis components possible, paying attention to each and every detail along the way. That's what it takes to win an endurance race," says Big Al. Add Knowles personal championships of the eighties with CT Racing's impressive track record, which includes several SCORE and Best in the Desert titles, (including the recent 2006 Baja 1000 victory) and let's just say Allen certainly got our attention with his choice 12 Hours of America entry.
Allen observed video tape of the track and listened to several comments after last year's race. He gathered that a team might have an enormous advantage if they could come to the line with a machine with massive yet reliable and controllable horsepower, good handling characteristics and something plush that could be ridden hard yet provide minimum fatigue to its rider. CT's solution; a modded Special Edition 2007 Yamaha Raptor 700R.
Drop the Hammer and Win the Race!
Similar to something you might see in modern-day NASCAR technology, CT ported the Raptor's head and tied it together with a five-angle radius valve job. A Web Cam Sonic-Grind high-lift camshaft replaced the stocker as did Web Cam valves and springs with titanium retainers. "We avoid heavy valve springs when possible, they just add drag and make the motor work harder, thus wear the valve train faster," says Knowles.
The big bore thumper uses a massive 13:1 JE piston. The high compression piston helps the engine really rip, especially out of the corners. The downside is you'll need a minimum of 100 octane fuel for this bad boy. CT recommends quality fuel like VP Racing's C12 or Ultimate 4.
Yamaha's crafty fuel injection makes the Raptor a gem, but CT takes it a step further to get more from the mighty 700. A Dynatek fuel management system is used to optimize the Raptor's air/fuel diet perfectly. Tuning is as easy as twisting a screwdriver. A Dyna FS ignition module controls the ignition and eliminates the stock speed sensor. With this easy adjustability Allen and crew were able to fine tune the fuel management to perfectly match their new motor work in minutes.
A Pro Design Pro Flow foam filter kit keeps the motor and throttle body from sucking dirt down its throat. CT's favorite addition to the mix is their tunable CT Sonic exhaust system, which includes some of the sharpest stainless steel fabrication we've ever seen. The header, silencer and silencing discs all utilize stainless steel. The key to the Raptor's massive bark is indeed this impressive exhaust system. Its reverse-cone megaphone-style pipe is tuned with the disc system, which not only emphasizes power but arrests spark just as well. Noise levels can also be reduced when discs are removed.
Everyone knows by now Hinson makes quality, long lasting, reliable clutch components. So CT bolted on a Hinson Racing clutch basket to eliminate any chance of clutch failure along the 12 hour race.
All combined the Raptor gets a big 12 hour wake up call with healthy power improvements without any reliability sacrifices. The many long straight stretches found on the 12 hour course in Texas will seem half their size with over 60 horsepower and 50 foot-pounds of torque (measured at the rear wheel). Now that's more like it!
Enduring the Long Haul
All the motor improvements don't mean anything if you can't get the power to the ground and maintain a safe controllable ride throughout the long race. With that said widening the Raptor was CT's first order of business. Laeger's, the company that started it all and gave many others good ideas along the way, came to the rescue with a set of their Raptor +2″ long-travel A-arms. Out back a DuraBlue +4″ Eliminator axle replaced the stocker, while the proven stock Raptor swingarm remained in place. Why mess with a good thing?
CT didn't want to sacrifice any of the stock Raptor's "plush ness", but race-worthy shock improvements were badly needed. Perhaps one of the best kept secrets in high performance ATV suspension is Clark Jones and his Noleen shocks.
After years of dialing in other brand and rider's shocks, including Doug Gust and Joe Byrd's, Clark decided it was time to come out with his own line of suspension which they refer to as their new Noleen J6 ATV shocks. Their J6 shocks feature piggyback reservoirs up front with a remote reservoir in the rear. Noleen's J6 shocks are full preload, compression and rebound adjustable. The shocks bodies are anodized to reduce weight and their gray finish with red accents give them a look all their own.
The machine is wrapped with 6061 T-6 AC Racing aluminum from head to toe. Up front is the sexy AC front bumper, which includes the opportunity to insert a custom screen and a mini front skid plate area. The AC Racing Pro Peg nerfs are rugged and 12-hour worthy. They include heel guards, which are a must have as far as we're concerned. In the rear is AC's grab bar. Under the machine is AC's Engine Skid Plate as well as their Swingarm Skid, which is made of 1/4″ thick aluminum. The skids are probably overkill for the 12 Hours course in Texas as rocks are rare, but it doesn't hurt to be protected nonetheless.
Controls
If you don't know you better ask somebody! Fasst Company's Flexx handlebars are bar none the best handlebars money can buy. True they're over $300 for a set and hard to come by since everyone seems to want them, but as they say you get what you pay for. These fatigue-cutting bars have proven to be worth their price and that's especially apparent when it comes to endurance racing, so of course CT opted for a set of Flexx bars on its 12 hour Raptor.
Keeping on par with the Flexx bars, a set of Spider dual-density grips got the nod to further help with rider comfort for the long haul. Tiring vibrations are absorbed well with acoustically engineered Spider grips. In addition the tacky grip compounds allow the rider to hang on with less effort. A set of Cycra M4 cap off the bars with style.
Stopping power is critical, especially on this bad-to-the-bone Raptor. That's why CT opted for braided stainless steel Streamline brake lines and Streamline brake pads all around.
Maxxis Tires and DWT Wheels Of Course
Without Maxxis Tires' title sponsorship the Maxxis 12 Hours of ATV America would not be approaching its sixth outing this November. CT Racing took this into consideration when selecting rubber for their 12 Hour Raptor. The big yellow Raptor is honored with a set of Maxxis Razr's all around. To make sure adequate ground clearance was obtained 22x7x10 fronts and 20x11x9 rears we used. Keeping on par with the Maxxis tire quality and dependability, four DWT (formerly called Douglas Wheel) beadlock wheels were used. Beadlocks not only keep the tire from slipping off the bead but they also allow the rider to maintain a pretty fast pace even in the event of a flat.
Let there be light — Lots of LIGHT!
You're not going to race the Maxxis 12 Hours of ATV America without lights. Without high powered lights you wont be able to see well enough to maintain the speed that others can with proper lighting equipment. This is why CT looked directly to the best for their 12 Hour Raptor, Baja Designs.
On the bars a pair of 4″ Fuego HID (High Intensity Discharge) lights which eagerly await the opportunity to turn the night into day.
Baja Design's HID lights put out a significant amount of illumination, yet draw much less juice than other lighting systems with equal or less lighting output.
Of the pair, one light throws out a wide rectangular flood pattern – perfect for low speed maneuvering. The other light throws out a narrow spot of light that carries for quite a distance – perfect for high speed sections. Combined the two couldn't light the Raptor's way better.
The Raptor doesn't have the charging capability to run the stock lights at the same time for an extended period (without stator rewind), but the stockers are left in place regardless. Besides the fact that Yamaha made some pretty cool-looking lights, they act as a great back up system to the mighty Baja Designs in case of a rollover.
How's it Ride?
Now for the most important part of the project. CT Racing promised us that their modified Yamaha Raptor 700R would have what it takes to win the overall at this year's Maxxis 12 Hours of ATV America. As much as we trust Allen and the crew at CT Racing, and as race-worthy as this quad looks we needed to see how well this baby performed for ourselves.
What better place to check CT's build and properly grade the machine than the actual track it was specially built for? That's right, after displaying the CT Raptor in the Laeger's booth a this year's Dealernews International Powersports Dealer Expo, Brad Phillips of Premis Industries hauled the beast to Miller's compound – home of the 12 Hours of America where Cody Miller, Hunter Miller and Cale Downen gave us their opinion as to whether CT Racing's Raptor was indeed capable of winning this year's Maxxis 12 Hours of ATV America. Before you view the video segment linked below let's sum up a few things that we gathered from our test riders.
Cody Miller
Yamaha's electronic fuel injection is already killer, CT Racing made it that much better. Thanks to the fuel injection, the powerband is extremely smooth and there's never a time when it even bogs the slightest. I really like that. Also I was surprised at how well it handled. I can go faster on my YFZ on the motocross track but not by much! All in all it was much better than I would have thought a big Raptor would be. I think we could indeed win on this quad.
Hunter Miller
I agree. I think what stands out most for me is just how easy this thing is to ride. I swear you could probably ride the whole track in third gear without touching the clutch. It lugs itself around effortlessly, but anytime I nailed it – it would get up and really rip, especially coming out of a corner. I like it a lot.
Cale Downen
I loved it! Like Cody I had my doubts at first but all in all it's a great machine. I would like to ride it more at night. I was really digging being able to see what's ahead so well. The Baja Designs light worked really well.
Even though the CT 12 Hour Raptor has some serious rock and roll within, it doesn't stray from Yamaha's mission. It's much more powerful than stock yet it doesn't yank your arms out of their sockets like a high strung modded 450 might. It's plush, handles exceptionally well and it's very easy to ride for long periods of time. Not to mention this bad boy looks like a million bucks.
All combined the CT 12 Hour Raptor not only equates to a ton of fun but does indeed prove worthy of taking on ATV Racing's grand finale – the Maxxis 12 Hours of ATV America.
CT Racing's 12 Hours of America 2007 RAPTOR 700R SPECS

ENGINE

 

Engine Type
686cc, 4-Stroke Single, Liquid Cooled w/ Fan, SOHC
Bore x Stroke
102mm x 84mm
Modification
CT Sonic Kit: cyln honing, head porting, 5 angle contoured valve wrk,
Piston
JE Performance
Clutch
Hinson Racing Clutch Basket
Cam
Web Cam
Valves
Web Cam Spring Kit w/ titanium retainers
Compression Ratio
13:1
Carburetion
Yamaha Fuel Injection (YFI) , 44mm with Dynatek fuel inj controller
Exhaust
CT Racing Sonic: inclds stainless header, silencer and discs
Air Intake
Pro Design Pro Flow
Ignition
Dynatek Rev Box
Starting System
Electric
Transmission
Five-Speed Manual Clutch w/ Reverse
Drive Train
2WD; Sealed O-Ring Chain, Eccentric Adjustment
SUSPENSION

 

A-arms
Laeger's Long Travel +2″

Swingarm

Cast Aluminum Swing Arm

Axle
Dura Blue Eliminator 2+2
BRAKES
Front
Streamline pads and lines
Rear
Streamline pads and lines
TIRES

and WHEELS

Front
Maxxis Razr 22x7x10, DWT Ultimate SC
Rear
Maxxis Razr 20x11x9, DWT Ulitimate SC CBL
MISC
Bars
Fasst Co. Flexx Bars
Grips
Spider A3 Dual-Density
Nerfs
AC Pro Peg with Heel Guards
Bumper
AC Front Bumper
Skid
AC Racing Engine and Swingarm Skid Plate
Grab Bar
AC Racing
Fuel Capacity
2.9 Gallons
Comments
comments