Project KFX450 Part One: The Build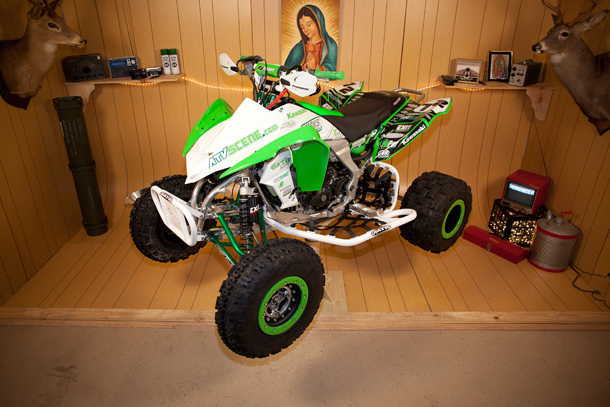 By: Jorge Cuartas
When presented with the opportunity to build a full-on GNCC race machine for ATV Scene, the wheels in my head started turning. After all, most of my work has been done for print media (magazines), and the two-dimensional constraints of the medium have continuously made me yearn for more. The Internet is pretty much the "Wild West", and the creative possibilities are endless. Also endless, were the 450cc choices on the market. After very little deliberation, we decided to go with Kawasaki's lightweight, Aluminum-framed, KFX 450. The KFX comes off the showroom floor with tons of race ready parts that would save us time, and cash, is fairly narrow, has a ton of potential Horsepower just waiting to be unleashed, handles well, and just plain looks cool.
In order to unleash the beast in our Woods Racer, we tapped some of the best resources on the market. First on the "Get Tapped" list was Z-BROZ Racing (home of Exit Shocks, ARS FX Suspension Components, and the Legendary Mike Hallock). After a short conversation, it was decided that we would use the Pro Max XC A Arm Kit (MSRP: $849), mated to the X2 ARS FX LT-XC Shocks (MSRP: $1395), and matched to the X2 ARS FX Long travel link shock (MSRP: $950) and Long Travel Replacement Linkage (MSRP: $249) in the rear. While Z-BROZ usually ships their product with a Teflon-esque black powdercoat finish, we opted for some custom metallic, emerald green powdercoat instead. Also from Z-BROZ, was the ARS FX +1" Steering stem (MSRP: $249.95), and the oversize 1 1/8" Bar Clamp (MSRP: $69). Mated to the bar clamp are Fasst Company's 14˚ Moto Bend Flexx Handlebars (MSRP: $349) which against Fasst Company's wishes were taken apart and powdercoated white (Sorry Cole). Mounted on the Flexx Bars are FLY Racing's ATV Billet Kill Switch (MSRP: $39) which we use as a starter button, Pro Armor Kill Switch (MSRP: $31), Oury ATV Grips (MSRP: $11), and PowerMadd's Power X hand guard kit which includes all mounting hardware(MSRP: $35). The Steering and Suspension components were all chosen for their proven track records (literally), as well as their ability to compliment one another. The ARS FX/ Exit combo is among the best in the business, while Flexx bars and PowerMadd hand guards are an industry standard. The Fly billet kill switch is among my favorite parts these days, and as a result I use them everywhere I can, across the board.
Performance-wise, we tapped our old friend Curtis Sparks at Sparks Racing (literally old, Curtis must be 150 years old now), Curtis has a ton of experience with the Kawis, and just makes great stuff. Our needs were simple; we wanted the ability to go faster than our skill level should allow through the woods without sacrificing a single iota of reliability. The result was Sparks Racing's X-6 Complete Ceramic Coated Exhaust System (MSRP: $550), and a Dynojet Power Commander (MSRP: $370) to handle the air fuel mixture. Curtis also recommended going with a bigger radiator, which led us to Fluidyne Powersports and their massive, oversized KFX 450 Radiator (MSRP: $475) which we mated to the stock fan, and a super trick CV4 White Silicone Hose Kit (MSRP: $94). Hinson Racing's Complete Clutch Kit (MSRP: $1055) has become a staple on everything I build or ride, and the rigors of woods racing made it a "Must Have" item. The other "Must Have" performance item, according to just about everyone with any experience on the KFX is the Fuel Customs Intake System with Airbox (MSRP: $310); simply put, it's phenomenal. While most race builds tend to go overboard on performance, the KFX project centered around clean, reliable, usable power, with an emphasis on simplicity. Could we make it faster? Sure, but it wouldn't do us any good in the tight confines of GNCC Racing.
Getting the power to the ground are Maxxis RAZR Ballance tires (front & rear) (MSRP: $120 & $140 respectively), mounted to Hi-Per Technology Single Beadlock wheels up front (MSRP: $240), and Dual Beadlocks in the rear (MSRP: $310). The wheels are mounted to Lonestar Racing hubs in the rear (MSRP: $236), as well as a veritable plethora of other LSR goodies including an Axcaliber Pro axle (MSRP: $445), Billett Brake Hub (MSRP: $142), Sprocket hub ($163), and Lock Nut ($110). The Axcaliber axle is new and improved, and offers a Lifetime Warranty, while the rest of the LSR parts save weight, add strength, and just plain look cooler than the stockers. The Maxxis RAZR tires are six ply, and were fine tuned by the most successful racer in ATV GNCC Racing history (Bill Balance), which leads me to believe they'll be awesome.
The KFX looks better than any other Kawi we've seen thanks in part to the 50+ hours we put into hand polishing the frame, but also to Rath Racing's trick looking, white powdercoated, standard KFX bumper (MSRP: $130) and competition heel-guard nerf bar combo (MSRP: $430). The pegs, nets, and heel-guards on the nerfs are easily replaceable and should theoretically save money in the long run as parts start wearing out. A Quad Tech Hump Seat Kit (MSRP: $185) was installed in order to keep my rear end firmly in place aboard the machine, while at the same time adding a bit of "Bling Factor" to the overall package. Rounding out the bling department is a custom G4 Graphics kit, which not only looks great, but should preserve the stock plastic.
The entire machine runs on nothing but Maxima Lubricants, which have repeatedly proven their worth to us in all kinds of conditions.
We'll be putting this pretty beast through it's paces in the next few weeks, so look for Part Two (The Ride) in the near future.
Comments
comments