Racing on a Budget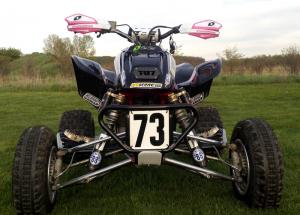 By Jason Zittel
Quite some time ago, as in about 15 years ago, ATV Scene's John Pellan wrote an article on how to purchase a race-worthy quad for far less money than you might think necessary. The feature demonstrated how to find deals on good used components, even if the major component wasn't intended for four wheels at all. John used the engine and a few other parts from an out-of-commision ATC250R to power his FourTrax. It was a very informative feature that helped many people see that you didn't have to be rich to race a quad.
Yes, a lot has changed over the years, I certainly haven't heard of anyone using ATC parts to power their four-wheeler, that's for sure, nonetheless I feel it's still possible to put together an affordable modern-day race-worthy machine for far less money than you might think.
John's Project Budget Racer inspired me and I feel I can do the same for someone else with this one. Granted at the time I read the article I was only 13 years old, but I was transitioning from a Blaster to a 250R. At that time it was hard to even find a stock 250R for under $6,000. Honda didn't make them, yet just about every racer had one. By the time you modified one to where you could race at any level, you were looking at about a $10,000 project, and in the late 90's and early 2000's many national riders were spending double that for the ultimate pro-level machine.
Here we are in 2012, prices have skyrocketed, however, thanks to an extremely unstable economy, ATV resale values have plummeted. So my goal for this project was to build a motocross ATV that, in fact can be raced competitively at the National A/B level for well under $10k. There are many options when it comes to racing on a budget these days, mine is just one way that this can be done.
The first thing I knew I needed to do was find an ATV that would be easily modified, reliable and have top of the line parts readaly available. Anyone that has years of experience in ATV racing, like I do, will agree with my easy choice, a Honda TRX450R. Yep, that's the obvious choice for this build without a doubt.
I happened to come across a low-hour 2005 TRX that was completely stock with the only modification being an HRC engine kit, (which includes a cam shaft, jet kit, air filter and air box lid). It was perfect for my intentions. I purchased the 2005 TRX for $2500 from a guy that was moving to a newer race quad. As I said earlier the used quad market is very affordable. It's definitely a buyer's market, so I'm confident you can find an impressive deal just like I did.
When I started my search for performance parts, the first thing I knew I needed was quality suspension components. Now days newer ATVs come with rebuildable shocks, so one option I had was to revalve/rebuild the suspension and purchase a linkage for the rear and some extended standard travel A-arms, but keep in mind we are building an National A/B level machine, I knew that this would not suffice in the long run, so I set out scanning the classifieds and eBay for high quality suspension parts.
Another thing that I had kept in mind was brand loyalty, and what I know works. Yes, this is a budget build but buying cheap parts is actually more expensive since you'll end up buying the part twice. I came from riding fully-built Laeger 250R's and hybrids, so I knew right away the brands I would be looking for. My chosen components would only be ones that I knew were proven to perform on the track. I came across a chromed Laeger's Pro Trax front end on eBay. Now, most of you may be thinking, "I thought this was a budget build why would you buy a Pro Trax?" My reasoning was simple, the Buy It Now was $800, and the retail on this front end chromed is over $2500, so I bought it. The lesson here is to know exactly what you want and keep an eye out for deals, – eBay and Craigslist makes hunting very easy.
I then came across a set of Custom Axis PRS Titanium Spring, Hi/Low Speed Compression and Rebound adjustable shocks for $1,000. Again, "$1,000 for shocks? Really, a budget build?" The retail on these babies is $2,275, again look for deals, they're out there. Next I needed a steering stabilizer. CCP sells very nice billet stabilizers for around $175-$200, which is about half the cost of a GPR, and the same quality. And lastly, I found a Walsh Steering Stem for $175, to top if off, with a set of leftover Tag T2 bars. I now had an outstanding front end for far less than most would spend.
The rear end was a little more complicated, as I had many options. I could revalve the rear shock, buy a linkage, and an '06 swingarm which is a little bit longer, OR, since I had already put together one very impressive front end – why not equip the rear with something just as impressive as the front? Ironically the same eBay seller had a Walsh Savior Rear End, with a matching PRS triple adjust titanium rear shock. The price on this? $1,100. So you guessed it I bought it. The swingarm and linkage alone are $1,500 from Walsh and most suppliers, and the shock is roughly about $1,500 as well. I also wanted to find a good reliable axle and housing. East Coast ATV sells quality billet twin row bearing carriers for $100 + shipping, which is the choice I opted for. As usual eBay was my best friend when it came to finding an axle. I purchased a brand new leftover RPM Dominator II Axle for just $200. To finish the rear end, I knew I did not want to risk the stock locknut coming loose, so I purchased a brand new billet anti-fade locknut for $150, which is moderately priced for this part. The rear end was now complete and on par with the front.
Tires and wheels were next on my list. eBay worked wonders for me once again. I purchased a set of front and rear Douglas Ultimate Billet Beadlocks with nearly new Razr MX meats for just $400. The savings on these made me want to camp out on eBay and keep the streak going, which I often seem to do.
Nerf Bars and front bumper followed this on the build list, as nerfs are a requirement for racing. I purchased a set of Rath Racing Monster Pegs for $200 from a forum user. After that I came across a DG Racing National Bumper for only $35 on eBay. A grab bar was not required, as the tail light mount on the TRX can be used as a number plate mount. In addition, I purchased a set of front and rear brake lines with clamps from ATV Galaxy for $125.00.
Now that the bike was sitting at a motocross stance, it was time to pep up the motor. Bein
g that the bike already had a cam, filter, and jets. I needed very few things to wake up the motor. I decided to go with a new JE Piston from Trinity Racing's eBay store for $169.99 with a gasket kit. This was slightly cheaper than ordering from their online store. I decided to take the engine to my long time engine builder Gino Vucina of VPS Racing, who charged a reasonable $300 to install my piston and port and polish the head. His motors have won Pro-Am and A championships in the 90's when the 350X hybrids were the only available 4-strokes. I wanted to go with an upgraded FCR Carburetor that was easier to tune, and offered a bit more power, so I came across a 2006 FCR Carb for $200, which I needed to purchase an adapter from Noss Machine for $70. This required modifying the carb, it was either that or purchase a '06 or later year tank, so I picked up a 2006 TRX450R tank for $65.
For cosmetics I called up an old friend of mine Andy Maul from Maul Tech ATV who was kind enough to provide me a set of graphics and a seat cover. I also ordered a set of Oury Grips, which I have used for quite some time, and suit my preference very well. If you notice I chose pink graphics and grips, this is in support of a friend of mine who recently was diagnosed with breast cancer, and this is my way to support her and raise awareness to this horrible desease. I will be sporting some PinkRibbonRiders.com stickers on my ride this year, as well as my #88 Ride To Live Foundation stickers, in remembrance of our fallen friend Matt Bartosek.
Another thing to keep in mind is to keep some of the smaller parts from your previous race bikes that are universal. Some of the parts I kept around after parting out my old quads were Maier Handguards, RTC Levers, Tag Bars, and gas cap vent.
I was able to make the quad even more affordable by selling some of my old parts that I obtained over the years. Many were old stock parts and things that I purchased on eBay and forums over the years. I was able to recoup some of my spending and offset the cost of the project. I ended up getting about $1,000 for all the stock and unneeded parts that I had sitting on shelves.
Sponsors are another way to reduce cost as well. Sites like MXSponsor.com are a great way to get sponsors. It's never too late to sign up, and the benefits greatly outweigh the membership fee. Check it out and use the promo code x573jz to receive 10% off of your membership!
After getting all of these parts ready, it was time to pull the motor, and install everything. I waited until I had everything to assemble and put the bike together so that I could take it out on the track as soon as possible. All of the parts were easy to bolt on, (that's another reason to buy proven quality parts by the way), all I needed was the motor to get this beast rockin'. Once I got the motor installed and broken in, it was time to hit the track.
I took it down to Breezewood Proving Grounds in southern PA for some motos with my good friend/373 Racing Teammate Shane Hull #37. The front end handled absolutely superb, and both the front and rear end responded very well to the jumps and rough track terrain. With the minimal engine modifications, the Budget Racer TRX450R had more than enough power to clear the biggest jumps on the track.
After all was said and done, I managed to build this machine for under $7k! This is nearly the price of a brand new stock machine, and trust me, the ride on this 450R is nothing even close to what you get on a stocker. I would say this was a successful build and the savings was wel worth the time and effort I spent searching for deals.
I will keep you posted with follow ups as I begin to start racing the machine. I would love to help you build an affordable machine of your own so feel free to ask me any questions or concerns you might have.
Below are some pictures and videos of the ATVScene.com Project Budget Racer TRX450R in action.
th="181″>Pro Trax
| | | | |
| --- | --- | --- | --- |
| Item | Price Paid | MSRP | Savings |
| 2005 TRX450R | $2500 | $6649 | $4,249 |
| HRC Kit | N/A (included in bike) | $300 | $300 |
| Front Shocks | $1,000 | $2,275 | $1,275 |
| | $800 | $2,600 | $1,800 |
| Stem | $175 | $300 | $125 |
| Stabilizer (new) | $175 | $175 | $0 |
| Savior & Rear Shock | $1,100 | $3,000 | $1,900 |
| Locknut | $175 | $175 | $0 |
| Carrier | $100 | $100 | $0 |
| Front Rims | N/A | $500 | N/A |
| Rear Rims | N/A | $300 | N/A |
| Front Tires | N/A | $140 | N/A |
| Rear Tires | N/A | $160 | N/A |
| Total Tires/Wheels | $400 | $1,100 | $700 |
| Nerf Bars | $200 | $320 | $120 |
| Bumper | $35 | $125 | $90 |
| Piston | $170 | $190 | $20 |
| Exhaust | $275 | $550 | $275 |
| Hood | $85 | $85 | $0 |
| Brakes | $125 | $125 | $0 |
| Carburetor/Adapter | $270 | $700 | $430 |
| Gas Tank | $65 | $250 | $185 |
| Port/Polish | $300 | $300 | $0 |
| Bars (leftover) | $0 | $85 | $85 |
| Handguards (leftover) | $0 | $65 | $65 |
| Levers (leftover) | $0 | $25 | $25 |
| Grips | $15 | $15 | $0 |
| Stock Leftover | -$,1000 | 0 | $1,000 |
| Total: | $6,965 | $19,609 | $12,644 |
Comments
comments